NEW: Two current Diocese of Buffalo priests to be named in abuse suits
WBEN Radio
August 14, 2019

https://wben.radio.com/articles/new-two-current-diocese-buffalo-priests-be-named-abuse-suits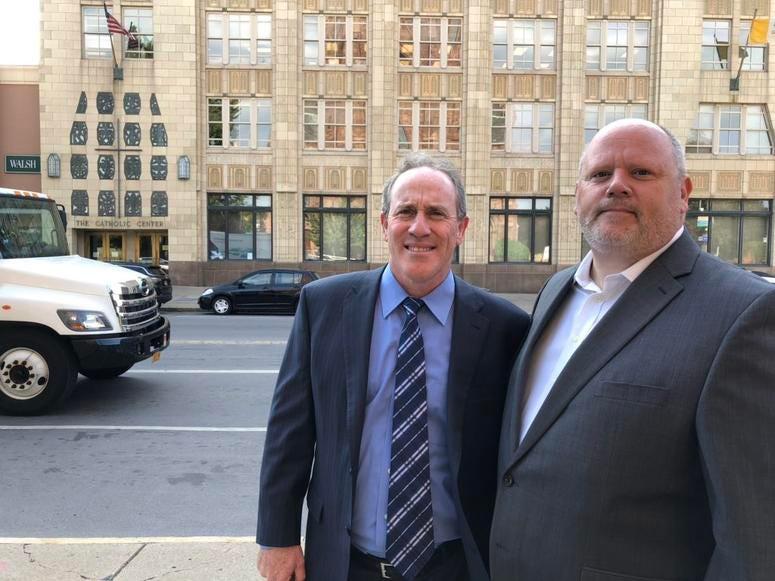 James Faluszczak and Paul Barr outside the Diocese of Buffalo. August 14, 2019
Photo by Mike Baggerman
"Yes, there are priests in the Diocese of Buffalo with allegations against them"
Buffalo, N.Y. (WBEN) - As the first day of filing opens under the New York Child Victims Act, dozens of suits have already been filed against the Catholic Diocese of Buffalo.
During an in-studio appearance on WBEN Wednesday morning, priest abuse survivor and advocate James Faluszczak announced suits are being filed against more priests actively serving in the diocese.
Faluszczak says a suit is being filed against Father Paul Nogaro who is currently serving at St. Stephen Church on Grand Island and is accused of abuse while serving at St. Mary of Sorrows. Additionally, Father Peter Popadick, longtime secretary to Bishop Edward Head and currently serving at St. Aloysius, is alleged to have committed abuse at Bishop Fallon High School.
"Yes, there are priests in the Diocese of Buffalo with allegations against them", Faluszczak said.
Former priest Franklin J. Tuchols was also named by Faluszczak. Tuchols is accused of molesting a child while he was a priest at St. Mary Sorrows Church and at multiple other locations.
Two priests who are dead, Father Edwin Fagowski and Monsignor Joseph Gambino, were also named. Fagowski allegedly molested a child at St. Benedict Church in Bennington while Gambino is accused of similar behavior at Holy Cross Church in Buffalo.
Lawsuits were also filed against previously named priests Michael Freeman, Gerald Green, Bernard Mach, Brian Hatrick, and William Ward. Faluszczak said that the lawsuit is looking to have the Diocese of Buffalo "cough up" more information and to provide healing to the abuse they suffered.
"If a victim is listening to my remarks today and you feel alone in your suffering or that the task before you is too steep to manage alone, we'd like to make it clear that you are not alone," Faluszczak said. "We stand ready to help you and an army of survivors and their advocates are ready to walk with you."