Police recommend charges against two men for alleged clergy sexual abuse decades ago
By Seth Klamann
Star Tribune
August 14, 2019

https://trib.com/news/local/crime-and-courts/police-recommend-charges-against-two-men-for-alleged-clergy-sexual/article_ec6143ee-855c-57ba-a6f1-174bbd5fcece.html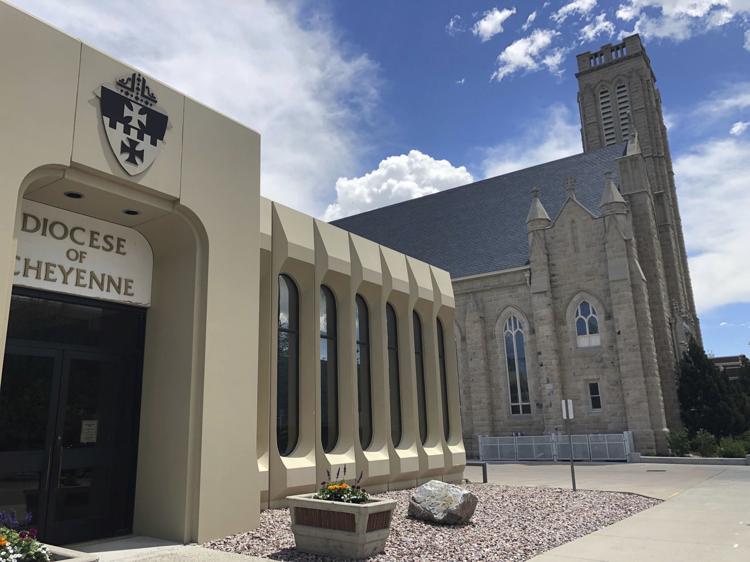 This photo shows the offices for the Roman Catholic Diocese of Cheyenne and the Cathedral of St. Mary on June 13. Cheyenne police are recommending charges for two members of the Wyoming Catholic clergy who are accused of sexually abusing boys in the 1970s and 1980s.
Photo by Mead Gruver
Cheyenne police are recommending charges for two men — one a clergyman, the other who was attempting to become a clergyman — who are accused of sexually abusing boys in the 1970s and 1980s.
The announcement by Cheyenne police, who did not name the two suspects, comes after a 16-month investigation, according to a department press release. The affidavits recommending the charges have been forwarded to the Laramie County District Attorney's Office, and the documents "outline how two members of the Catholic Clergy sexually abused male juvenile victims in the 1970's and 1980's," according to the the release.
Cheyenne police originally said both men were clergymen. The department issued a clarification just before 1 p.m. that one of the two men was a member of the clergy at the time of the alleged abuse, while the other man was "seeking membership in the Catholic Clergy at the time of the offenses."
The release says that the investigation "stems from a case initiated in 2002 that was reopened in 2018" amid new information provided to authorities by the Diocese of Cheyenne.
In 2002, a man told Cheyenne Police that he had been sexually abused by former Bishop Joseph Hart in the mid-1970s. Police recommended that investigation be closed, citing a lack of evidence, and Natrona County District Attorney Kevin Meenan formally did so later that year.
Citing state statute, Cheyenne police spokesman Kevin Malatesta declined to provide any details about the suspects' identities, other than that they were tied to the clergy. He declined to detail the allegations against them, whether their abuse was at all related, or say how many victims authorities had identified of the two men. He said the affidavits providing further information would be made public if and when the two men are charged.
He said police sent the charging documents to the district attorney's office Wednesday and said he wasn't sure what prosecutors' timeline would be. Laramie County District Attorney Leigh Anne Manlove was not immediately available for comment early Wednesday afternoon.
Malatesta said both men are suspected of being directly involved in sexual abuse.
David Clohessy, a longtime leader in the Survivors Network for those Abused by Priests, was emotional when reached by phone Wednesday.
"It's long overdue, of course," he said.
"It's still important that people who have information or suspicions come forward, no matter how old or small or seemingly insignificant, they've got to come forward to law enforcement," Clohessy continued. "It is our duty as citizens to tell police and prosecutors what we know and suspect; it's their duty to decide what's relevant and helpful."
In December 2017, current Bishop Steven Biegler opened an independent investigation into Hart. In July 2018, the diocese announced that it had identified two alleged victims of Hart's — one from 2002 and one that was previously unknown — and that the church considered those victims' claims legitimate and substantiated. The diocese said it had forwarded the results of that investigation to police, who confirmed in August 2018 that they were investigating Hart and priest abuse generally.
Malatesta said the investigation began in April, though police did not publicly acknowledge it until four months later, when the diocese had released its own statement about Hart.
"We want to reassure folks that justice can be served on a case even if it's several decades old," Malatesta said. "People who may not have been believed in the past or brought up things that weren't given weight or investigated properly — we've done everything we can in this case so that it's done completely, accurately and to the best of our abilities."
Hart has denied the sexual abuse allegations. A call to his attorney on Wednesday morning was not immediately returned. Neither the chancellor nor the vicar general of the diocese immediately returned a request for comment sent around noon Wednesday.
Malatesta said the diocese's investigation into Hart prompted the police inquiry, which later broadened to include multiple suspects and victims. He said his department has been the only agency involved, though he added that "a large amount of information" was sent from the diocese to the department. He described the church as being "available and cooperative" throughout the investigation, though he declined to detail what exactly was provided by the diocese.
In a statement, the Survivors Network of those Abused by Priests wrote that it was glad accusations were being investigated.
"We are also very grateful to current Cheyenne Bishop Steven Biegler," the statement, credited to the organization's executive director Zach Hiner, continued. "... We hope that other bishops around the country learn from Bishop Biegler's example and look for ways to assist law enforcement with investigations into clergy abuse."
In a followup, Clohessy said the organization called on the diocese to identify the two men facing charges "to aid law enforcement and to help protect kids."
The diocese had previously released named credibly accused priests. In December, it announced it would release a list of all credibly abused clergy after a request from the Star-Tribune months before.
That list, finally released in June, includes Hart and 10 other clergymen who the diocese determined to have faced credible accusations of abuse. One of those men conducted his abuse in Minnesota, while another allegedly abused a vulnerable adult. The other nine — including Hart — all abused juveniles in Wyoming, according to the diocese.
The list provides the names of the men, their postings, when they were ordained, the number of known and credible victims, and the years the men abused. Of the 11 men on the list, five were alleged to have abused while Hart lead the diocese. According to public records, all five of those clergymen were moved to new parishes after their abuses allegedly occurred. A sixth man, the Rev. James Power, was sent back to Ireland after he was transferred to Torrington, multiple sources have told the Star-Tribune, because his inappropriate behavior with minors continued. When Power was transferred away from Wyoming, Hart was the bishop in Cheyenne.
Last summer, the diocese announced that it would remove Hart's name from St. Joseph's in Torrington.
Hart spent the first 20 years of his career, from 1956-76, as a priest in Kansas City, Missouri, his hometown. Hart has consistently denied any wrongdoing over the decades, but the accusations have dogged him. The Diocese of Kansas City-St. Joseph has settled lawsuits with at least half a dozen accusers in recent years, and an attorney who represented those men previously told the Star-Tribune that there are more victims who did not pursue Hart in court.
Hart has faced a number of accusations dating back to at least the early 1990s, according to the Kansas City Star. He denied allegations that he had abused two boys at his last posting in Kansas City and voluntarily attended an Arizona residential facility for alcohol abuse while still the bishop in Cheyenne. He then returned to Wyoming and re-assumed his duties.
Contact: seth.klamann@trib.com