Hundreds of Child Sexual Abuse Lawsuits Flood N.Y. Courts
By Sharon Otterman
New York Times
August 14, 2019

https://www.nytimes.com/2019/08/15/nyregion/child-sex-abuse-lawsuits.html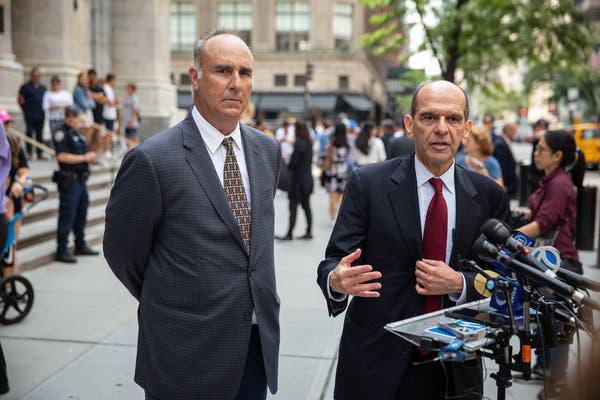 James Grein, left, and his lawyer, Mitchell Garabedian, on Wednesday.
Photo by Benjamin Norman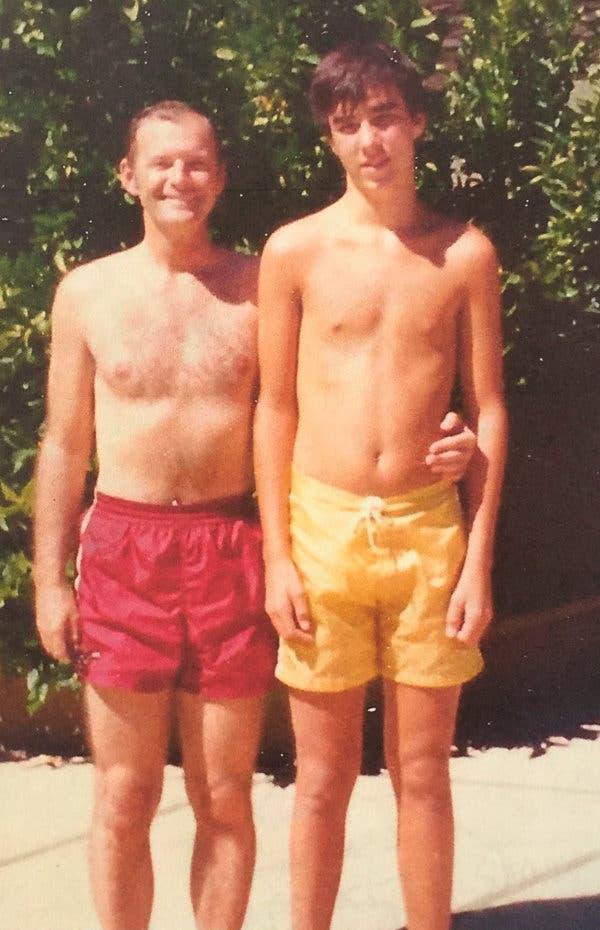 James Grein, right, in 1974 with Theodore McCarrick, a priest who would eventually become a prominent Roman Catholic cardinal.
Wednesday was the first day in a one-year window allowing victims of child sexual abuse to file lawsuits, regardless of their age.
Theodore E. McCarrick, the prominent Roman Catholic cardinal who was defrocked early this year for sexual abuse, brought one of his victims, James Grein, then 30, to meet Pope John Paul II in 1988.
It was a private audience, Mr. Grein recalled as he became one of hundreds of people to begin filing lawsuits on Wednesday under the Child Victims Act. The new state law says that for one year, sexual abuse victims of any age in New York — including, crucially, those whose cases had expired under the old statute of limitations — can take legal action.
After Mr. McCarrick, then the archbishop of Newark, left the room, Mr. Grein said he knelt before the pope and revealed, in the presence of several Vatican officials, that Mr. McCarrick had been sexually abusing him since childhood.
"I told him I had been abused as a child by this man, and I need you to stop it," said an emotional Mr. Grein, who is now 61. "He put both hands on my head, and told me he would pray for me."
No other action was taken, his lawsuit states.
Mr. Grein's lawsuit was made possible by the Child Victims Act, which was approved in January and greatly expanded the ability of child sex abuse victims to hold institutions and individuals accountable for abuse.
Victims of sexual abuse in New York were previously required to file civil lawsuits by their 23rd birthdays. Under the new law, they now have until age 55, and for one year, starting on Wednesday, they can be even older than that.
The window may become a powerful lever for clergy abuse victims to find out how extensive the cover-up of sexual abuse was in the Catholic Church and whether top Vatican officials knew about it.
Hundreds of lawsuits across the state were filed on Wednesday, with hundreds more, if not thousands, expected.
They involve defendants that include the Catholic Church to Rockefeller University in Manhattan to the Boy Scouts, as well as public and private schools and foster care organizations. Each suit will attempt to show that individuals and institutions are liable because they failed to protect children from sexual abuse.
Like dozens of other victims, Mr. Grein is suing the Archdiocese of New York, where Mr. McCarrick was serving as a priest when he began abusing Mr. Grein at the age of 11. Mr. Grein, the son of a family friend of Mr. McCarrick's, was the first baby that the young priest baptized. The sexual relationship the priest began with the boy lasted for about two decades, Mr. Grein said.
Because his lawsuit claims that Mr. Grein told Pope John Paul II about the abuse, his legal team will seek to depose Vatican officials and gain access to secret Vatican documents.
The strategy underscores perhaps the most powerful aspect of the thousands of lawsuits that are expected to be filed this year: By giving plaintiffs the power to subpoena private institutional records, the lawsuits could open a window into how institutions handled abusers in their midst.
"The cover-up has ended and now we are going right to the top," Mitchell Garabedian, Mr. Grein's lawyer, said at a news conference on Wednesday in front of St. Patrick's Cathedral in Manhattan. "We are attempting to show that the Vatican knew that McCarrick was abusing James Grein."
Michelle Simpson Tuegel, a lawyer whose firm was filing cases against Catholic dioceses across New York, said the start of the look-back window was a crucial moment for sexual abuse survivors who previously had no recourse. The discovery process, she said, is crucial.
"It's about so much more than compensation," Ms. Simpson Tuegel said. "It's healing to know that you're not alone, that they did make mistakes, that you were a child and adults failed to protect you, and that they're going to have to pay for that."
The lawsuits will also mark the first time that some alleged abusers will be publicly named, leading to a possible domino effect if long-silent victims see others step forward, and decide to do the same.
"This act is having such an impact in ways that aren't even legal ways," Ms. Simpson Tuegel said. "But in human ways: in opening something up that needed to be opened, as far as the discourse within families, within communities and the larger public."
For Auset Love, 45, it took more than three decades, she said, to feel that her abuser could be held accountable. She was about 9 when the abuse began, she said Wednesday. A recent immigrant from Haiti, she spoke little English when her homeroom teacher at a Brooklyn public school began molesting her, according to a lawsuit filed Wednesday in State Supreme Court in Brooklyn.
Ms. Love said the teacher would call her up to his desk to review a class assignment, then slip his hand under her skirt to rub her vagina. "I'm proud of you," she recalled him saying. Ms. Love began to perform poorly on assignments and was sent for additional tutoring to the teacher's house, where she said she was repeatedly fondled.
Over the years, as the statute of limitations for recourse ran out, she said she began cutting herself and contemplated suicide. On Wednesday, Ms. Love filed a lawsuit against the teacher and the New York City Department of Education.
"It gives myself a voice, and everyone else who is ready to come, to let the world know what happened to them," said Ms. Love, a nursing assistant in Westchester County.
The teacher named in the lawsuit retired in 2004, according to a spokeswoman for the education department. "Every survivor deserves to be heard, and we have clear policies to ensure any allegation is immediately reported, investigated and addressed," said the spokeswoman, Danielle Filson.
Darrell Jackson, 57, who grew up in Brooklyn, joined the Boy Scouts of America in the 1970s when he was about 10.
At the time, Mr. Jackson said on Wednesday, he viewed his scoutmaster as a kind of father figure. Mr. Jackson's father was not around, he said, and he was raised by his grandmother.
"And, you know, it was great in the beginning," he said. "And then, like I said, it just turned into something else."
He said he has been attempting to bring a case against the Boy Scouts of America since his late 20s, but could not until the law was changed.
Mr. Grein said Wednesday felt like a moment of redemption. His account of abuse by Mr. McCarrick, publicly disclosed for the first time last summer in The New York Times, was a crucial aspect of the evidence considered by a Vatican court as it convicted and then defrocked Mr. McCarrick.
In February, the Vatican stripped Mr. McCarrick, 89, of his titles and clerical status. He is living in a friary in Kansas, his former spokeswoman, Susan Gibbs, said. Mr. Grein also plans to sue Mr. McCarrick personally, once a look-back window for abuse claims opens in New Jersey, where he has said some of the abuse occurred, his lawyer said.
Joseph Zwilling, a spokesman for the Archdiocese of New York, said Wednesday that the archdiocese would "carefully review the claims made in these suits." In the meantime, he asked that "people pray for peace and healing for all those who have suffered from the sin and crime of the sexual abuse of minors, wherever it occurred."
Mr. Grein said at the news conference, "It is our chance, our historical gift from God, that we are able to go forward today and get this done."
Michael Gold and Corina Knoll contributed reporting.