Four more allegations against former Cheyenne bishop made in past year
By Seth Klamann
Casper Star-Tribune
August 15, 2019

https://bit.ly/2KBYzpV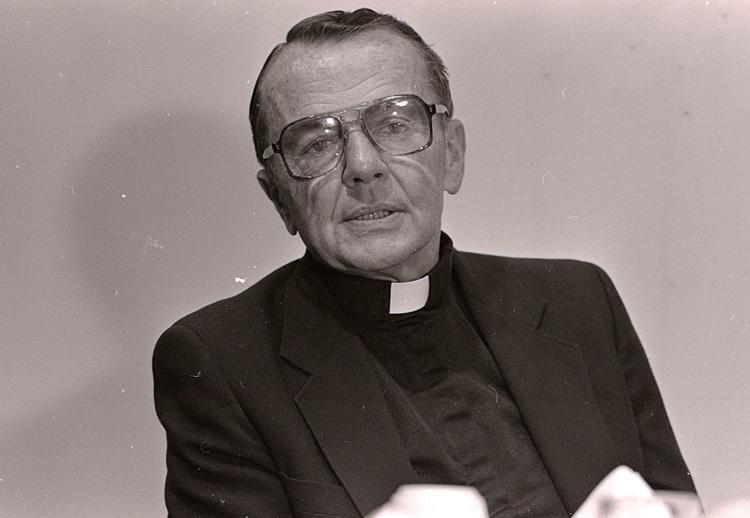 Bishop Joseph Hart is shown in an undated photo from the Casper Star-Tribune archive. Hart served as bishop or auxiliary bishop of the Diocese of Cheyenne from 1976 to 2001. He spent 20 years as a priest in Kansas City before coming to Wyoming.
Four more allegations of sexual abuse have been made against former Bishop Joseph Hart in the past year, including accusations that span his time in Wyoming, an official with the Diocese of Kansas City-St. Joseph said Thursday.
"The (Kansas City) diocese has turned over all information we have about allegations pertaining to Bishop Hart to the Diocese of Cheyenne, which I understand they have shared with local law enforcement in Cheyenne," said Jack Smith, a spokesman for the Missouri diocese.
The allegations are the latest against Hart, who has been dogged by claims that he serially sexually abused boys for decades. At least three Wyoming men have accused Hart, while the Kansas City diocese has settled lawsuits with 10 other alleged victims over the years, Smith told the Star-Tribune.
The true number of Hart's alleged victims is likely unknown. In addition to the 10 men in Kansas City who have settled, the four who have accused Hart in the past year, and the three identified in Wyoming, there are others who attorneys say have not come forward publicly.
Hart has consistently denied any allegations of sexual abuse or misconduct at any point. At attorney for Hart has not responded to repeated phone and email messages seeking comment.
Smith said the four new allegations came from either the alleged victims themselves or from their relatives. He said the abuse detailed in those allegations span Hart's entire career, including his 25 years as the leader of the Catholic flock in Wyoming, but Smith said none of the alleged abuse occurred in Cheyenne and that the victims were Missouri residents.
"The abuse did not occur in Cheyenne, but it did not necessarily occur in Missouri, either," Smith said. Hart has been accused of abusing boys on trips across the West, including to and from Cheyenne. Through his attorney, Hart last year denied allegations that he abused boys while on trips.
Before coming to Wyoming to become auxiliary bishop in 1976, Hart was ordained and spent 20 years in Missouri. His abuse allegedly began as early as 1963, according to the accusations, when he was at a prominent parish in midtown Kansas City. He has consistently denied those accusations.
Allegations resurface
Over the past year, Hart's name has again been in the news because the Diocese of Cheyenne, which he led from 1976 until 2001, internally investigated the former cleric and determined that two allegations of abuse against him were substantiated. One of those men came forward in 2002, the first alleged Hart victim to do so in Wyoming, but then-Natrona County District Attorney Kevin Meenan closed the case, saying there was no evidence to support the allegation.
In December 2017, the diocese reopened the investigation from 2002. It determined that accusation was substantiated, and it subsequently "became aware" of another alleged victim of Hart in Wyoming. A third man came forward in August 2018, the same month that Cheyenne police confirmed it was investigating Hart and put out a public notice calling on other victims to come forward.
On Wednesday, Cheyenne police announced it was recommending charges against two men for alleged abuse in the 1970s and 1980s. Police declined to name the men, citing state statute. But the description from authorities matches details known about inquiries into Hart: In its press release, Cheyenne police said one of the two suspects was a member of the clergy and that police had used information from 2002 and 2018 -- the two years Hart was investigated by police and the church, respectively.
Smith, the Kansas City diocese's spokesman, said he didn't think his diocese had directly communicated with Wyoming law enforcement. He said Missouri church leaders had offered support to those victims and their relatives who came forward with allegations against Hart.
"That's been a big deal with Bishop Hart because his pattern was to abuse brothers, so a whole family was affected by the abuse that he inflicted on these young men and that affected their whole family because typically they were families that were close to him and thought that he was (great)," Smith said, "and he wasn't."
Rebecca Randles, an attorney in Kansas City who has represented multiple alleged victims of Hart's, told the Star-Tribune on Thursday morning that she has a photo of Hart eating dinner with a family in Kansas City decades ago. Two brothers in the same family later accused Hart of sexual and emotional abuse, dating back to 1963.
She said that Hart was known to "party" with two other clergyman in Kansas City who had faced accusations of sexual abuse.
"They partied together at Lake Viking," Randles continued, referring to a small waterfront community in northern Missouri. The Kansas City Star has reported that, in lawsuits, Hart and the other accused priests were alleged to have plied the boys with alcohol, marijuana and pornography before abusing them.
Randles and representatives from SNAP -- the Survivors Network of Those Abused by Priests -- held a press conference in Kansas City early Thursday afternoon, outside of Guardian Angels, which was Hart's first posting as a priest.
Randles said she was calling on the Kansas City diocese to work with law enforcement in Kansas and Missouri -- Kansas City sits on the border of the two states -- and in Wyoming.
"The Kansas City-St. Joseph diocese has also had predators in their midst, Hart and others, and we would encourage them to take a second look and work with prosecutors on those criminals," she said.
SNAP officials, meanwhile, called on more victims to come forward and on the Kansas City diocese to take steps to find more victims.
The group called on Kansas City Bishop James Johnston to launch, "a long overdue but crucial outreach drive so that others with information about Hart's alleged wrongdoing will call police and help ensure a successful prosecution."
Contact: seth.klamann@trib.com