Diocese: One suspect in pending clergy sex abuse case was clergyman, one was 'altar server'
By Seth Klamann
Casper News Tribune
August 15, 2019

https://bit.ly/30geEax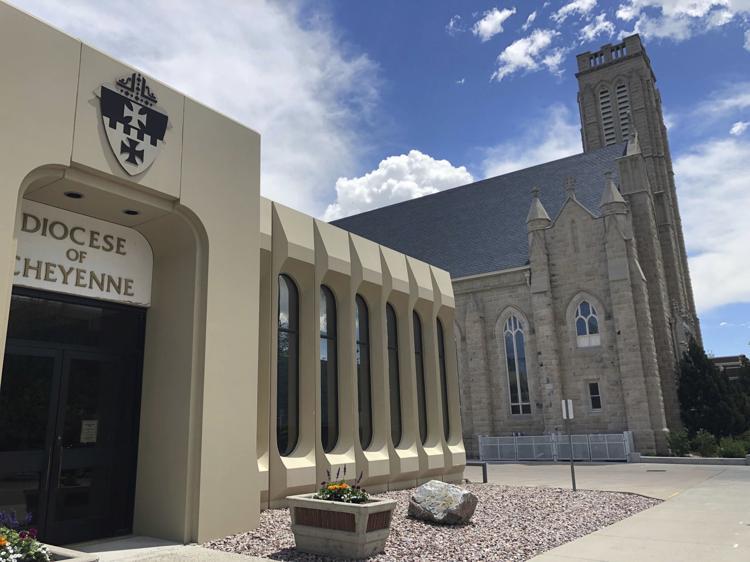 This photo shows the offices for the Roman Catholic Diocese of Cheyenne and the Cathedral of St. Mary on June 13. The diocese has clarified that one of the two suspects police have recommended be charged related to clergy sex abuse decades ago was an "altar server."
Photo by Mead Gruver
One of the two men Cheyenne police are recommending be charged related to clergy sex abuse decades ago was an "altar server," while the other was a member of the Catholic clergy in Wyoming, the Diocese of Cheyenne said in a statement that was confirmed by police.
The diocese declined to name either suspect, whom police said Wednesday they're recommending be charged in relation to sexual abuse of boys in the 1970s and 1980s. Police also have declined to name the men or provide any details about their identity, citing state statute.
Affidavits recommending the charges were turned over to the Laramie County District Attorney's Office on Wednesday, police said. The prosecutors' timeline is unclear; multiple calls to the district attorney's office seeking comment were not returned.
In its initial statement Wednesday, Cheyenne police said both men were members of the clergy. A spokesman later revised that statement to say that one man was attempting to become clergy at the time of the abuse.
In its own message to media sent Wednesday night, the diocese indicated it didn't completely agree with that description and called on police to clarify the statement to the public.
"The (Cheyenne police) press release described the second person as a person 'attempting to become a clergyman,' which has caused significant speculation in the media," the diocese wrote in a statement attributed to its chancellor, Patti Loehrer. "Since the CPD did not communicate with the Diocese regarding the rationale for such a description, we are not sure of their intent. In our estimation, the second person was likely an adult 'altar server' at the time of the alleged crime. If so, that would make him a lay man."
Cheyenne police spokesman Kevin Malatesta said that police understood the second suspect was attempting to join the clergy at the time of the abuse.
"That's the information we received, yes," he said. "He didn't become a member of the clergy, but he was seeking to become one."
Malatesta again declined to provide specifics on either man. However, one seems likely to be former Cheyenne Bishop Joseph Hart. Police said that their recommendation for charges were based on investigations from 2002 and 2018. Hart was investigated and cleared by police in 2002, and this most recent inquiry began after the diocese opened its own investigation last year.
Hart has consistently denied any allegations of sexual misconduct. His attorney did not return repeated requests for comment earlier this week.
Asked why the department had publicly announced it sent affidavits to prosecutors before charges were announced, Malatesta said the investigation into clergy abuse — which has been ongoing for 16 months — has gained significant media attention. He said the decision was partly motivated by a desire to let the public know that the investigation was wrapping up, that evidence that abuse had occurred was found and that charges are being recommended.
On Wednesday, Malatesta had said that Cheyenne police were the only agency involved. But he said Thursday that his department investigated reports from within the city limits of Cheyenne. He declined to say whether any other allegations surfaced from other parts of Wyoming that his department referred elsewhere.
Bishop Steven Biegler in a statement encouraged other victims to come forward.
"I commend all the victims who have come forward to report sexual abuse to the police or the Diocese of Cheyenne," he said. "Thank you for your courage to step forward. If anyone has been abused, no matter how long ago, I encourage you to come forward. We will listen to you and accompany you on a journey of healing."
Contact: seth.klamann@trib.com