Former St. Louis priest leaves Massachusetts state education post under scrutiny
By Jesse Bogan
Post Dispatch
August 16, 2019

https://bit.ly/307r2Jv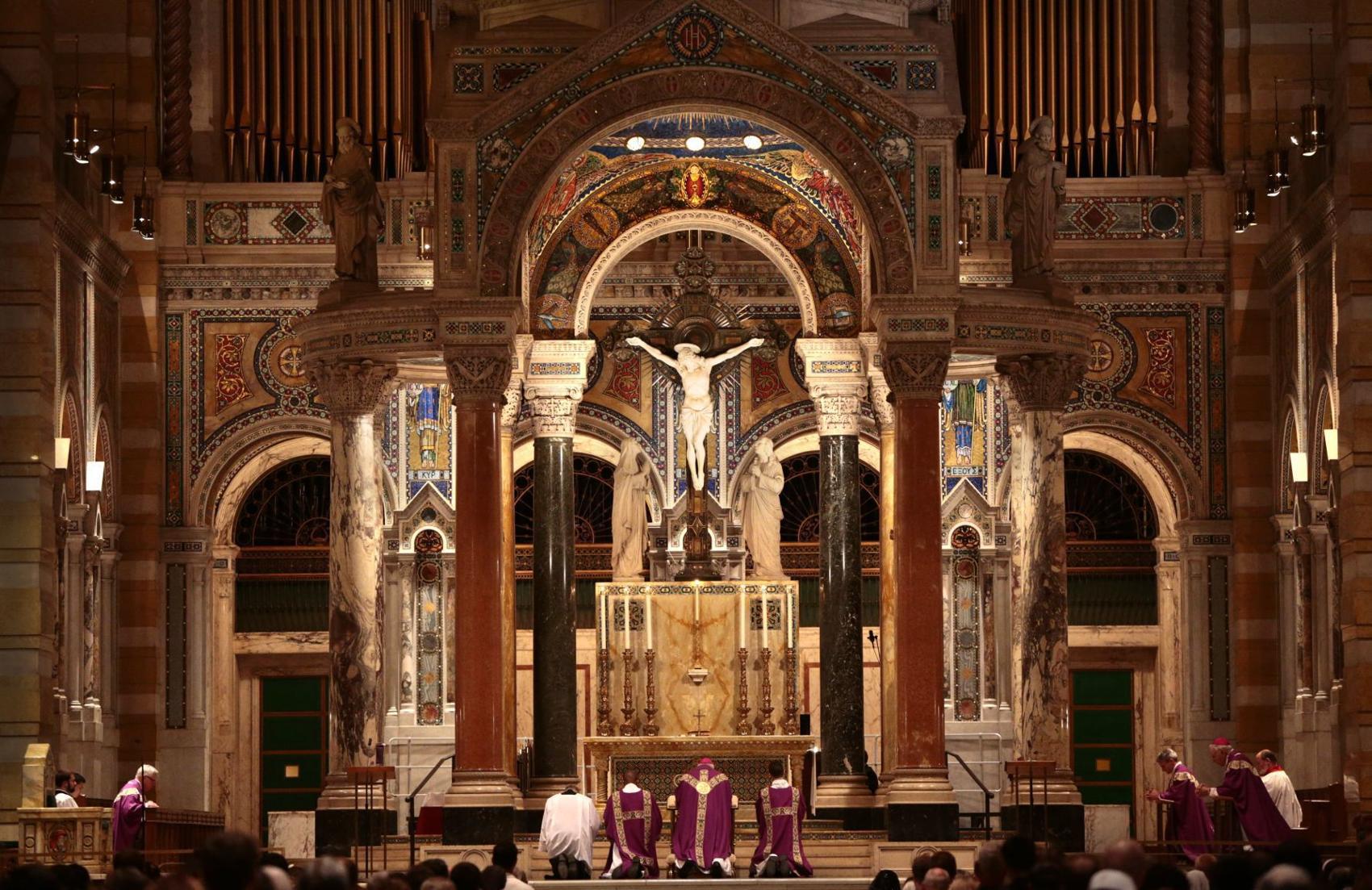 St. Louis Archbishop Robert Carlson (center) kneels at the Cathedral Basilica altar during a Mass of Reparation to address clergy sexual abuse on Friday, Sept. 7, 2018.
Photo by Robert Cohen
One of 64 men recently named by the St. Louis Archdiocese for having at least one substantiated allegation of clergy sexual abuse of a minor, or possession of child porn, left his job last week as an education official for the state of Massachusetts.
Keith M. Westrich, 64, of Boston, was put on administrative leave from the Massachusetts Department of Elementary and Secondary Education shortly after the archdiocese here released its list of names July 26. Westrich was an associate commissioner who focused on preparing children for life after high school.
Westrich left the Massachusetts education department Aug. 9 with the intention to retire, said Jackie Reis, a spokeswoman for the state agency.
"He left after being placed on administrative leave and after being informed that we were looking into the circumstances of his name being on the St. Louis Archdiocese's list," Reis said.
Reis said Westrich had worked for the department since 2008, initially as a contractor. She said the department wasn't aware of any complaints against Westrich in his role there, but an investigation has been launched.
"The allegations are deeply disturbing, and I think it's important for us to get to the bottom of it as soon as we can," Massachusetts Gov. Charlie Baker said Wednesday, according to WBUR-FM, Boston's National Public Radio station.
Westrich couldn't be reached for comment. On Thursday, a security guard at the high-rise apartment complex where he lives in Boston said he hadn't seen Westrich since Monday.
In the July 26 report by the archdiocese, Westrich was named as one of 61 former clergy members with substantiated allegations of sexual abuse of a minor since the 1950s. Three additional clergy were accused of possessing child porn.
Westrich was ordained in 1981. He worked at Our Lady of Fatima, in Florissant, from 1982 to 1983, followed by Holy Family, in the Tower Grove South neighborhood, from 1984 to 1986. Both parishes closed in 2005.
Westrich's "priestly faculties" were removed in 1986, Peter Frangie, a spokesman for the archdiocese, said by email Thursday, adding: "Westrich left the ministry not long after and did not respond to inquiries from the Archdiocese of St. Louis."
Asked to elaborate, Frangie didn't respond.
The Archdiocese of St. Louis should have publicly named Westrich as soon as he was removed from ministry, said David Clohessy, of the St. Louis-based Survivors' Network of Those Abused by Priests.
"Anybody who Westrich may have assaulted in the last bunch of years — that responsibility falls squarely on St. Louis Catholic officials," Clohessy said. "Being under the radar for years and working in education, who knows how many kids he had access to?"
Contact: jbogan@post-dispatch.com