Child Victims Act tears open North Country's history of sexual abuse
By Brian Mann
North Country Public Radio
August 19, 2019

https://bit.ly/2HaUU0g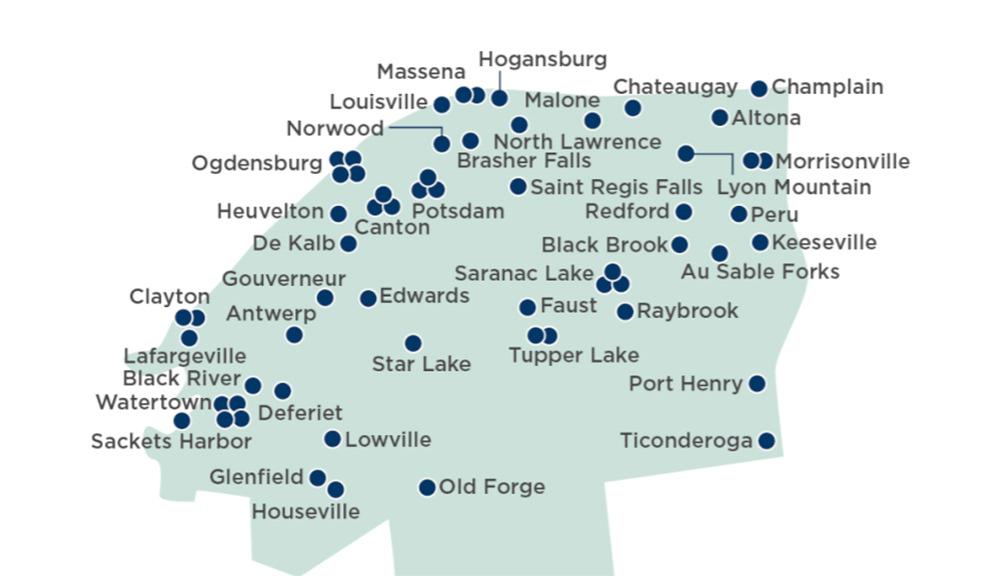 The lawfirm Anderson Advocates mapped alleged cases of child sexual violence by clergy associated with the Roman Catholic Diocese of Ogdensburg.
Photo by Anderson Advocates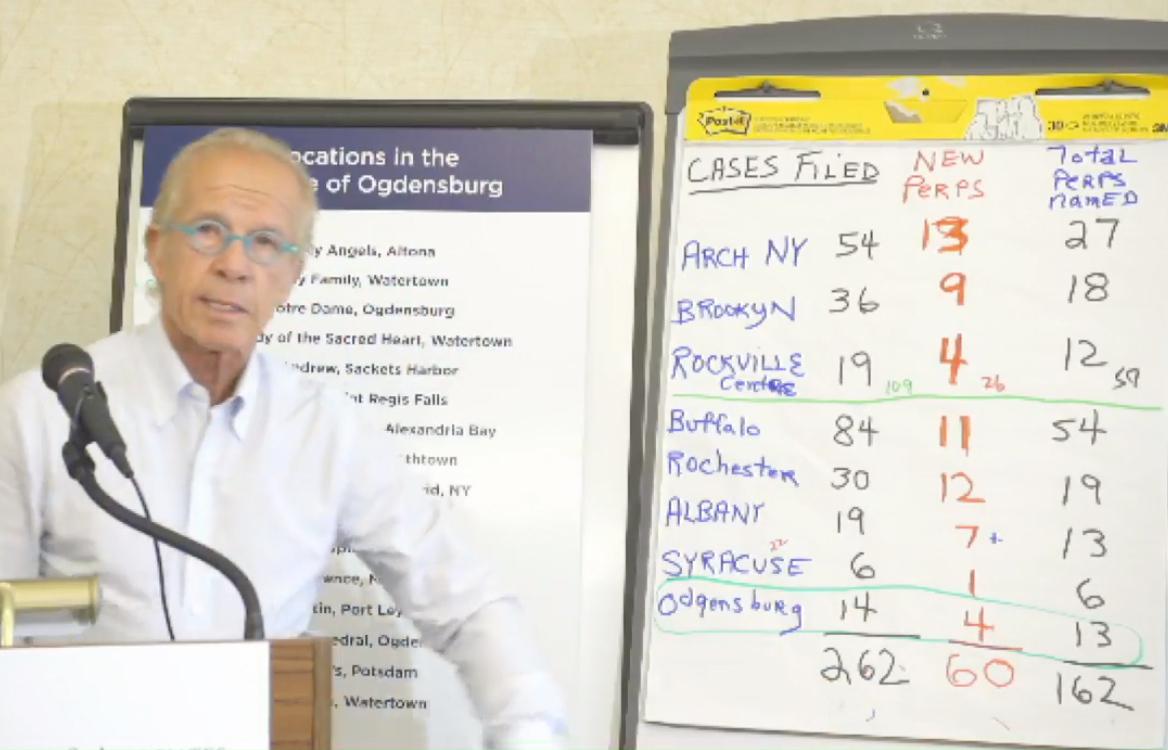 Attorney Jeff Anderson lays out civil litigation cases against Roman Catholic Diocese of Ogdensburg here in the North Country. August 15, 2019.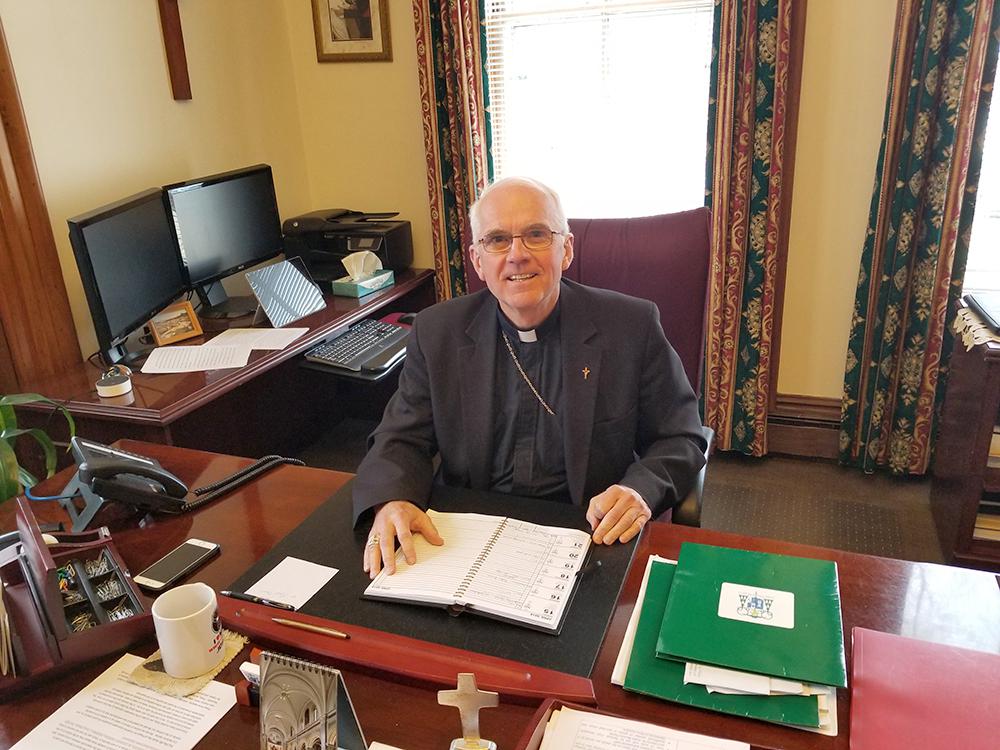 Bishop Terry LaValley.
Photo by Brian Mann
Lawsuits filed last week under the Child Victims Act claim children were targeted by abusers and pedophiles over a period of decades in dozens of communities across the North Country. The Boy Scouts are named in at least one of the suits, but most of the cases target the Roman Catholic Diocese of Ogdensburg.
More than 400 lawsuits were filed statewide last week under the Child Victims Act, after New York temporarily lifted the statute of limitations on sexual violence cases.
Where are the priests who face credible allegations?
At a press conference in Watertown, attorney Taylor Stippel unveiled 14 new lawsuits against the Diocese of Ogdensburg.
Stippel said she and other attorneys are still trying to understand the scope of the sexual violence that happened here.
"Over one third of the list that the diocese has deemed as credibly accused [priests] are still alive," said Stippel, with the firm Anderson Advocates. "We don't know where they are. That's a problem. That's a public safety hazard."
North Country Bishop Terry LaValley has officially identified 30 priests who face credible allegations of abuse – the most recent case nearly 20 years old. But Stippel says these lawsuits already name four clergy not on the official list.
"How many more survivors have come to the diocese with reports of what they suffered? How many perpetrators are not on that list?" Stippel said.
Stippel says one case filed last week identifies a priest, Father John Downs, still living and working in semi-retirement in Ogdensburg.
The Diocese of Ogdensburg responds
NCPR's efforts to reach Father Downs were unsuccessful, but Darcy Fargo, a spokeperson for the diocese, acknowledged the elderly priest remains active.
"To our knowledge, there has only been one claim that was brought to the diocese regarding Father Downs. That claim was investigated by an independent private investigator [hired by the diocese] as well as the diocesan review board. It was also reported to law enforcement, per the diocesan policy. The claim was found to be not substantiated and not credible."
Fargo also rejected a demand by those suing the diocese that the Church open the files and make public all the information gathered on allegations against North Country clergy.
"It would be obviously irresponsible for us to publish names of individuals who were accused and found not substantiated or not credible," she said. "That would be smearing the names of individuals for no reason."
Boy Scouts face claim of "nightmarish" abuse in St. Lawrence County
The church isn't the only North Country institution facing lawsuits. Last week, WWNYTV reported that two men, one from Watertown, sued the Boy Scouts for alleged sexual assaults that happened around 1980 at a scout camp in St. Lawrence County.
One of the alleged victims, identified only as REM, was interviewed by Channel 7. "The things that happened to me were nightmarish. My grades dropped, I started drinking alcohol at the age of thirteen to try to get rid of the memories. My life was a living hell."
REM told the television station he was abused by a scout leader from Pierrepont, now deceased, named John Brown. "He was a pedophile, he was a pervert, he was a monster. He needs to have the record straight, that's why I'm coming forward."
More lawsuits to come?
At last week's press conference, attorney Cynthia LeHave said this first wave of look-back lawsuits under the Child Victims Act is only the beginning. "We are showing you today the tip of the iceberg. There are more cases in the Diocese of Ogdensburg. There are more cases against other institutions."
In an interview last year with North Country Public Radio, Bishop Terry LaValley argued that church leaders have done a lot to clean up the wreckage of clergy abuse, paying millions of dollars in claims, implementing new safety protocols.
"The Church screwed up big time, and people have been hurt immeasurably. How many times can I say I'm sorry for what happened? What else can I do? I don't know," Bishop LaValley told NCPR in May 2018.
Questions about policy and top leadership
But these lawsuits suggest the fallout is nowhere near its end. Attorney Cynthia LeHave said one troubling question is why the Diocese of Ogdensburg has a disproportionate number of priests facing assault allegations.
"We are looking into whether this was a place where priests were moved to when they were accused in other places," she said. "That's something we will be dealing with in the future."
One of the church leaders named in the Child Victims Act lawsuits last week is the retired Bishop of Albany, Howard Hubbard, whose diocese includes a big chunk of the North Country in Saratoga, Warren and Washington counties.
Hubbard has taken a voluntary leave of absence after one of the cases alleged that he and another priest assaulted a sixteen-year-old in the late 1990s in Ballston Spa. Hubbard has denied any wrongdoing.