Lawsuit accusing Bransfield of sexual misconduct settled
By David Beard
MetroNews
August 20, 2019

https://bit.ly/2ZlawVc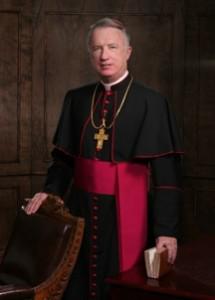 Former Bishop Michael Bransfield
A lawsuit brought by a former seminarian who alleged that former Bishop Michael Bransfield sexually assaulted him and that Bransfield regularly drank himself drunk before engaging in "grossly inappropriate" sexual behavior with other young seminarians has been settled.
The settlement came abruptly, though the reasons haven't been revealed.
The civil suit was filed in Ohio County Circuit Court in May. The accuser, who goes by the initials J.E., now lives in Pocahontas County, but during the period covered in the suit lived in St. Clairsville, Ohio, and attended the Cathedral of St. Joseph in Wheeling.
Along with Bransfield, the defendants were the U.S. Conference of Catholic Bishops (USCCB), the Diocese of Wheeling-Charleston and 20 "John Does." Ten of the John Does are employees or agents of the USCCB and 10 are employees or agents of the diocese.
Diocese spokesman Tim Bishop said in an email exchange, "The Diocese can confirm that the case has been dismissed. The case was settled by agreement of the parties. At the request of the plaintiff, the terms of the settlement are confidential. The Diocese will have no further comment regarding the case."
J.E. was represented by Warner Law Offices of Charleston. The Dominion Post left phone messages and emails over the course of several days seeking information and comment, but neither of his attorneys responded.
J.E. alleged that Bransfield was a binge drinker, consuming nightly a half or full bottle of Cointreau, an orange liqueur. He would "drink until he was intoxicated, at which point he would engage in grossly inappropriate behavior, including … making sexually suggestive gestures, hugging, kissing, inappropriately touching and fondling seminarians."
In May 2014, J.E. was serving as Bransfield's interim personal secretary and traveled with him to Charleston, where one night Bransfield was allegedly drunk and locked himself out of the parish. Once admitted to the house, Bransfield exposed himself, "grabbed J.E. from behind, pulled J.E. against him, running his hands down J.E.'s chest and over his genitals." J.E. broke away and locked himself in a room until daylight.
J.E. had a lifelong dream of entering seminary but fared poorly, "overcome with depression and suffering a severe crisis of faith." He dropped out and left the church.
The suit hadn't progressed very far when it was settled.
Bransfield and the diocese denied all allegations. In May, the diocese moved, with Bransfield signing on, to have the suit dismissed, arguing that the alleged assault happened in 2014 when the two-year statute of limitations was long past.
The USCCB also moved to have the suit dismissed, saying the circuit court has no jurisdiction over it. Also, while Bransfield was a member and general secretary, the conference is merely advisory and has no authority to hire, fire, direct, supervise or oversee individual priests.
J.E. responded to both motions at the end of May. Then, abruptly, after several weeks the case was settled without further filings or discovery.