Group calls for Salina diocese to release more names linked to clergy abuse
By Savannah Rattanavong
Manhattan Mercury
August 21, 2019

https://bit.ly/33RKkow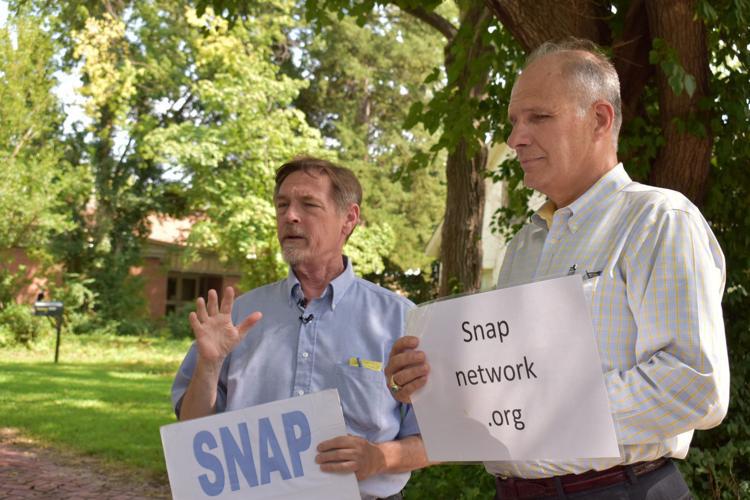 From left, David Clohessy and Larry Davis, members of the Survivors Network of those Abused by Priests, urge the Salina diocese to add names of "credibly accused" clergy members and punish those who did not thoroughly investigate claims of abuse during a news conference outside the Seven Dolors of the Blessed Virgin Mary Catholic Church Tuesday.
Photo by Savannah Rattanavong
A victim advocacy group is calling for the Catholic Diocese of Salina to show more transparency in revealing details of sexual abuse by clergy members.
At a meeting with members of the media Tuesday outside the Seven Dolors of the Blessed Virgin Mary Catholic Church, where two former priests who have been credibly accused worked, David Clohessy and Larry Davis of the Survivors Network of those Abused by Priests (SNAP) accused the diocese of withholding names of three more priests with substantiated abuse claims. The men all worked in the diocese's area at some point. One of the men, Father Donald McCarthy, served in Manhattan in the 1960s and 1980s, but the claim of abuse didn't take place in town.
SNAP also staged protests at other locations across Kansas Tuesday.
"All those people in the church (who were involved or complicit) need to be brought to justice," Davis said. "Then also that can start the healing process for the victims. We hope that it finally breaks loose. We want to bring to people who are suffering an avenue for peace and justice."
In March, the diocese, which oversees the Manhattan area, released a list of 14 clergy members who had substantiated allegations of sexual abuse of a minor. The report included three priests who had served in Manhattan since the 1950s, and several more who served at other area churches. The list included priests William Merchant, who died in 1975, and John Moeder, who died in 2012. Both served at Seven Dolors.
SNAP called for the diocese to include photos, locations and work histories of all "proven, admitted and credibly accused clerics," name and punish the individuals responsible for "covering up" the abuse and admit wrongdoing in not thoroughly investigating past claims of sexual abuse.
Clohessy, SNAP's Missouri director, and Davis said they would like to see more consequences through the law or the church for people who have had substantiated claims against them. Clohessy said this endeavor is not only about seeking justice after the fact but also preventing abuse from happening in the first place.
"(Adults) can heal ourselves," Clohessy said. "It's a lot easier if people in power positions can help us, but we can take care of ourselves. Kids can't. The easiest way (to prevent abuse) is to put every name of every predator out there, even if a priest hasn't been in this diocese for 30 years."
In a statement Tuesday, the Salina Diocese said it has been cooperating with the KBI investigation looking into sexual abuse of minors by members of the Kansas Catholic clergy, as well as with past investigations into priests.
The diocese said SNAP alleged it had omitted the names of Father Donald McCarthy, who died in 2017, and Ronald Gilardi and Thaddeus Posey, two priests from the Capuchin Province of St. Conrad, Colorado.
The Capuchin Province also released a list of substantiated allegations in March, which included Gilardi and Posey.
The Salina Diocese said it cooperated with law enforcement when Texas officials tried McCarthy in 2007. He was found not guilty. The statement said the diocese' Lay Review Board also reviewed the allegation from Texas, but could not substantiate the claim.
McCarthy's duties in Manhattan included assistant pastor at Seven Dolors from 1962 to 1963, guidance counselor at Luckey High School from 1963 to 1965 and superintendent at Manhattan Catholic Schools from 1984 to 1986.
"The Lay Review Board of the Salina Diocese continues to evaluate allegations, and cooperate with the KBI as new allegations are made," it said. "When an allegation is proven to be substantiated, the diocese will add the name of the clergy member to its list, which can be found at salinadiocese.org/home/clergy-abuse."
Clohessy urges victims to speak out if they have been abused, whether that is to the law enforcement, therapists or family members.
"If you're hurting, please please speak up," he said. "Silence is deadly. … (The trauma) never goes away completely, but you can build a better life if you're just willing to stick your neck out and find somebody trustworthy and share the burden."
Contact: srattanavong@themercury.com