Harrison strikes back with defamatiion suit
By John Cox
Californian
August 22, 2019

https://bit.ly/2HhZYA0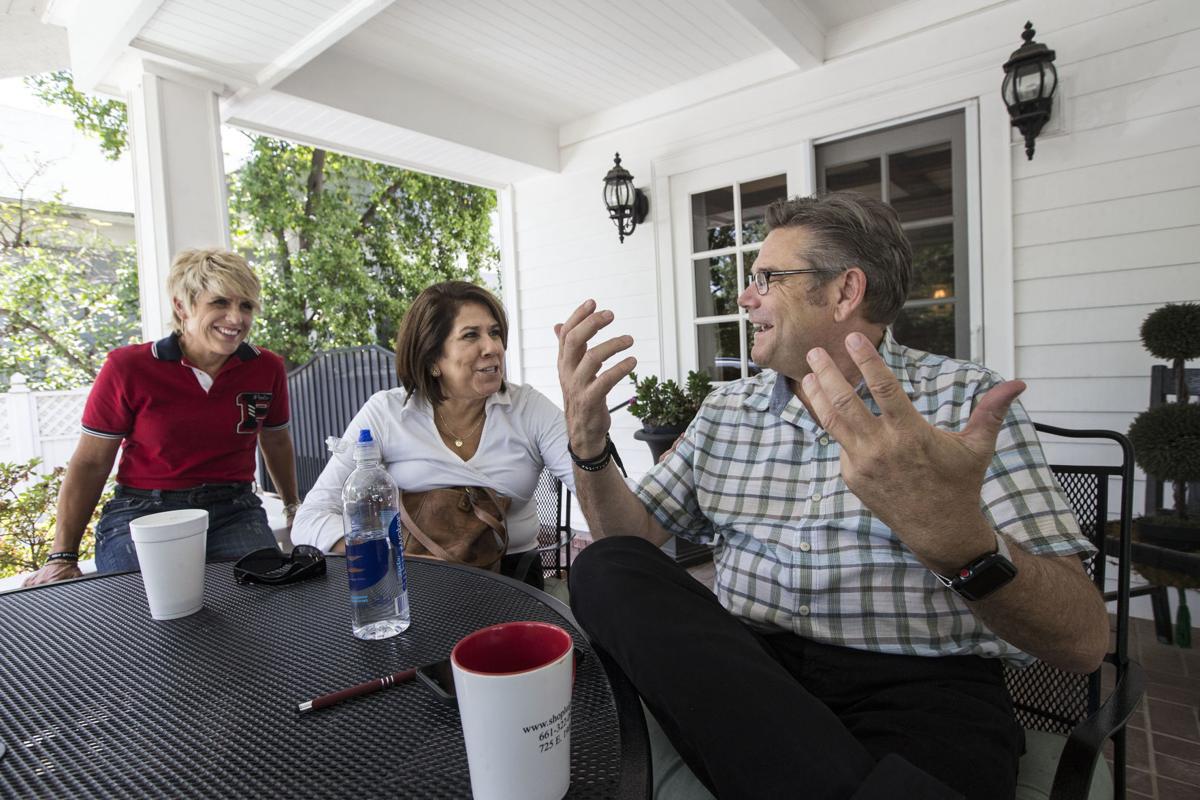 Monsignor Craig Harrison with friends Jana Hardy and Patsy Poeschel on the front porch of his 20th Street home in June.
Accused priest Craig Harrison has filed a slander lawsuit against a Catholic group that recently disseminated letters and emails alleging the Bakersfield clergyman committed sexual abuse while working at a Firebaugh church in the early 2000s.
The suit filed Aug. 6 in Kern County Superior Court says Stephen Brady, president and founder of Illinois-based Roman Catholic Faithful Inc., whose self-professed goal is to rid the church of clerical corruption, shared and published "false, defamatory, libelous and slanderous statements" during a May 29 news conference in Bakersfield.
The correspondence Brady publicized during the news conference detailed allegations that Harrison had sex with two high school students while serving as pastor of the Firebaugh church and that he would examine boys' private parts daily as a way of checking whether they had been using drugs.
The letters and email originated with an unrelated investigation conducted in 2004 by a retired FBI agent in Merced.
Brady said Thursday it was not his goal to harm or defame Harrison, and that he was only sharing information he uncovered while trying to find out whether the accusations against the priest were true. He called the lawsuit unwarranted.
"I have nothing personal against Monsignor Harrison whatsoever," Brady said. "I was just looking for the truth."
The suit was filed on Harrison's behalf by Bakersfield attorney Craig A. Edmonston, who could not be reached for comment.
Harrison, a popular figure in Bakersfield known for helping troubled youth, remains on paid administrative leave after being suspended in April from his job as pastor at St. Francis of Assisi Catholic Church. He has denied ever engaging in sexual impropriety.
His lead attorney, Kyle Humphrey, has said Harrison is the innocent victim of a cabal of accusers bent on destroying the priest's life as they seek payment from the church.
Humphrey said Thursday afternoon the lawsuit against Roman Catholic Faithful and Brady was the first in a series of legal actions "to restore the reputation and good name of Monsignor Craig Harrison and to hold accountable these defendants for their false, malicious and reckless accusations." He declined to say who Harrison might sue next.
A representative of Survivors Network of those Abused by Priests, which advocates for victims of sexual abuse within the Catholic church, said the group is aware of about a dozen similar lawsuits, none of which is believes have been successful.
"We hope this move backfires and prods others who may have seen, suspected or suffered wrongdoing by Msgr. Harrison to step forward, get help, call police, protect others and expose the truth," SNAP's David G. Clohessy said by email.
The suit recounts accusations brought to light during the 2004 investigation conducted by retired Federal Bureau of Investigation agent Thomas H. Walsh. Among them are allegations Harrison had sex with a minor in the back of the priest's Ford Explorer, "that he is a sexual predator, corrupt, has a bad gambling problem and is a high roller."
It also said the materials disseminated, published and republished by Roman Catholic Faithful suggested one troubled young man committed suicide because he was allegedly abused by Harrison.
The allegations are not only false, the lawsuit states, but they were made "negligently and maliciously and with reckless disregard for the falsity (serious doubts as to the truth) of the allegations."
As a result of the charges' publication, it says, Harrison has suffered permanent damage and injury to his good name and reputation. He has incurred and will continue to incur general and non-economic damages "for emotional distress, worry, anxiety, fear and humiliation in an amount according to proof." It goes on to say the economic damage he sustained includes medical bills, loss of income and harm to his ability to earn money.
Harrison's lawsuit seeks to recover those damages as well as legal costs.
At the news conference cited in the lawsuit, Brady told reporters he was in the process of going through his old files hoping to uncover information that could be helpful in his investigation into Harrison's alleged misconduct.
"I'm going to dig and I'm not going to stop digging," he said at the news conference held at the Holiday Inn & Suites, according to The Californian's report at the time. "One way or another, we're going to prove Father Harrison's innocence or guilt."
Brady allowed at the time that Harrison might be innocent.
"Father Harrison could be completely innocent, and this is just a conspiracy of half a dozen individuals out to destroy him, but I've never seen any conspiracy like that before," he said at the news conference.
Bakersfield police recently closed its investigation into allegations Harrison sexually abused minors while serving as pastor of St. Francis. Police in Merced and Firebaugh continue to investigate allegations they have received against Harrison.
The Roman Catholic Diocese of Fresno, whose investigation of Harrison is ongoing, said it was not in a position to comment on Harrison's lawsuit.
Contact: jcox@bakersfield.com