Victims of child sex abuse have new chance to hold abusers accountable in court
By Marina Starleaf Riker
Express-News
August 27, 2019

https://bit.ly/2MGqZBr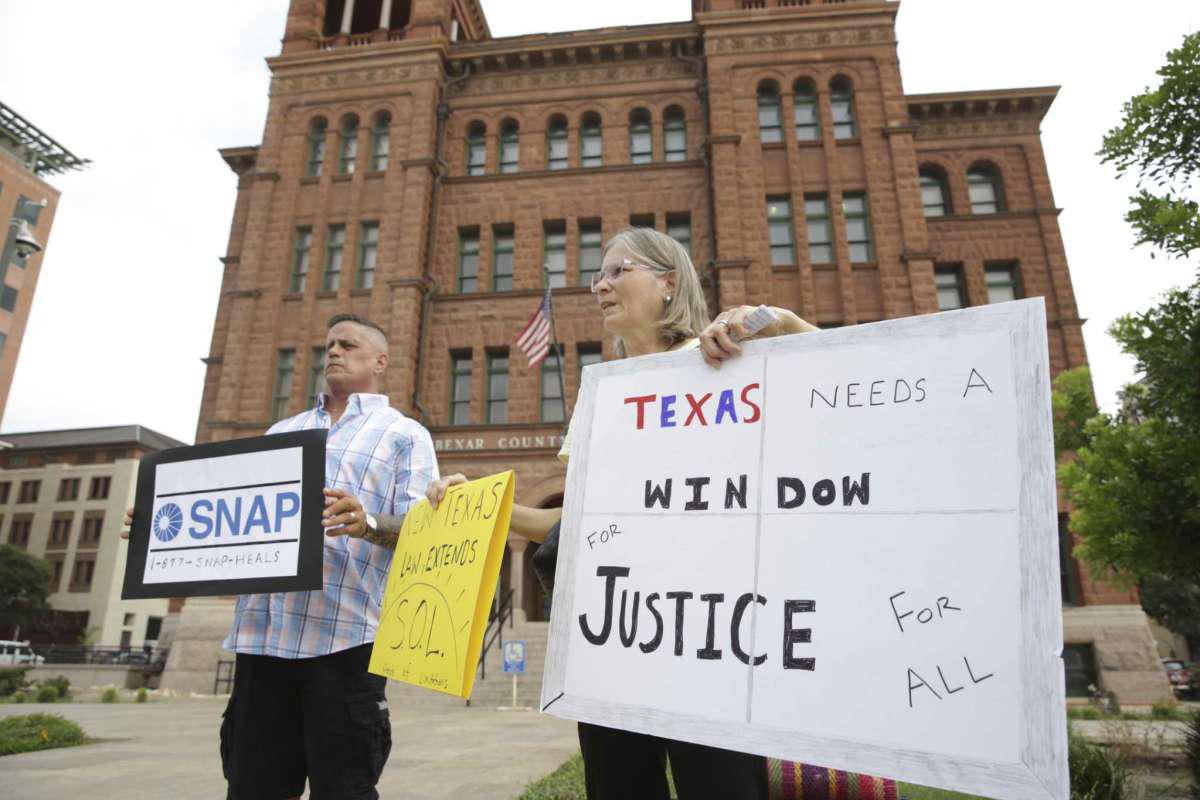 John Delaney, left, and Patti Koo, right, members of the San Antonio Chapter of SNAP, the Survivors' Network of those Abused by Priests held a press conference on the steps of the Bexar County Courthouse on Tuesday, Aug. 27, 2019.
Photo by Bob Owen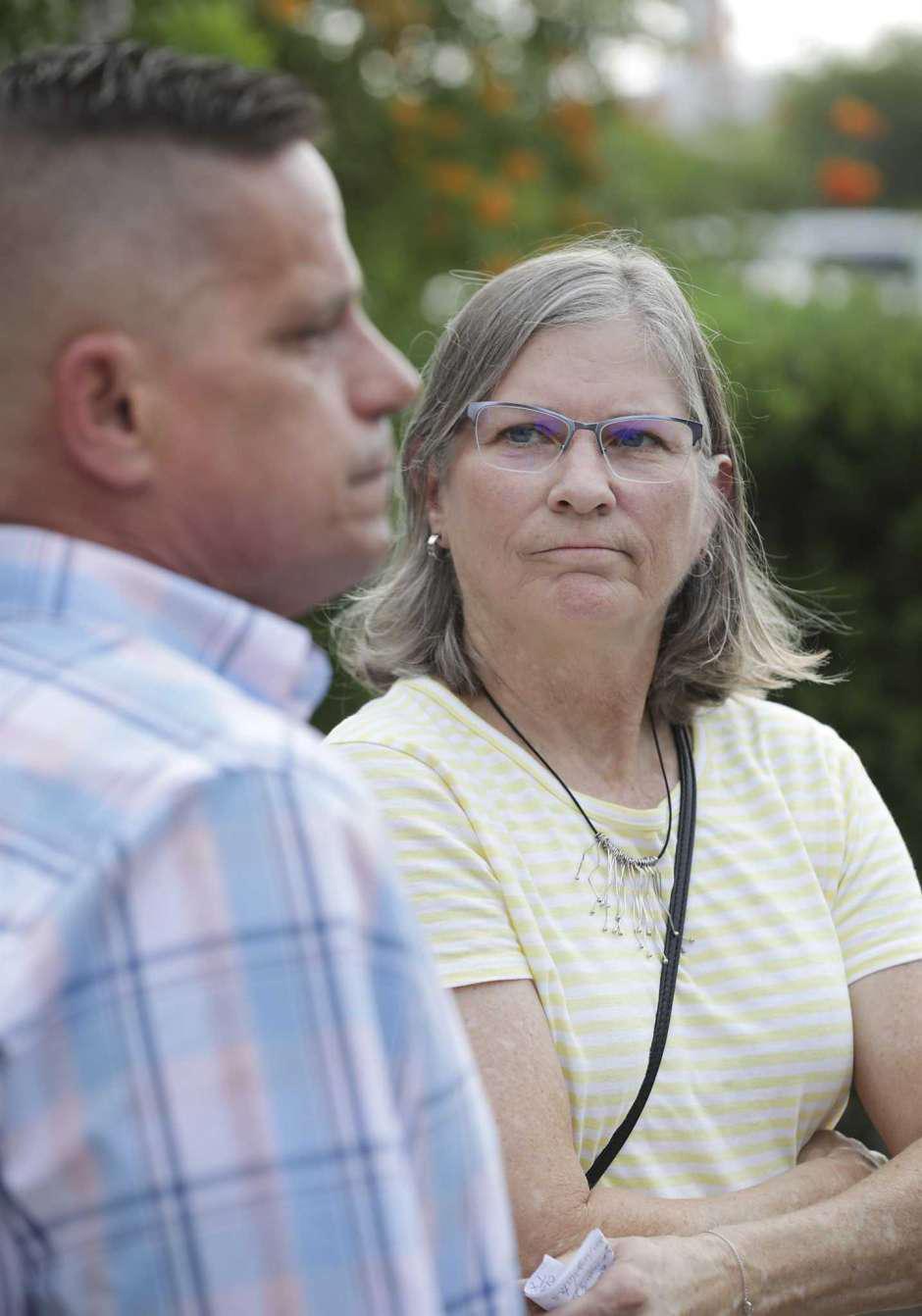 Patti Koo, right, listens to John Delaney, both members of the San Antonio Chapter of SNAP, the Survivors' Network of those Abused by Priests held a press conference on the steps of the Bexar County Courthouse on Tuesday, Aug. 27, 2019.
Photo by Bob Owen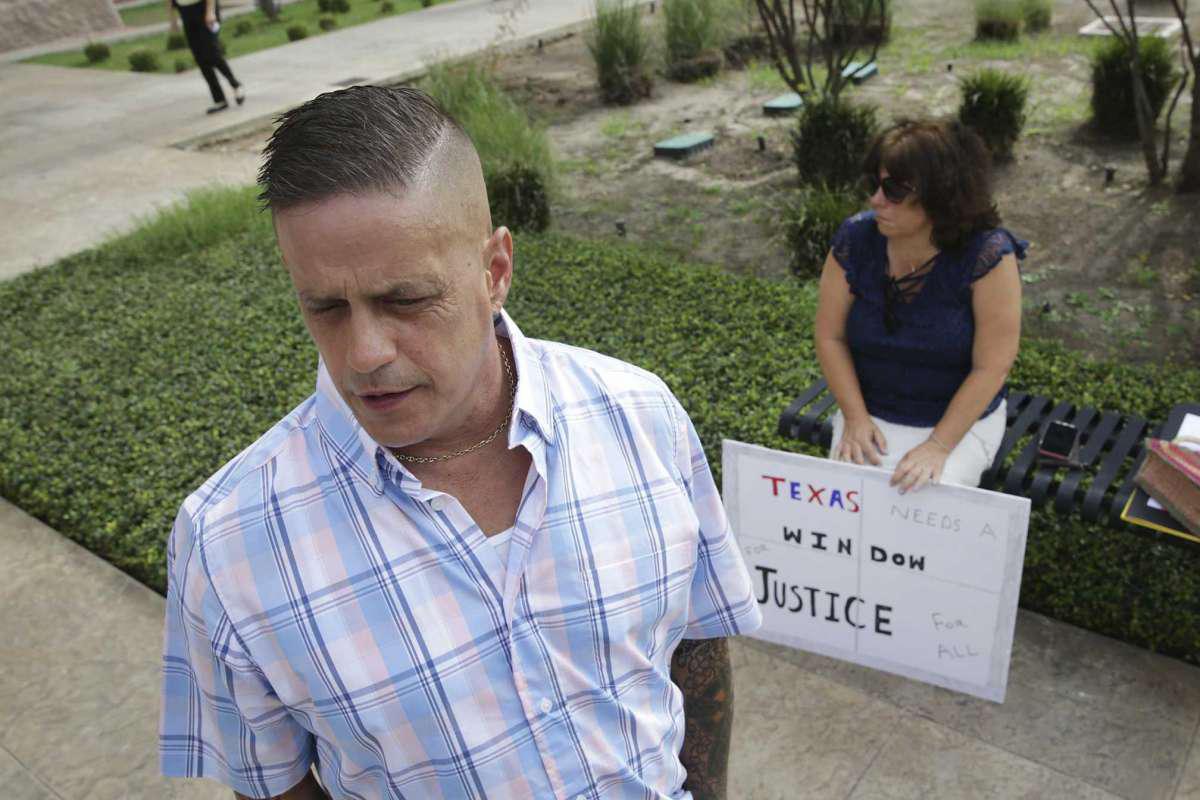 John Delaney and his wife Sheri Delaney, right, members of the San Antonio Chapter of SNAP, the Survivors' Network of those Abused by Priests held a press conference on the steps of the Bexar County Courthouse on Tuesday, Aug. 27, 2019.
Photo by Bob Owen
John Delaney, a survivor of child sex abuse, wants other victims to know this: Starting Sept. 1, they could have another chance to hold their abusers accountable in court.
Delaney and the San Antonio chapter leader of the Survivors Network of those Abused by Priests gathered outside the Bexar County Courthouse Tuesday morning to raise awareness about a new Texas law going into effect next month that allows victims of child sex abuse to file civil lawsuits against abusers up to 30 years after they turn 18.
Right now, the window when they can file a lawsuit, called the statute of limitations, lasts just 15 years after their 18th birthday.
"Every victim of abuse, whether it was at a church or not, deserves a shot at justice," Delaney, 48, told reporters gathered outside the courthouse. "Rape is like soul murder, and there shouldn't be a statute of limitations."
Delaney, who now lives in San Antonio, grew up in Philadelphia, where he was sexually abused and raped by a priest for years starting at age 11, he said. It wasn't until the early 2000s that Delaney decided to come forward.
He soon learned that the statute of limitations prevented him from holding his abuser, James Brzyski, accountable in court, he said.
"You ask an 11-year-old who is being abused what the statute of limitations is, they have no idea; even at 30 years old, I didn't know what it was," said Delaney. "I thought that when I did come forward, something could be done about it."
In 2005, a Philadelphia grand jury investigation into predator priests found that Brzyski was suspected of abusing more than 100 other children, calling him one of the "most brutal abusers" in the Philadelphia archdiocese. But the statute of limitations for both civil and criminal cases had passed, so Brzyski escaped prosecution.
The priest was kicked out of the church and eventually moved to Dallas. In 2017, he was found dead in a Fort Worth motel room, surrounded by pills and bottles of vodka, a Dallas news station reported.
Outside the courthouse Tuesday, Delaney and Patti Koo, the leader of the San Antonio chapter of SNAP, held hand-drawn signs reading, "Texas needs a window for justice for all" and "New Texas law extends S.O.L."
The Texas law that goes into effect Sept. 1 was passed this spring, after Becky Leach, the wife of state Rep. Jeff Leach, R-Plano, shared her own story of sexual abuse she experienced as a child. She told lawmakers she came forward to stand up for the others who haven't yet done so.
The law was passed just months after all Catholic dioceses in Texas released reports of clergy "credibly accused" of abuse. In San Antonio, a report identified all known allegations of child sex abuse since 1940, naming more than 50 priests. It documented where they worked and where the alleged abuse occurred.
The releases of the reports in Texas were among a wave across the nation as Catholic leaders sought to respond to 2018 Pennsylvania grand jury report that identified more than 300 priests credibly accused of sexually abusing more than 1,000 minors as far back as 1947. In its wake, a number of states launched similar investigations or passed laws to make it easier for victims to hold abusers accountable.
But survivors of abuse and advocates say Texas lawmakers need to do more. Koo, of the Survivors Network of those Abused by Priests, called on lawmakers to pass a law that would open a "look back window" so victims of sexual abuse could file lawsuits, no matter how old the allegations are.
So far, several states, including Arizona, Hawaii and New Jersey, have passed similar laws. Starting this month, victims in New York have one year to file lawsuits against their abusers and institutions that may have allowed the abuse to occur — regardless of how long ago the abuse took place.
"We feel strongly that survivors of childhood sex abuse deserve justice," said Koo. "They deserve to be heard in court and get compensation."
Contact: marina.riker@express-news.net