Lawsuits Mount As Sex Abuse 'lookback Window' Nears Second Month
By Emma Whitford
Brooklyn Daily Eagle
September 11, 2019

https://brooklyneagle.com/articles/2019/09/11/lawsuits-mount-as-sex-abuse-lookback-window-nears-second-month/

Ten anonymous survivors of childhood sexual abuse filed civil lawsuits against the Roman Catholic Diocese of Brooklyn Tuesday, as the first month of a yearlong window for survivors of all ages to take legal action under the Child Victims Act draws to a close.

The lawsuits, brought by the firm Jeff Anderson & Associates and Robins Kaplan LLP, allege abuse of minors in Brooklyn and Queens (the Brooklyn Diocese oversees all parishes in Queens) carried out over three decades, starting in 1953.

"Anybody else out there: It's not too late to step forward," said Anderson client Tom Davis, 61, a survivor who sued the Brooklyn Diocese earlier this year, at a press conference in Midtown Tuesday. "Stand up to these monsters like I have, please."

A total of 69 CVA cases had been filed in Kings County Supreme Court as of last week, according to data provided by the New York Unified Court System and updated weekly. That's up from 55 on the first day of the so-called lookback window, Aug. 13. The totals for the other boroughs are 152 in Manhattan, 27 in the Bronx, 17 in Queens, and three in Staten Island.

Citywide, more than 260 cases have been filed. The statewide total last week was 639.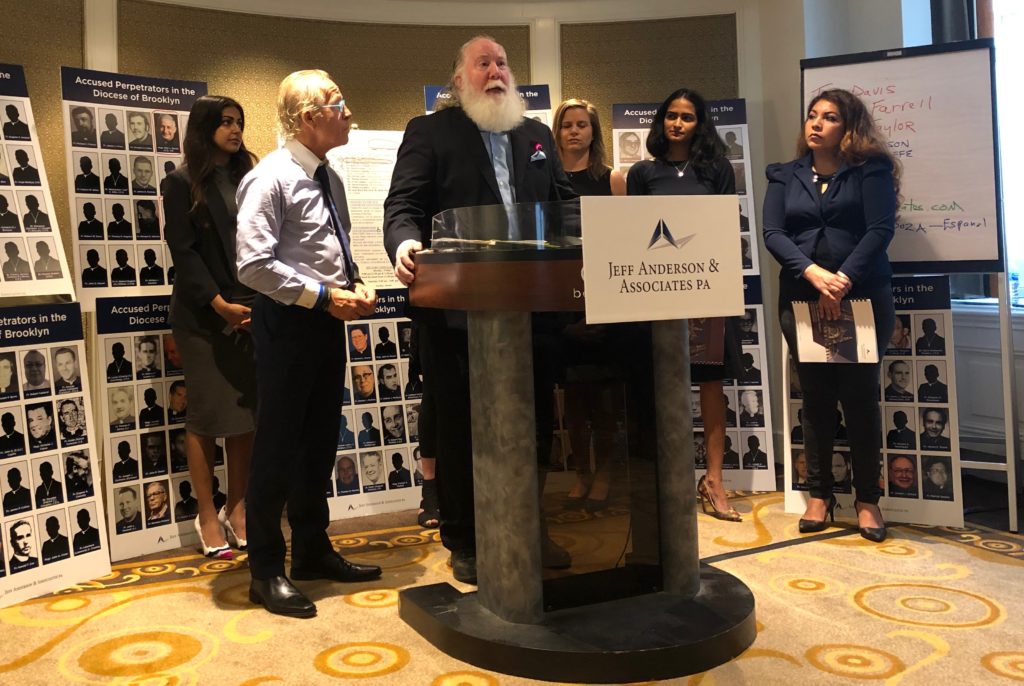 Tom Davis, a sex abuse survivor who sued the Brooklyn Diocese earlier this year, speaks to reporters at a press conference in Midtown. Lawyer Jeff Anderson stands to the left. Eagle photo by Emma Whitford



The CVA passed in January, extending the statute of limitations for child sexual abuse to age 28 for felony criminal cases and age 55 for civil cases. During the one-year lookback window, survivors of all ages can bring civil suits.

Among Tuesday's plaintiffs is a man who was a student and altar boy at St. Virgilius in Broad Channel, Queens (since absorbed by St. Camillus), in the early 1980s. The late Father Michael Conroy allegedly abused the plaintiff over three years, beginning when the plaintiff was 10 years old. Conroy's name appears on a 2019 list of credibly accused abusers issued by the diocese.

Another plaintiff alleges that he was abused by Father James Smith while a student at the Holy Trinity Catholic Academy in Whitestone, Queens, from 1971 to 1974. Smith, who died in 2012, was removed from ministry in 2002 over numerous sexual abuse allegations, according to Jeff Anderson of Jeff Anderson & Associates.

The earliest allegations are against two members of the clergy whom the suit states worked at Our Lady of Peace in Park Slope in the 1950s: Brother Masseo Butteri, who allegedly abused the plaintiff between 1952 and 1956, beginning when the plaintiff was 9, and Father Rudolph Manozzi, who allegedly abused the same plaintiff in 1953 and 1954.

Jeff Anderson & Associates released an 82-page document on Tuesday featuring the names of 200 accused "diocesan priests, religious order priests, and other religious clerics" within the Diocese of Brooklyn, as well as photographs, ordination dates, and details on any action the diocese has taken to date. "Many are dead. Many are no longer assigned," Anderson said.

One exception is Monsignor Otto Garcia, who, the diocese confirmed, is currently a parochial vicar assisting the priest at St. Teresa in Woodside, Queens. Davis told reporters Tuesday that Garcia sexually abused him as a child.

"I was molested by Father Otto Garcia when I was a child, back in the '70s," he said. "I lived with that for over 45 years without ever telling anybody. He was able to pick me out as a prime victim because my parents were very involved in the church and I didn't think anyone would believe me."

In a written statement, diocese spokesperson Adriana Rodriguez commented on Garcia specifically, saying that Davis' accusations were investigated in 2017 and the Dioscian Review Board found "there was a lack of evidence to substantiate the allegations."

As for a second Anderson lawsuit against Garcia, "law enforcement will be notified, and an investigation will begin once we have sufficient information to do so."

"Sexual abuse of a minor is a horrendous crime that has hurt children in our church and in society as a whole," Rodriguez added, noting that four of Tuesday's defendants are named on their list of credibly accused priests. "The Diocese of Brooklyn takes all allegations of sexual abuse seriously. On the 10 new cases filed today, we are just learning about them and need to carefully review the allegations made in these lawsuits."

Anderson, along with his partner firms, has filed 274 cases against the Catholic Church since the CVA went into effect, including 100 in New York City and 46 in Brooklyn alone, according to his office. Another nine have been filed against the Boy Scouts of America. The firm has yet to file any lawsuits against individuals.

Anderson told the Brooklyn Eagle that the Catholic Church is his firm's "first priority" and longtime area of focus, and that more varied cases will follow.

As the lookback window enters its second month, Safe Horizon, a service provider that fought for the CVA's passage, is calling on law firms to take on more cases against abusers who are not part of a large institution — family members, for example — and lack the resources for a financial settlement.

According to Safe Horizon, during a recent three-month period at their Brooklyn Child Advocacy Center, staff saw 852 child victims of sexual abuse and severe physical abuse — an number they said was typical. Of those, about 80 percent of reported perpetrators were a relative. (Though children rarely self-report, Safe Horizon gets referrals through law enforcement, city agencies and third-party observers.)

"In cases where the lawyer thinks the plaintiff may have a case, but there's a reluctance because it may not be financially viable, we call on the lawyers and firms across the state to be as generous in support as they can," said Safe Horizon Vice President of Government Affairs Michael Polenberg.

The New York Unified Court System is not currently tracking how many cases have been filed against individuals or institutions, according to spokesperson Lucian Chalfen.

Emma Whitford is a freelance reporter based in Brooklyn. You can follow her work on Twitter.