Man Tells Senate Panel of Abuse at Hands of Priest
By Kathleen E. Carey
Delaware County Times
October 3, 2019

https://www.delcotimes.com/news/local/man-tells-senate-panel-of-abuse-at-hands-of-priest/article_febaf1ce-e555-11e9-b9c6-5f9fe96dd936.html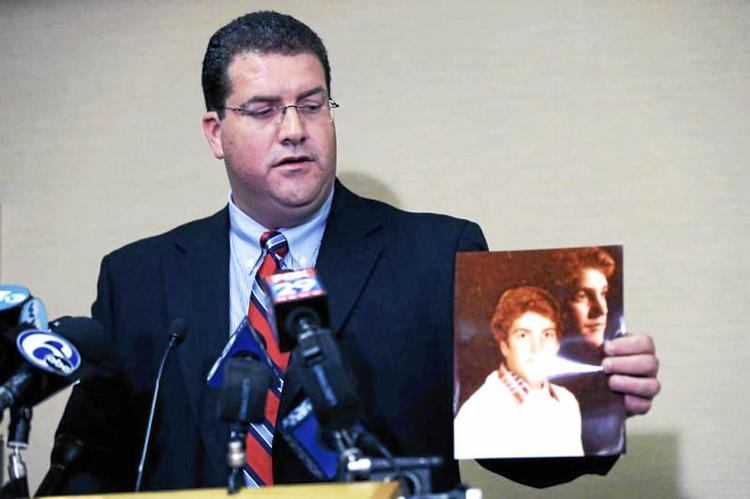 Michael McDonnell, seen here at previous press conference holding picture of himself, testified this week at Senate committee hearing on push to extend window for legal actions. He says he was abused by two Catholic priests.



As the Pennsylvania Senate Judiciary Committee holds hearings over the expansion of the statute of limitations regarding childhood sexual abuse, the issue is personal for Michael McDonnell.

McDonnell was asked to testify before the committee that listened to various panels including Marci Hamilton, CEO and Academic Director of Child USA; former U.S. District Court Judge for the Eastern District of Pennsylvania Lawrence F. Stengel, chair of the Archdiocese of Philadelphia Independent Reconciliation & Reparations Program; Sean McCormack, Chief Deputy District Attorney in Dauphin County; Samuel R. Marshall, president and CEO of the Insurance Federation of Pennsylvania; and multiple survivors and advocates, including Michael McDonald, the Philadelphia leader of Survivors Network of those Abused by Priests.

McDonnell said his abuse began as an 11-year-old sixth grader at St. Titus Parish in East Norriton Township. There, he was sexually abused by two parish priests in hotel rooms, rectories and sacristies and during golfing and fishing trips. The abuse, he said, lasted two years from 1981 to 1983.

It took him 20 years to confront what occurred to him, after decades of numbing himself with drugs and alcohol. It was after the 2005 disintegration of his second marriage and the loss of his job and home followed by entering drug and alcohol recovery a year later that he was able to start facing his past.

At the time, he was told by an attorney he had missed the civil and criminal window to charge his abuser. In September, one of the two, a defrocked priest named Francis Trauger, was charged with abusing two altar boys at a church in Bucks County decades ago.

During his testimony Wednesday, McDonnell said, "It cannot be ignored that my attempt to heal and recover from the abuse suffered was delayed because of the archdiocese's decades of covering up and facilitating abuse. Had the archdiocese moved to stop (John) Schmeer and Trauger in 1981, I would have known he was not the only victim. I would have seen the abuse was not my fault. I would have had an opportunity to receive treatment as a young teen, instead of living in a world of shame and secrets. Had the archdiocese shown concern for the sheep of the flock instead of protecting the abusive shepherd, 25 years of my life would have been very different."

According to CatholicPhilly.com, the archdiocese had paid more than $19 million, as of June, through its Independent Reconciliation & Reparations Program that began in November 2018 and ended accepting claims Sept. 30.

The state Senate is again considering a move to open a window for victims of decades-old abuse to take legal action against the church.

Victims such as McDonnell and their advocates again are facing off against lawyers for religious organizations and the state's insurance industry.

The Judiciary Committee's informational hearing took a broad look at the legal, procedural and ethical issues involved. There were no votes, and no indication whether bills stalled in the Senate might move ahead any time soon.

Various previous efforts to open a window for civil actions have passed the House, but then stalled in the Senate.