Richmond Catholic Diocese adds names of more clergy with credible abuse allegations
By Saleen Martin, Amy Poulter And Cleo-Symone Scott
Virginian-Pilot
October 25, 2019

https://bit.ly/32N3XNz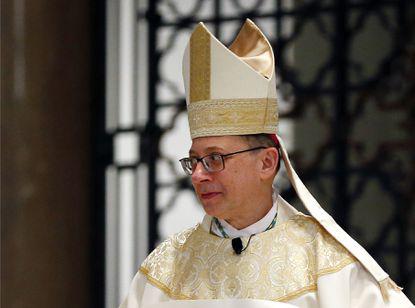 This Jan. 12, 2018, file photo shows Bishop Barry Knestout during his installation as the 13th bishop of the Catholic Diocese of Richmond at the Cathedral of the Sacred Heart in Richmond, Va. Virginia's Catholic Diocese of Richmond on Wednesday, Feb. 13, 2019, published a list of 42 priests with a "credible and substantiated" allegation of sexual abuse against a child.
Photo by Mark Gormus
Since February, the Richmond Catholic Diocese has added multiple names to its list of clergy with "credible" abuse allegations, including two with previous assignments in Hampton Roads.
The list has been updated in June, September and most recently on Oct. 4. It includes Anthony M. Canu, Patrick J. Cassidy, Terence Doyle, James J. Gormley, Donald Scales and Aedan Manning, whose name appears to be misspelled on the diocese website.
According to the Richmond Diocese, all of these men are dead.
One of those added to the list in June, Anthony M. Canu, was appointed assistant headmaster and registrar at The James Barry-Robinson High School and Home for Boys in Norfolk in 1972, according to Pilot archives.
He was also included in a 2014 list issued by the St. Cloud Diocese in Minnesota. He died in 2019.
Robert McCartney, executive director of the Barry Robinson Center in Norfolk, said this is the first the center has heard about it.
McCartney wasn't at the center when Canu was there in the 1970s. McCartney joined their team seven years ago, but said it has changed since then.
The center is currently a residential center for children with behavioral problems and didn't come into existence until about 1978.
"Prior to that, the school was run initially by the Benedictines and then by the Franciscans," he said, referencing two orders of Catholic clergy. "As a healthcare organization that works with kids (ages) 6 to 17, what can I say? It hurts to hear about kids being abused."
He said his understanding is that the the people who managed the trust that supported the James Barry Robinson School for Boys weren't really involved in the day-to-day operations of the school.
He said if there's anything the center can do for anyone who's been hurt to help them heal, they want to do it.
"The Barry Robinson Center today is in the business of helping kids, and anything that hurts children is something that we're definitely not for," he said.
He was at Christ the King Catholic Church in Norfolk from the late 1950s through the '60s, as well as Church of St. Therese in Chesapeake, Saint Paul in Portsmouth and Star of the Sea in Virginia Beach.
Spokespeople at Saint Paul in Portsmouth and Star of the Sea in Virginia Beach both referred The Pilot to the Richmond Diocese. The other two churches did not respond.
When Bishop Barry Knestout in Richmond released the letter in February, he thanked the victims and survivors who came forward about the abuse they endured.
"By publishing this list, we can help bring about healing to those who have experienced abuse in the Church and heighten the awareness of this tragic situation," Knestout wrote.
Contact: saleen.martin@pilotonline.com