Two Men Allege Harassment by Harrison Supporters in New Legal Filings
By Stacey Shepard
The Californian
November 2, 2019

https://www.bakersfield.com/news/two-men-allege-harassment-by-harrison-supporters-in-new-legal/article_d2c047e6-fcc9-11e9-80b1-0bb1ff5fa8d8.html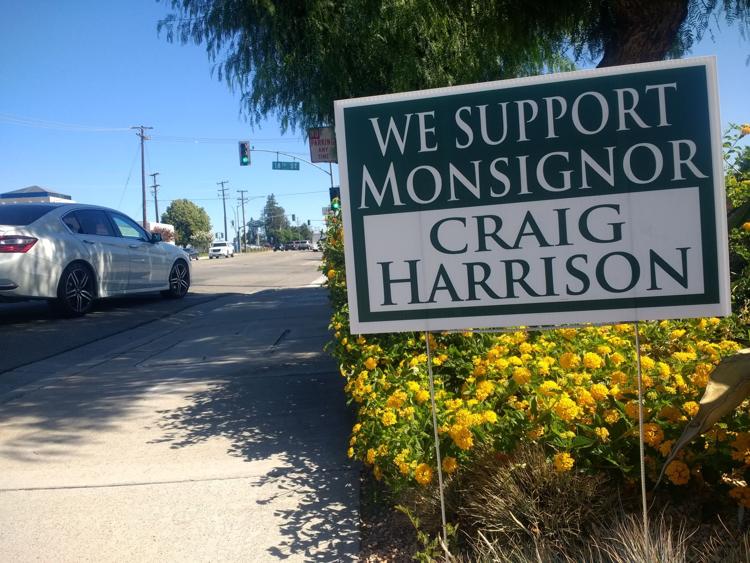 In this July photo, a sign showing support for accused Catholic priest Craig Harrison is posted outside Lucas Silver at 1730 Oak St. in downtown Bakersfield.



Two men being sued by Monsignor Craig Harrison for defamation said in a legal filing last week they are being harassed and intimidated by the priest's family and supporters, possibly in an effort to silence them.

The allegations were made in an anti-SLAPP motion filed by the defense that seeks to have the lawsuit dismissed on grounds that it targets legitimate free speech about issues of public significance. (SLAPP stands for Strategic Lawsuits Against Public Participation.)

Defendant Stephen Brady of Roman Catholic Faithful, an Illinois-based Catholic watchdog group, said in the filing he received "a series of bizarre emails" from Harrison's brother, Rick Harrison, in August and September, "apparently intended to harass and intimidate me."

The same filing contains a statement from Ryan Dixon, a former mentee of Harrison's who is now a Catholic monk known as Brother Justin Gilligan, that says his mother has been the subject of harassment. It says she has moved out of state because she feared what might happen to her.

Craig A. Edmonston, Harrison's attorney in the case, said he is unaware of such harassment.

"The case is simply about defamation, lies and restoring Monsignor's reputation and clearing his name," Edmonston said, adding that he will file an opposition to the motion in the coming weeks.

Harrison sued Brady in August after Brady talked about allegations of sexual misconduct by Harrison at a Bakersfield news conference Brady hosted in May. The Roman Catholic Diocese of Fresno had placed Harrison on administrative leave in late April citing accusations of sexual misconduct against him involving minors.

Brady describes himself as a disabled Vietnam veteran and Catholic who was trained as a military police officer and started the group Roman Catholic Faithful when he began to investigate corrupt clergy in the mid-1990s. He claims to have forced the resignations of two priests — one in Brady's hometown of Springfield, Ill., and another in South Africa — through the group's work and said he was also involved in investigating priests in the Merced area in the early 2000s. Brady also disseminated documentation from the Merced investigation alleging that Harrison had sexual relationships with teenage boys.

But Edmonston, Harrison's lawyer, sees Brady's work differently.

"He has proclaimed time and again that Roman Catholic Faithful's business is to destroy lives. I've never heard of any legitimate entity whose business is to destroy lives," Edmonston said.

In the recent filing, Brady says he began to receive harassing emails from Rick Harrison, brother of Craig Harrison, in September. Copies of the alleged emails were included as exhibits.

"We have millions of dollars to fight you against Msgr Craig to end your wrongful pursuit of innocent people! See you in court!!!" said the first alleged email message, sent Aug. 20.

"Father Craig Harrison just got three donations for his defense of $90,000 yesterday! How is yours going Satan!" said another alleged email sent a couple of days later.

An email sent Thursday by The Californian to the email address listed as Rick Harrison's in the filing was not answered. Attempts also were made to reach him through his social media account.

Gilligan, who is the subject of a second defamation suit filed by Harrison, has not been served with papers in the case. Harrison and family members have posted messages on Facebook in recent weeks saying Gilligan has fled the monastery where he lived and that the priest's supporters are asking for the public's help to learn Gilligan's whereabouts.

In the defense's filing last week, a declaration by Gilligan was included in which he also alleged harassment. The declaration said that ever since Gilligan spoke out about Harrison several months ago, his mother was asked to leave her job at St. Francis. It said his mother's Bakersfield home was vandalized, his mother's tires were slashed and signs in support of Craig Harrison were put in her yard. It further states that, after living in constant fear, Gilligan's mother ultimately decided to move to Oklahoma.

When contacted Friday, Gilligan declined to comment on the situation outside the legal declaration he made. However, he also gave the Survivors Network for Abused Priests, or SNAP, an advocacy group for victims of sex abuse by clergy, a voicemail he received in which a man says: "We're tracking you," and then calls Gilligan an expletive.

The voicemail is not cited in the legal documents but SNAP included it and some Facebook posts in a letter it sent Oct. 10 to California Attorney General Xavier Becerra. The letter asks Becerra's office to "intervene" out of concern for Gilligan's safety.

A hearing to consider the defense's anti-SLAPP motion is scheduled for Nov. 25.

According to the Bar Association of San Francisco's website, the court when considering an anti-SLAPP motion must first consider if the defamation suit targets "protected activity."

Brady's attorney, Paul M. Jonna, claims Harrison's lawsuit does target such activity because his client was commenting on a matter of public interest. He added that Catholic clergy scandals and child molestation issues are important to the public.

If the court agrees, the burden then shifts to the plaintiff to show he has some probability of prevailing in proving the defendant defamed him.