Lack of Cooperation Stalled Hart Investigation, Say Bishops
By Seth Klamann
Casper Star-Tribune
November 7, 2019

https://www.wyomingnews.com/news/from_the_wire/lack-of-cooperation-stalled-hart-investigation-say-bishops/article_68d3e2a2-5dab-5c40-8a58-567f36c6524c.html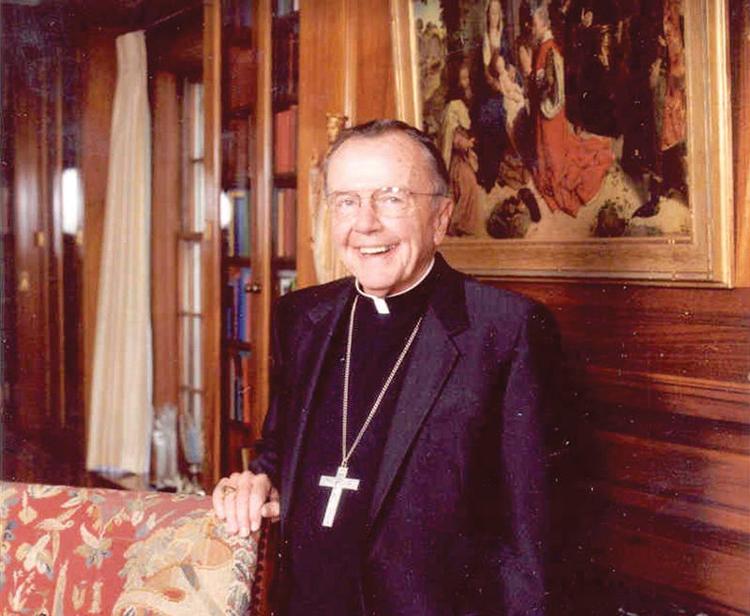 Retired Wyoming bishop Joseph Hart. Courtesy



The two bishops who succeeded retired Wyoming bishop Joseph Hart say investigations into the disgraced cleric, who's been accused of sexual abuse by at least 16 men, were hamstrung by a lack of cooperation by at least one of Hart's alleged victims years ago.

Bishop David Ricken took over for Hart when the latter cleric retired as the head of the Catholic flock in Wyoming in 2001. The two also lived together briefly. Ricken is now the bishop in Green Bay, Wisconsin. His successor, Paul Etienne, served in Wyoming until 2016. He was recently appointed archbishop of the diocese in Seattle.

Ricken's tenure was quickly marked by the first Wyoming allegation against Hart, made initially in 2002 by a "second-party family member," said Justine Lodl, a spokeswoman for the Green Bay diocese. Cheyenne Police later spoke with the victim who now lives out of state, records show. Lodl said that Ricken "turned this allegation against Bishop Hart over to the police department and district attorney, who did their own independent investigation."

"The investigation concluded with the police and district attorney dropping the case because of a lack of cooperation of the alleged victim," Lodl wrote in an email in response to a list of questions sent by the Star-Tribune last month.

Lodl did not directly response to questions about whether Ricken regretted how he handled the Hart situation or whether he would handle it differently later.

She wrote that, "in regard to the most recent allegations against retired Bishop Hart, so as not to jeopardize or influence the canonical process being handled in Rome and the ongoing civil investigation in Cheyenne, no further comments will be made."

Ricken's handling of Hart stands in stark contrast to his successors, Etienne and current Bishop Steven Biegler. Etienne requested a Vatican investigation into Hart in 2010 and later restricted Hart's ability to publicly celebrate Mass in 2015. Biegler, meanwhile, went further and opened an independent investigation into Hart in December 2017, early in his tenure and after Etienne raised concerns about Hart. That private inquiry helped lead the Diocese of Cheyenne to ultimately identify and deem credible allegations by six men who say they were abused as boys in Wyoming by Hart.

Hart has denied all allegations against him consistently over the years. His attorney, Tom Jubin, has repeatedly not returned requests for comment made by the Star-Tribune. When reached at his Cheyenne home earlier this year, Hart declined to comment.

Etienne said via a spokeswoman that then-Pope Benedict XVI "authorized a 'preliminary investigation' into (Hart's) files." While this investigation was apparently conducted, "the results were never shared with (Etienne)," spokeswoman Helen McClenahan wrote.

Asked why Etienne didn't initiate his own independent investigation into Hart, McClenahan wrote that "the victims known at that time were not willing to speak."

"Thankfully, in time, one victim was willing to share much more detail, which was the key to the independent investigation opened by Bishop (Steven) Biegler," Etienne said in a statement.

David Clohessy, a Missouri-based advocate for survivors of priest abuse, said in an email that Ricken and Etienne "should have done more. Simply googling (Bishop) Hart would have shown them that credible victims were coming forward in (Kansas City, where Hart was previously a priest), no matter what the 2002 victim did or didn't do."

A spokesman for the Denver archdiocese, which oversees the Wyoming church, declined to comment when asked if the archdiocese was concerned about the lack of action taken by Hart's successors, when his alleged behavior was well-known and the Kansas City diocese was settling lawsuits with several victims.

"We will allow the process with the (Vatican) to conclude before getting into any of those issues," the spokesman, Mark Haas, wrote in an email.

The Wyoming victim who came forward in 2002 did not return a request for comment sent Tuesday. But a man who identified himself as that victim told Wyoming Public Media earlier this year that he was treated aggressively and poorly by Cheyenne Police investigators back when he initially came forward.

Eventually, the victim told Wyoming Public Media, he stopped returning calls from the police and decided not to proceed forward with any investigation. The police investigator who handled the 2002 case declined to comment to the Star-Tribune when reached by phone last month.

The victim told the Star-Tribune earlier this year that Biegler met with him in 2018 in his home out of state and told him he believed the victim's accusations.

There are still presently two investigations into Hart: one by Vatican officials in Rome, with an uncertain timeline that may conclude with Hart being removed form the priesthood. Another investigation by law enforcement in Wyoming is also ongoing. While officials have declined to comment on the case or confirm that Hart is being investigated, details released by authorities indicate strongly that the retired bishop is the subject of the inquiry. Those close to the victims say their understanding is that Hart is indeed one of the targets of the investigation.

If Hart is charged, he will become the first U.S. bishop – and the highest-ranking Catholic cleric – to be charged with sexual abuse.