Priests accused of abuse still getting paid by diocese, some for decades
By Jay Tokasz
Buffalo News
November 10, 2019

https://bit.ly/2p4j1rB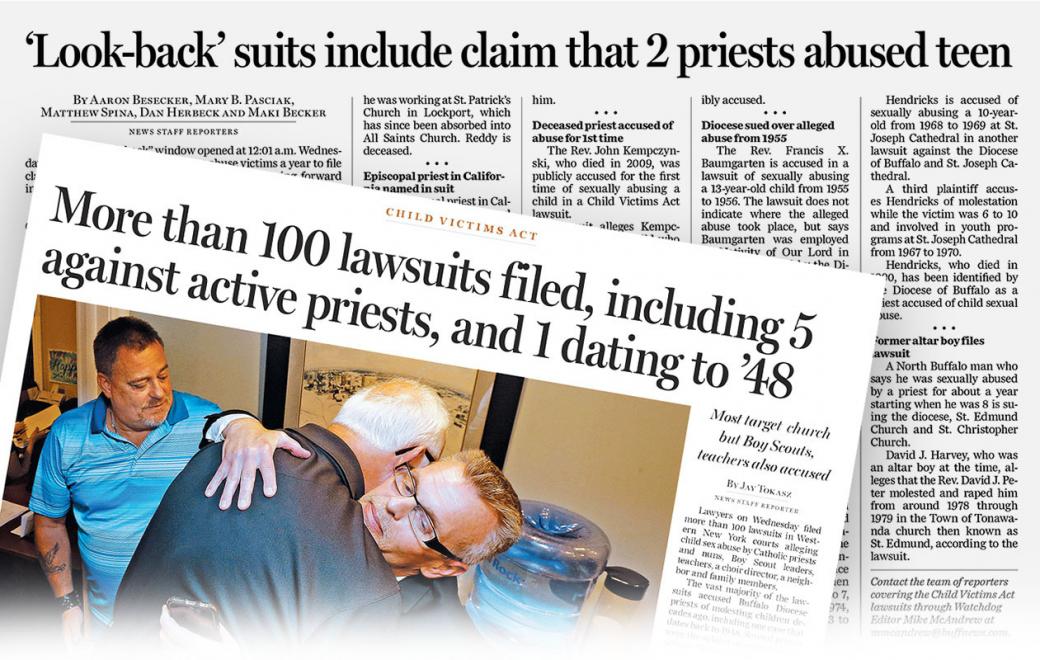 Priests accused of abuse still getting paid by diocese, some for decades
About two dozen Catholic Diocese of Buffalo priests removed from ministry due to child sex abuse complaints continue to collect a salary or pension from the diocese.
Three of those suspended priests remain on the diocese's payroll even though they haven't functioned as clergy in more than 25 years, and six priests removed at least 15 years ago continue to get monetary support from the diocese, according to a Buffalo News analysis.
If each priest were to receive $25,000 annually, an amount that's at the low end of the priest pay scale, the diocese would pay $600,000 per year in "sustenance" to the 24 suspended priests.
In the three cases dating back decades, diocese officials have yet to send legal paperwork to Rome asking the Vatican to rule on whether the priests should be defrocked.
Since 2002, the church has required that bishops send child molestation claims against priests to the Vatican for adjudication, a process that can result in priests being "dismissed from the clerical state" or "laicization" – Catholic phrasing for defrocking.
Bishop Richard J. Malone, who took over as head of the Buffalo Diocese in 2012, said he was unaware of why such clergy cases weren't sent earlier to Rome.
"One of the things we've been working on ourselves, slowly but surely, is to prepare the cases that I believe should have gone to the Vatican," Malone said in a 2018 interview with The News. "We've been in touch with the Vatican about that, and they said it's not too late to send them. They understood. I said, 'I don't know why they didn't, but they didn't, so it's my job.' "
More than a year after Malone made those remarks, most of the cases still have not been sent to Rome.
Diocese spokeswoman Kathy Spangler said subpoenas of diocese files by the New York Attorney General's Office and by federal authorities "caused a delay in the process" of preparing cases to be sent to Rome.
"The files have been returned and the process continues," Spangler said in an email.
Canon lawyers in the Buffalo Diocese as well as from outside the diocese are working on the cases, but it was not clear how long it would take before they are sent to Rome, she said.
Of the 78 diocese priests determined by the diocese to have "substantiated claims" of sex abuse of a minor against them, just three were laicized: The Rev. Paul J. Kowalewski left the Catholic priesthood in 1976, was laicized in 1977 and became an Episcopal priest. The Rev. Gerald C. Jasinski was convicted of attempted sexual abuse in 1986 and laicized in 1988. And the Rev. Howard Slack, ordained in 1959, was laicized in 1976.
But more dismissals from the clerical state – the most severe church punishment for priests who sexually abused children — could be forthcoming.
One potential laicization case involves the Rev. James A. Spielman, who was quietly taken out of ministry in 1993 and forbidden by Buffalo Diocese officials from working in parishes.
The reason for Spielman's removal wasn't revealed publicly until 2002, when Tobin M. Gilman told The News that the diocese paid him $150,000 to settle his sexual assault complaint against the priest.
The diocese at the time said that Spielman resigned his ministry in 1993 and was no longer functioning as a priest, but it gave no other details.
Spielman was accused of molesting another child in a 2014 federal lawsuit that led to a $1.5 million settlement, the largest known abuse settlement in the Buffalo Diocese. He's also accused of abuse in another federal lawsuit that was filed against the Buffalo Diocese and in three state Supreme Court lawsuits filed in Erie County since Aug. 14, the date of the opening of a yearlong window suspending the statute of limitations in child sex abuse cases in New York.
Gilman lives in Arlington, Texas, and grew up in Scio, Allegany County, where he served as an altar boy at St. Joseph Church, Spielman's first parish assignment in 1971.
Gilman said this week he assumed Spielman was defrocked and no longer a priest.
"It should have been a case that went to Rome, because I truly believe he's a serial abuser," he said.
Within two weeks of the 2002 story about the settlement, Gilman said he spoke with seven men who told him that Spielman had molested them as children.
It's unclear how much the diocese has paid Spielman over the 26 years since he was removed from ministry.
Bishops are required by canon law to provide for the basic sustenance of a priest — even one who no longer regularly celebrate Masses, perform sacraments or do other priestly functions – until the priest is dismissed from the clerical state, according to two canon lawyers.
"The duty of the diocese is the proper upkeep of the priest. Basically, that means he would be treated similar to a priest that's in ministry, that he would have a salary, that he would have proper medical care, he'd have proper housing," said Patrick J. Wall, a canon lawyer and former priest. "He doesn't need to drive a gold bling Cadillac or anything, but that he would be taken care of."
The current base salary for a Buffalo Diocese priest is between $24,000 and $31,000, depending on years of service. Priests also receive paid health care.
Based on those numbers, unless diocese officials made other arrangements with Spielman, he would have received upward of $500,000 in pay over the past 26 years. Buffalo priests typically are eligible to retire at age 70 and receive diocese pension payments.
Active priests also receive an annual "ministry allowance" of about $5,000, as well as mass stipends and ministerial fees that usually add up to thousands of dollars — additional earnings that "unassignable" priests would not get.
Spangler did not respond to questions about the costs of compensating priests with substantiated claims of abuse or about how much Spielman, 75, has been paid since 1993.
Wall said the costs of abusive priests to dioceses extend well beyond court settlements.
"If you were to do a really serious long-term cost analysis, one of the big financial draw downs on every diocese is the number of guys that have to go out of ministry, that basically are not working anymore, and then the support of them and also the cost of replacing them," he said.
But Wall said he doesn't think having molester priests dismissed from the clerical state is a good idea because it allows dioceses to throw out their bad apples and "push all the liability for their care onto the taxpayer."
Dioceses should be responsible for abuser priests until they die, perhaps sending them to a strict observance monastery – an isolated facility with supervision — to live out lives of prayer and penance, said Wall.
"They're only laicizing in order to reduce or cut off the perceived liability of the diocese, and that's a misuse of the system," he said. "That's a danger to society."
Two other languishing cases against priests go back nearly as far as Spielman and haven't been sent to the Vatican for a final disposition, either: The Rev. Thomas Gresock, who was removed from ministry in 1993, and the Rev. John Hajduk, removed in 1994.
Gresock lives in North Tonawanda, while Hajduk resides in a skilled nursing facility in Alexandria, Va. The News was unable to reach Spielman, Gresock or Hajduk for comment.
In addition, the cases of six priests go back at least 15 years, including the Rev. Donald S. Fafinski, the Rev. Mark Friel, the Rev. Norbert F. Orsolits, the Rev. Martin L. Pavlock and the Rev. Thomas J. McCarthy, who were removed from ministry in 2003; and the Rev. Fred D. Ingalls, who was convicted for child pornography and removed from ministry in 2004.
Those cases should have gone to Rome for review years ago, according to three canon lawyers interviewed for this story.
"Under the Dallas norms, once the diocese has made a determination that there is the semblance of truth to a child abuse charge, once that determination has been made, the norms require them to notify the Holy See. They have to send the case to Rome," said Nicholas P. Cafardi, a canon lawyer and dean emeritus of Duquesne University School of Law.
The new norms were supposed to be applied to any cases of alleged abuse, before and after 2002, so bishops should have gone through their archives at the time to determine what cases needed to be sent to Rome, according to canon lawyers. Bishop Henry J. Mansell was head of the Buffalo Diocese at the time.
Within a year of the new norms, the Vatican received hundreds of cases from across the country, according to Cafardi.
But Cafardi said not all U.S. dioceses complied with the new mandate.
"It could have been that they didn't have the personnel (to prepare cases.) It could have been that they lacked the will. It could have been that they decided, 'Well, we're going to ignore the norms,' " he said.
Some dioceses chose to take a less legalistic approach to handling abusive priests, with a "tacit endorsement" from the Vatican that it was OK to do so, as long as the priests weren't in parishes anymore, said Cafardi.
Instead of pursuing a canonical process, some dioceses offered to keep priests on the payroll as long as they resigned and took early retirement or sick leave and agreed not to work in a parish, he said.
"It's cheaper. It's a lot less grief. It's quicker. If your goal is to get the man away from kids, it certainly accomplishes that," said Cafardi.
The Vatican is now examining the cases of seven Buffalo Diocese priests who were taken out of ministry: the Rev. Donald W. Becker, removed in 2002; the Rev. Douglas F. Faraci, removed in 2018; Friel; the Rev. Brian M. Hatrick, removed in 2007; Ingalls; the Rev. Louis Mako, who left the diocese in 1972; and McCarthy. It's unclear when the diocese sent the cases to Rome or how long it will take for the Congregation for the Doctrine of the Faith to decide if the priests violated canon law and will be punished.
A case involving the Rev. Dennis A. Fronczak, removed from ministry in 2015, also was sent to the Vatican, which in turn forwarded the case to a U.S. tribunal for consideration.
Malone removed 10 priests from ministry in 2018 due to substantiated claims of child sex abuse. Aside from Faraci, none of those cases has been sent to Rome.
Malone told The News in 2018 that if the Buffalo Diocese had sent cases that "we were sure about back years ago" to the Congregation for the Doctrine of the Faith, it would have had verdicts from the Vatican about whether priests were dismissed from the clerical state or given a sentence of "a life of prayer and penance." Those verdicts, he added, could have been made public years ago.
"So, I mean, a lot of this grim news would have already happened," he said.