Santa Rosa Diocese Hit by Flurry of Clergy Abuse Lawsuits under New State Law
By Mary Callahan
Press Democrat
December 30, 2019

https://www.pressdemocrat.com/news/10517648-181/santa-rosa-diocese-hit-by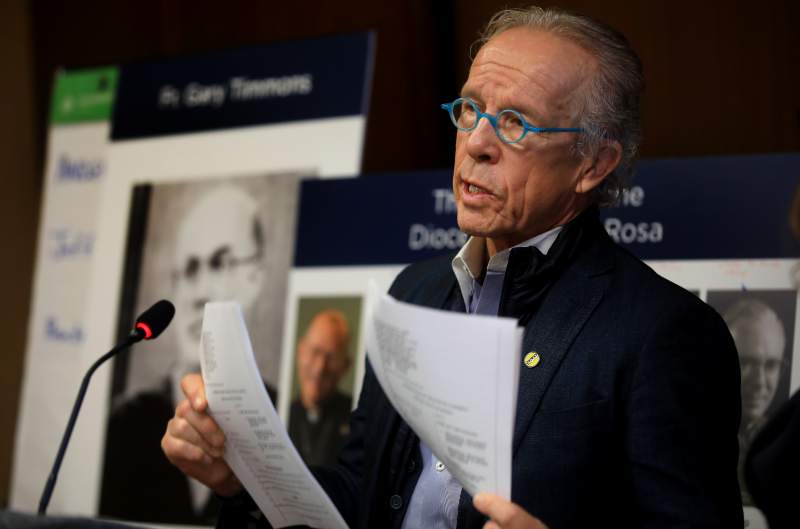 Jeff Anderson of Jeff Anderson & Associates, holds a press conference in Santa Rosa to launch a new round of lawsuits against the Santa Rosa Diocese stemming from past clergy abuse. (Kent Porter / The Press Democrat) 2019



The Santa Rosa Diocese of the Roman Catholic Church is facing a fresh onslaught of lawsuits for its alleged role in enabling and, in some cases, concealing child sex abuse as far back as the 1960s involving four former North Coast priests — three of them now deceased.

The five lawsuits announced Monday by two law firms specializing in childhood abuse are among the first of what are expected to be hundreds, if not thousands, of cases filed throughout California under a new state law allowing survivors of childhood sexual assault to recover damages long after incidents of alleged sexual misconduct occurred. Although many of the suits are likely to involve the Catholic Church, the law applies to any childhood survivor.

The priests involved in the newly filed cases are all well-known among the ranks of local clergy accused of using their position of trust and spiritual authority to exploit children.

They include the late Rev. Patrick M. Gleeson and defrocked priests Gary Timmons, Xavier Ochoa and Don Kimball. All have been the subjects of past legal settlements between civil plaintiffs and the diocese, as well as in most cases criminal investigations. Only Timmons, who served four years in state prison for molesting youngsters, is still living. Now 79, he resides in Sacramento and has to report in each year as a registered sex offender.

But Timmons is not a named defendant in the cases involving him, both filed Monday in Sonoma County Superior Court.

Instead, the lawsuits target the Santa Rosa Diocese and Camp St. Michael, where much of his alleged abuse occurred. Both institutions could be subject to substantial financial penalties under the new legislation, which takes effect Wednesday, if the plaintiffs show sufficient proof.

"These cases are not so much about Timmons, but about the system and the reckless choices that the Catholic bishops of Santa Rosa have made over the years to protect their reputation over the safety of children," said Minnesota-based attorney Jeff Anderson, whose law firm is representing the plaintiffs in the two cases involving Timmons.

Like Sacramento attorney Joe George, who represents six other plaintiffs suing the church over trauma experienced at the hands of Gleeson, Kimball and Ochoa, Anderson and his team have outlined a history of intentional secrecy in the Catholic church intended to prevent parishioners, the public and even law enforcement from learning about priestly misconduct.

It includes, according to the litigation, direct instructions from Rome beginning in 1962 to hold confidential any allegations of sexual abuse by priests. The church leaders instead kept that information in confidential files and sent accused priests to "treatment centers" or quietly transferred them to other churches, usually without informing the receiving pastor or parishioners, the suits allege.

The result was to provide priests access to victims for years, such as Timmons, who in the 1970s was accused of groping a church camper, according to Anderson's firm.

Timmons, former pastor of St. Elizabeth Seton Catholic Church in Rohnert Park and St. Bernard's in Eureka, as well as founder of Camp St. Michael in rural Mendocino County, has been prosecuted criminally in two counties and has been involved in settlements with at least 15 abuse survivors since he was exposed as an abuser in 1994.

It was the first crack in the local Catholic church's facade, marking a seismic shift that would soon be echoed across the country, as victims who had held painful secrets sometimes for decades began disclosing tales of abuse at the hands of men they had trusted as their spiritual leaders.

The Santa Rosa Diocese, which includes about 40 parishes from Petaluma to the Oregon border, became a focal point in the scandal, in part because of Timmons, who is believed to have had dozens of victims groomed at churches where he served and, particularly, at Camp St. Michael, which he founded in Leggett in 1964 while working as a youth minister.

Santa Rosa Bishop Robert F. Vasa published a list of credibly accused priests a year ago that now includes 42 former clergy who have served in the diocese dating back to the late 1950s. He said the local diocese has paid about $33 million in settlements due to clergy sexual abuse.

And yet, attorneys say many survivors have yet to come forward, including those filing claims over the past week under the law that takes effect Jan. 1.

The new cases are among the first to be filed under the legislation signed last fall by Gov. Gavin Newsom.

Among its provisions, the law suspends the statute of limitations on childhood sex abuse cases for three years, meaning anyone of any age can file a lawsuit seeking damages for injury related to sexual abuse or assault suffered when they were under 18, no matter how far back the allegations go.

It also permanently raises to 40 the age limit at which adults who claim to be childhood victims can file lawsuits. Victims can pursue a suit even beyond that, as long as it is within five years of when they made the connection between childhood assault and psychological injury or illness — whichever comes later.

The new law also allows for a judge or jury to triple financial damages against a defendant found to have covered up the sexual assault of a minor with the result that another sexual assault occurs.

None of the five fresh suits filed against the Santa Rosa Diocese specifies an amount of damages being sought, but each is seeking triple damages.

Vasa issued a statement Monday underscoring comments made with the release of the list of abusive priests in January 2019 in which he acknowledged the pain of those who had suffered at the hands of their spiritual leaders and expressed his sincere apologies and sorrow. He also noted actions taken by the church to prevent abuse from happening in the future and said he hoped transparency going forward would assure victims of clerical abuse that they have been heard.

"We now enter into another period when serious harm done in the past by members of the Church clergy must be faced and responded to," Vasa wrote.

"We had anticipated lawsuits but there is no way to prepare for such an event other than to pray for the courage to meet the accusations with the same sober determination with which we released names of accused perpetrators last year. I have absolutely no control over the number of lawsuits or the value of the claims. All I can do, and what I intend to do, is remain firm in my resolve to help assure that, even in the face of lawsuits, we can continue to say to those who have been so seriously harmed: We have heard you, we believe you, we affirm you in your trauma and we want to help with a healing process."

But attorneys say they expect the church to be the focus of many of the lawsuits going forward, though there will be many unrelated to religious institutions.

Those that are related to the Santa Rosa Diocese likely will have involved conduct before Vasa's time.

"He inherited the mess from the prior bishops," said attorney George, a longtime lawyer practicing in the area of clergy abuse.

George, who earlier filed a case on behalf of three former Hanna Boys Center clients who claim repeated sexual abuse by Father John S. Crews, former executive director of the treatment center for 29 years, last week filed three suits in Sonoma County Superior Court.

They include one case involving two alleged victims of Don Kimball, a charismatic youth minister who used a rock-and-roll vibe to gain a national radio following in the 1970s and '80s, and later acknowledged to then-Santa Rosa Bishop John Steinbock that he had had sexual contact with six girls.

He would later be convicted of two counts of lewd conduct involving a then 13-year-old girl at St. John's Church in Healdsburg in 1981, though his conviction and seven-year prison sentence was eventually thrown out when the U.S. Supreme Court in 2003 struck down a law extending the statute of limitations.

The defendants in the new lawsuits were 16 and 17 when Kimball began abusing them in church rectories in Eureka and Santa Rosa, and in his bedroom, according to the suits.

In a second case, George represents three men who have sued the church for damage related to physical, mental and emotional suffering due to sexual abuse in the 1960s and '70s by Patrick Gleeson, who served at churches in Garberville, Napa and Calistoga.

Among the plaintiffs is a man named Stan Sloan, whose brother was involved in a settlement more than a decade ago. Both were altar boys at Our Lady of Perpetual Help in Calistoga.

The two other plaintiffs suing because of claims involving Gleeson also were altar servers and counted collections under his supervision, one at Our Lady of Perpetual Help and one at Our Lady of the Redwoods in Garberville.

George's third case involves Xavier Ochoa, who served multiple parishes beginning and ending with St. Francis Solano in Sonoma, where his alleged sexual abuse reportedly spanned at least two decades and included a report in 1991 that he had kissed a boy on the lips, causing him to be sent for a psychological evaluation, according to the suit.

And yet, he was still in the ministry in 2007 when he was required to meet with then-Bishop Daniel Walsh and other church officials and conceded inappropriate contact with three boys. It was several days before his conduct was reported to law enforcement, and Ochoa fled to Mexico, never to return. He was later charged with 10 felony counts, including forcible sodomy and forced oral copulation, but remained a fugitive until his death in November 2009 from lung cancer.

You can reach Staff Writer Mary Callahan at 707-521-5249 or mary.callahan@pressdemocrat.com . On Twitter @MaryCallahanB.