Archdiocese plugs budget hole as revenue gains, land sales add to coffers and stave off default
By Jerry Dicolo
Times Picayune
January 1, 2020

https://bit.ly/36roIAB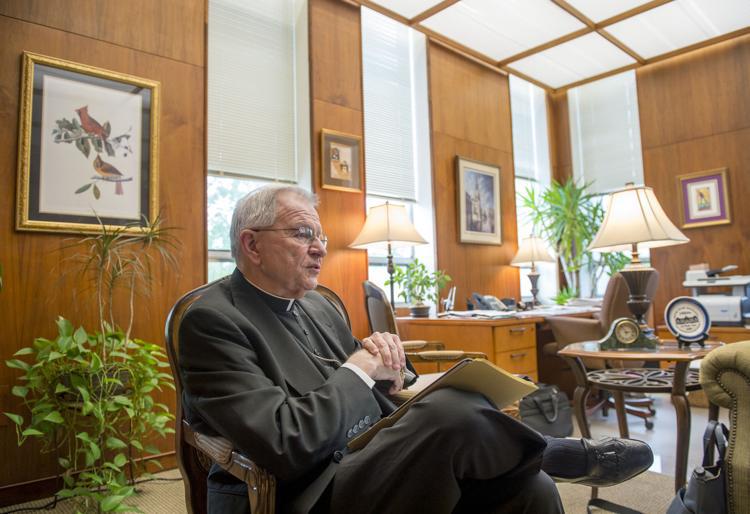 Archbishop Gregory Aymond at his office at the Archdiocese of New Orleans on Monday, June 24, 2019.
Photo by CHRIS GRANGER
The Archdiocese of New Orleans has plugged a multimillion-dollar hole in its budget through land sales, a jump in fee revenue for church services and higher payments from parishes, even as sexual abuse claims and other costs continue to weigh on its financial outlook.
The local Catholic church, which had an operating deficit of more than $14 million for 2018, shrank the deficit to under $1 million in its 2019 fiscal year, which ended in June, according to financial documents filed last week. It was the smallest operating deficit since 2011.
Investment income from its endowment fund provided a boost that helped the archdiocese finish the year with $78.8 million in net assets, up $3.4 million from 2018.
Improving the financial condition of the archdiocese was a critical task for Archbishop Gregory Aymond and other church leaders in 2019, after mounting deficits in recent years and a jump in expected abuse claims left the church out of compliance with certain provisions related to its $40 million in outstanding debt.
The quick turnaround allowed Aymond to avoid breaching those covenants for a second straight year, a potential calamity that would have left the archdiocese in technical default on the bonds.
Like many dioceses across the U.S., the Catholic church in New Orleans has dealt with money troubles in recent years that have been aggravated by new revelations of sexual abuse committed by priests and other clergy years or decades ago. In November 2018, Aymond released a list of 57 clergy the church said were credibly accused of abuse in the local archdiocese, which led to a sharp increase in claims and lawsuits.
That same year, the archdiocese told its creditors it would set aside $8.5 million for potential settlements with victims who said clergy had sexually abused them when they were children many years ago.
The list of fallen priests and other clergy released in 2018 has since grown to 64 as more names surfaced. In its most recent filing, the archdiocese said it now expects outstanding claims against the church will total $11.2 million, but that number also includes claims unrelated to the abuse crisis. It didn't provide information on what portion is related to allegations of sexual abuse.
Sarah McDonald, a spokeswoman for the archdiocese, said Aymond and other church officials were unavailable to comment on the financial documents because the archdiocese was closed for Christmas week. The documents were filed Dec. 23.
"Management continues to monitor abuse claims working closely with legal counsel and maintains appropriate reserves," archdiocesan officials said in the financial documents, adding that Aymond and his lieutenants were working to cut costs and raise revenues with the help of a management consultant that was hired in 2018.
Archdiocese officials have stressed that the hiring of a consultant would not reduce church services or impact parishioners, saying earlier in 2019 that they expected to be able to offer modest raises to the archdiocese's administrative staff and would not change the formula that determines how much individual parishes contribute to the archdiocese.
In addition to bringing in $1.3 million more in fees in 2019, the archdiocese sold three properties for $2.6 million, received a $2.5 million insurance rebate, secured a $2 million land-damage settlement and brought in slightly more revenue from the "archdiocesan support" assessments it levies on its 112 parishes and its schools.
It also changed the way it provides health insurance to its employees, leading to a massive jump in the amount it assesses parishes and schools for insurance.
Last year, the archdiocese dropped its outside health insurance and instead elected to pay the medical bills and other claims for the employees of its churches and schools itself. Many large companies and other organizations have made this shift in recent years in an effort to rein in the soaring cost of health benefits.
To cover the new costs of self-insurance, the assessments paid by parishes and schools to the archdiocese rose to $34 million, more than doubling from 2018.
The methods used to provide for self-funded health insurance can be complicated, and in the case of the archdiocese they involve what is known as a captive insurance company that is owned by the archdiocese. That separate entity collects premiums and pays out claims.
Jack Ruhl, an accounting professor at Western Michigan University who studies the finances of U.S. Catholic dioceses, said it was crucial that Aymond avoided a default, noting that many other bishops across the U.S. have failed to avoid dire financial consequences resulting from the abuse crisis.
"That's wonderful if somehow they did that," Ruhl said, referring to the financial turnaround, adding that after reviewing the financial documents, he was surprised that Aymond was able to make it happen amid the increasing number of abuse claims and declining church attendance and collections that have struck other dioceses in the U.S.
Aymond has said in the past that New Orleans-area parishioners have continued to support the church through collections and attendance despite the latest eruption of the sexual-abuse crisis.
The higher insurance assessments and expenses weren't included in the archdiocese's 2020 budget, which was also made public in the financial filing.
The church didn't indicate that it expects to sell any additional land in its 2020 fiscal year, and it didn't budget for additional insurance rebates or other potential one-time funding sources that helped plug much of the deficit in 2019.
In 2020, the archdiocese expects to post an operating deficit of more than $8 million.
Contact: jdicolo@theadvocate.com