12 major religious newsmakers — and stories — from the past decade
By Yonat Shimron
WashingtPost
January 03, 2020

https://wapo.st/39Hpprn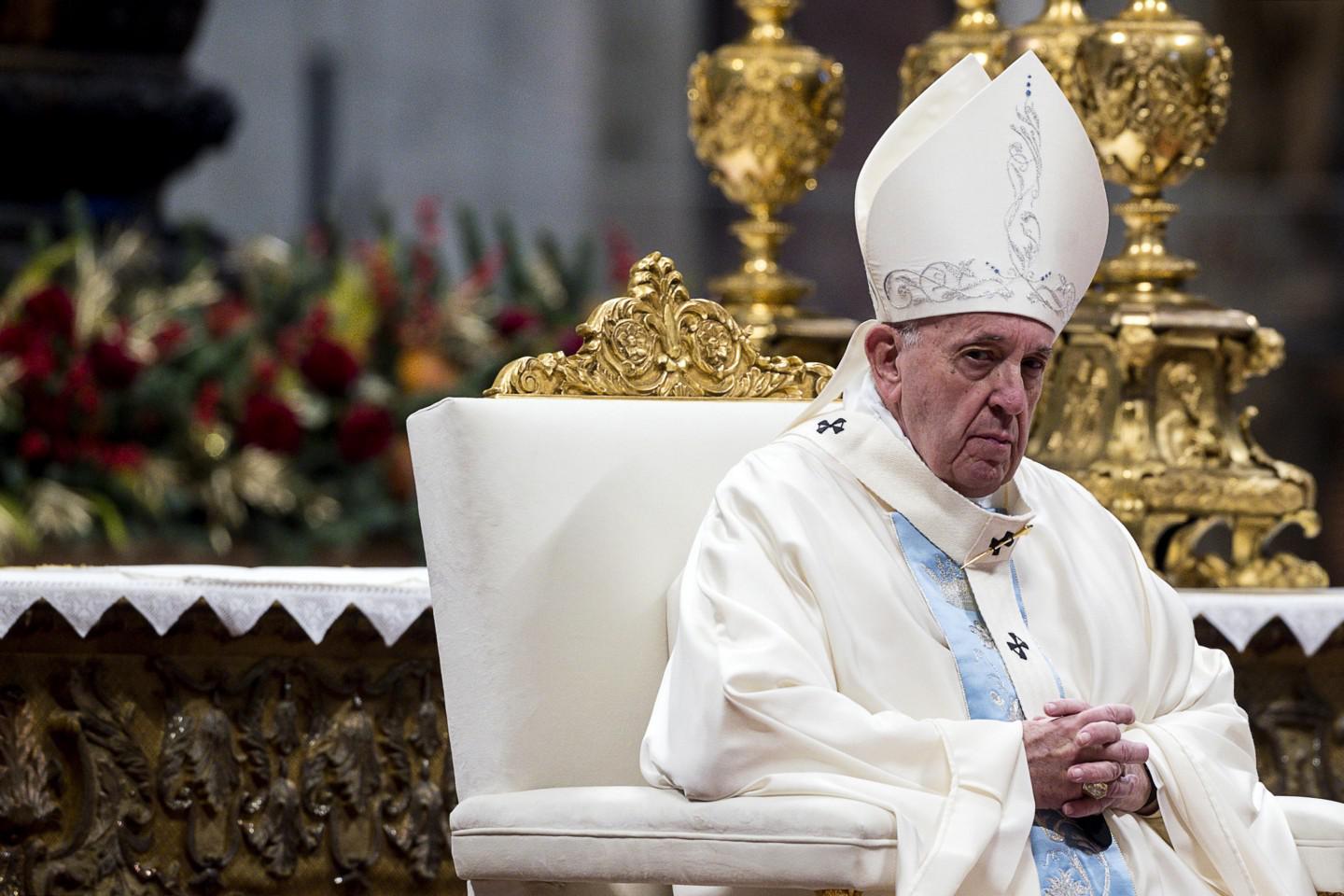 Pope Francis presides over Holy Mass in Vatican City on Jan. 1.
Photo by Angelo Carconi
They rose
Pope Francis: The first Jesuit to become pope, the former Cardinal Jorge Bergoglio from Buenos Aires was elected in 2013.
He has welcomed open debate in the church, often incurring the wrath of the Roman Curia, unrelenting in its desire to hold the line on traditional doctrine. He has become a premier spokesman on climate change, inveighed against the mistreatment of migrants, declared the death penalty "inadmissible" in all cases and the use and possession of atomic weapons as "immoral."
Francis has not always dealt well with the sexual abuse crisis. In 2018, he defended a Chilean bishop accused of covering for a notorious priest. His critics say much more needs to be done. And there are signs of discontent with Francis among Catholics on the political right.
But the vast majority of U.S. Catholics, while critical of his handling of the sex abuse crisis, have a favorable opinion of the pontiff.
The Rev. William J. Barber II: On the day he was awarded a MacArthur "genius" award in 2018, Barber was unavailable for comment. That is because he was arrested in Chicago while participating in a "Fight for $15" rally, which advocates for a higher minimum wage.
The Disciples of Christ bishop's stature has grown well beyond his North Carolina base. With his revival of the Rev. Martin Luther King Jr.'s Poor People's Campaign, he has been compared to that civil rights icon. He spoke in a prime-time slot at the Democratic National Convention in Philadelphia in 2016.
The campaign he co-leads with the Rev. Liz Theoharis is intended to lift up issues of poverty, racism, voter suppression and ecological devastation, and it will hold rallies across the nation leading up to an assembly on the Mall on June 20, 2020.
Justice Ruth Bader Ginsburg: Serious health challenges have not set back the 86-year-old Supreme Court justice who has become a pop-culture icon.
In October, Philadelphia's National Museum of American Jewish History mounted a traveling exhibit: "Notorious RBG: The Life and Times of Ruth Bader Ginsburg."
Though not especially observant, Ginsburg has increasingly linked her legal profession and the Jewish tradition. "The demand for justice runs through the entirety of Jewish history and Jewish tradition," she said.
In Jerusalem at the premiere of the documentary "RBG," Ginsburg talked about the Jewish concept of "tikkun olam," or "repairing the world," and pulled out her pocket copy of America's foundational legal text, the Constitution.
Larycia Hawkins: In 2013, she was the first tenured black female faculty member at Wheaton College, considered the Harvard of Christian schools. Then in 2015, after presidential candidate Donald Trump called for a total ban on Muslims entering the United States, Larycia Hawkins wrote a Facebook post announcing her intention to wear a hijab during Advent, in solidarity with Muslims.
"They, like me, a Christian, are people of the book," wrote Hawkins, a political scientist. "And as Pope Francis stated last week, we worship the same God."
Within days, the college placed her on leave and moved to fire her for violating the spirit of Wheaton's statement of faith. Hawkins and the school parted ways, and she accepted a position at the University of Virginia.
A documentary about her plight, called "Same God," has begun airing on PBS stations across the country.
Rachael Denhollander: She's best known for blowing the whistle on serial child molester Larry Nassar in 2016, alleging that the doctor for the USA Gymnastics Olympic team sexually assaulted her when she was a teen gymnast.
But Rachael Denhollander was sexually abused even before that — in church. A lawyer and advocate for survivors of child sexual abuse, she is now focused on her own denomination — the Southern Baptist Convention — in its efforts to grapple with sexual abuse scandals in its churches.
"The SBC has, over and over again, trampled on these precious (abuse) survivors, and that is why they are afraid to speak up," she said at the inaugural Caring Well conference, organized by the Southern Baptist Convention's Ethics and Religious Liberty Commission earlier this year.
Ilhan Omar: The first-term Democratic congresswoman from Minnesota is a pathbreaker on many levels. She is one of two Muslim women first elected to Congress in 2018 (the other is Rep. Rashida Tlaib of Michigan).
She is the first to wear a head covering. And she's the first Somali-American and the first naturalized citizen from Africa to serve in Congress.
A frequent critic of Israel, Omar has been accused of anti-Semitism. She has faced racist threats and attacks. President Trump has repeatedly targeted her.
Still, she has emerged as one of the most visible and outspoken politicians in Washington, in part because of her association with "The Squad," a group of progressive freshman congresswomen of color.
They fell
Theodore McCarrick: The former archbishop of Washington was once a giant of the U.S. Roman Catholic Church, a cardinal who traveled the world on behalf of the Vatican, advocating for human rights and raising lots of money for the church.
He was also a spokesman for the sexual abuse crisis of priests and minor children and helped write some of the first policies on handling it.
After reports of his own misconduct came to light, a church panel found he had sexually abused a teenage altar boy when he was a priest in New York.
In February, the Vatican defrocked him after finding him guilty of soliciting sex during confession and committing "sins" with minors and adults. It was the most significant abuse-related punishment given to a former cardinal in modern ­history.
Paige Patterson: Considered the architect of the Southern Baptist Convention's conservative shift, Patterson rooted out moderates and liberals and made the inerrancy of Scripture and the codification of male and female roles the linchpin of Southern Baptist doctrine.
Beloved for his stridency of beliefs as well as his folksy, common-man approach, he seemed destined for the denomination's pantheon of saints.
Then, in 2018, Patterson was fired as president of Southwestern Baptist Theological Seminary after reports surfaced that he ignored female students' complaints of sexual assault.
In 2003, at another seminary, he counseled a woman not to report her rape at the hands of a male student to the police. In 2015, he was heard telling a campus police officer he wanted to meet privately with a female student who alleged rape so he could "break her down."
Bill Hybels: He is credited with building the megachurch prototype.
Willow Creek Community Church, started in 1975 in the Chicago suburbs, grew to attract 24,000 people on Sundays. Hybels was viewed by fellow evangelicals as a maverick, uniquely gifted at attracting people who previously were not interested in going to church.
He went on to found the annual Global Leadership Summit, which attracted speakers such as Colin Powell, Bono and Sheryl Sandberg. But in 2018, he was accused by several women of inappropriate behavior that dated back decades. He resigned, and in the wake of investigations, all the church's elders and Hybels' successors — Heather Larson and Steve Carter — resigned, too.
Mark Driscoll: The bad boy of evangelicalism, who built a brand around his uber-masculine Neo-Calvinist theology, Driscoll was a rising star among a segment of Christians enamored with his successful appeal to men.
He talked unapologetically about sex and sin. His Mars Hill Church with its headquarters in Bellevue, Wash., grew to include 15 campuses in five Western states.
But in 2014, he stepped down when a church board found Driscoll had "been guilty of arrogance," "a quick temper" and "harsh speech" and of leading staff and elders in a "domineering manner." He was also accused of plagiarism and misusing church funds to promote his book onto the bestsellers list.
He has since founded the Trinity Church in Scottsdale, Ariz.
Sakyong Mipham Rinpoche: His students took lifelong vows to follow him. He raised money for his father's network of Shambala Buddhist meditation centers and embraced marathon running. Then in 2018, a former Shambhala Center teacher released a report alleging that Sakyong had sexually abused and exploited female followers for years.
The governing council of Shambhala International resigned, and Sakyong — whose name in Tibetan roughly translates as "king" — stepped down.
Rob Bell: He was once considered "the next Billy Graham," a Wheaton College graduate with blond hair, youthful looks and a calm, measured tone. In 1999, he founded Mars Hill Bible Church in Grandville, Mich., which became one of the most successful megachurches in the United States.
Then came his 2011 breakaway bestseller, "Love Wins," which appeared to question the concept of hell. He was quickly branded 'the biggest heretic in America' by evangelical gatekeepers, even as Time magazine featured him as one of their 100 most influential people in 2011.
The following year, Bell left the church and moved to Los Angeles. He has since published four books and launched the "Bible Belt Tour" to promote his 2017 book, "What Is the Bible?"
He continues his popular podcast, the RobCast.
A 2018 documentary following Bell's life and work, "The Heretic," described him as "one of the most polarizing figures in modern day Christianity."