Bill Requiring Clergy to Report Child Abuse Confessions Opposed by Utah Catholics, House Speaker
By Katie McKellar
Deseret News
January 14, 2020

https://www.deseret.com/utah/2020/1/14/21065579/utah-bill-clergy-report-child-abuse-confessions-house-speaker-catholic-church-mormon-lds-diocese


One of the two confessionals in the Cathedral of the Madeleine in Salt Lake City is pictured on Tuesday, Jan. 14, 2020. Steve Griffin, Deseret News



SALT LAKE CITY — As religious opposition both in and out of Utah mounts against a proposed bill that would require all allegations of child abuse to be reported to authorities — including those stated in religious confessionals — a powerful legislative leader has opposed the bill.

House Speaker Brad Wilson won't support the bill in its current form, according to a statement he sent to the national Catholic League for Religious and Civil Rights.

"I have serious concerns about this bill and the effects it could have on religious leaders as well as their ability to counsel members of their congregation," Wilson, R-Kaysville, said in the statement circulated by the Catholic League Tuesday. "I do not support this bill in its current form, and unless significant changes are made to ensure the protection of religious liberties, I will be voting against this bill."

In our opinion: Eliminating clergy-penitent privilege raises First Amendment red flags

Wilson's statement comes after the Catholic League, a national organization aimed at defending religious freedom and free speech rights of Catholics, encouraged supporters to contact the speaker to express concerns about HB90. Catholic League President Bill Donohue said the bill would "gut the confidentiality of the confessional seal."

After receiving hundreds of emails, Wilson sent the response to the Catholic League, which then circulated the statement in a news release Tuesday.

Also Tuesday, the Catholic Diocese of Salt Lake City issued a statement asking Utah Catholics to urge legislators to oppose the bill, saying it would force Catholic priests to choose between violating the law or committing a "mortal sin" that could be grounds for excommunication.

The bill's sponsor, Rep. Angela Romero, D-Salt Lake City, said she "looks forward" to having a discussion with the speaker about her bill. While she and Wilson "may not see eye to eye," she said she is "moving forward with it" regardless.

Romero defended her bill as not one that targets a specific religion, but rather one that's aimed at protecting victims of sexual abuse.

"My concern is more about protecting children and making sure people who violate them are held accountable," she said, "because what they're doing is criminal."

Romero's bill propels Utah into the debate of whether to join other states — North Carolina, Oklahoma, Rhode Island, Texas and West Virginia — that have removed reporting exemptions for clergy. The Roman Catholic Church, among other faith groups, has opposed similar bills in other states, including in California, where the bill was pulled from consideration amid opposition from the Catholic Church.

The statement from the Catholic Diocese of Salt Lake City urges Utah Catholics to ask state legislators to oppose the bill "that forces individuals to choose between the most sacrosanct part of their religious beliefs and imprisonment — the very situation the First Amendment was meant to protect against."

"The motivation for the bill is understandable, to uncover and stop the abuse of children," the statement says, "but HB90 will not have this intended effect."

Confession and penance are "central" to the Catholic faith, and give Catholics the opportunity to "reveal our conscience to God," the diocese said, noting it helps Catholics participate fully in their faith. Additionally, being required to report the confession or commit a crime puts priests in a difficult position.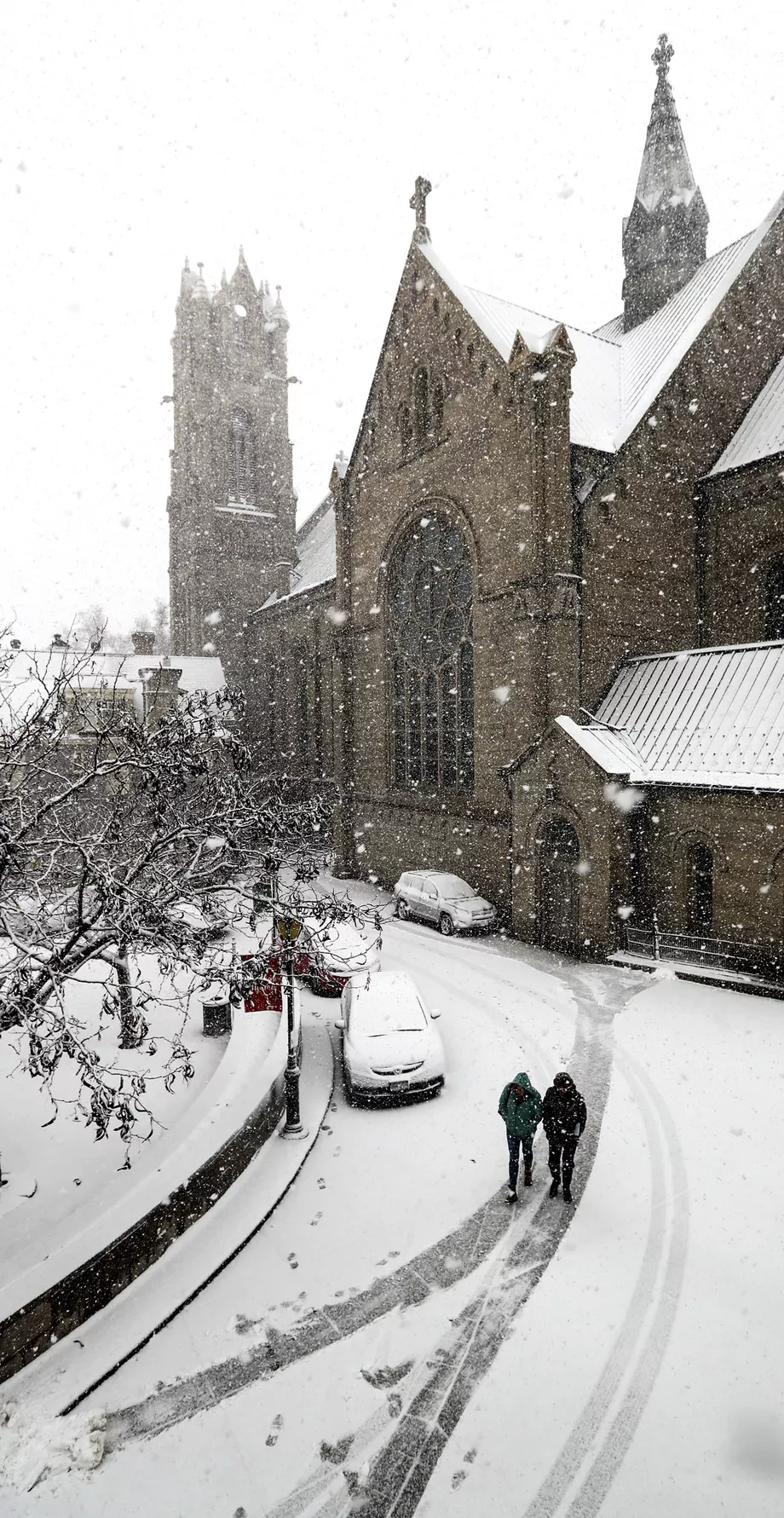 Snow blankets the Cathedral of the Madeleine in Salt Lake City on Tuesday, Jan. 14, 2020. Steve Griffin, Deseret News



"For a Catholic priest, revealing the contents of a person's confession is a mortal sin and grounds for automatic excommunication," the diocese said. "In the past, priests have been tortured and given their lives rather than break their solemn vow to protect the seal of confession. This isn't just a convenient means of maintaining confidentiality, it is a sacred duty and thus critical to the free exercise of our religion. HB90 places a Catholic priest in the untenable position of violating state law and facing criminal penalties or violating canon law and facing excommunication."

The Catholic Diocese of Salt Lake City noted that supporters of the bill suggest that "clergy hear about abuse regularly and do nothing," but a priest hearing a confession of criminal wrongdoing "may require the penitent to self-report to law enforcement, seek counseling, offer to talk with the person outside of the confessional and accompany him or her in the act of self-reporting, or require some other similar act of restorative justice through penance."

Jean Hill, director of the office of Life, Justice and Peace for the Catholic Diocese of Salt Lake City, said the diocese "understands" and "respects" the motivation for the bill, but she said "it's not going to have its intended effect."

"Instead, it's really trying to regulate a sacrament of our religion in a way that we believe violates our free exercise rights," she said.

The diocese notes Utah Catholics are not "alone" in viewing confessionals as a "path to God."

"The Orthodox Church also practices the sacrament of holy confession. The Church of England recognizes the inviolability of an act of confession. The Church of Jesus Christ of Latter-day Saints views confidential admissions of wrongdoing as an essential part of the repentance process," the diocese said. "American Baptist churches, Presbyterian Church USA and Lutheran churches all recognize the pastoral imperative of confidentiality when congregants seek counseling and care from their spiritual leaders."

Utah's predominant faith, The Church of Jesus Christ of Latter-day Saints, "hasn't yet taken a position on this specific piece of legislation," church spokesman Eric Hawkins said Tuesday.

Romero, who was raised Catholic, said she "understands our sacraments and it's not my intent to go against them." She said legislative counsel reviewed the bill and determined it does not violate any religious freedom.

"My intent is to protect children," she said. "This isn't about the Catholic Church. This is about religious institutions ensuring that people aren't hiding under the guise of confession to get away with hurting children. ... Because the trauma they experience from sexual assault doesn't just impact them, it impacts the entire community, it impacts our families. For me, that's more important than protecting a perpetrator who will likely hurt other children."

Facing opposition from the House speaker, who could have influence over whether the bill even gets a committee hearing, it's unclear whether Romero's bill will be considered during the legislative session beginning Jan. 27.

"I'm hoping my colleagues will give this bill a fair hearing and they understand why this is an important piece of policy," Romero said. "I hope we can follow the lead of other states who have placed the best interests of children over religious institutions."

Next Up In Utah

Family shattered: 4 dead, 1 injured, 1 in custody in Grantsville shooting

Walking the tightrope: Mitt Romney's first year in Senate

David Goode's legacy is more than skis

Crews demolish Temple Square visitors center and wall to prepare for Salt Lake Temple renovation

Salt Lake City Council approves temporary Sugar House homeless shelter

Mike Conley listed as probable for Jazz's game Saturday against Kings