Philippine bishops aim to protect minors from predatory priests
UCA News
January 24, 2020

https://www.ucanews.com/news/philippine-bishops-aim-to-protect-minors-from-predatory-priests/87062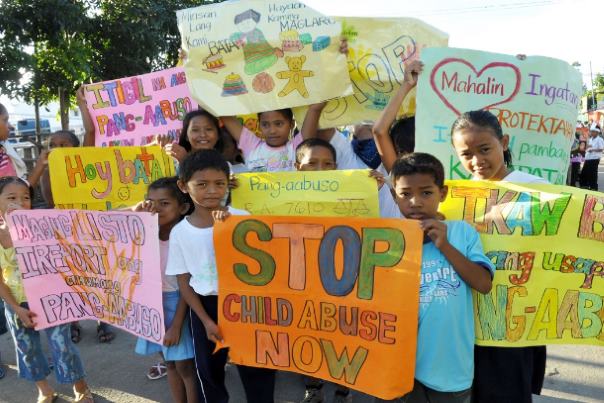 Children call for an end to child abuse in a protest in Manila. Catholic bishops in the Philippines are creating an office to address cases of clergy sex abuse against minors and vulnerable people.
Photo by Jay Directo
New office will provide canon law experts and professionals to tackle clergy sex abuse The Catholic bishops of the Philippines are creating an office that aims to ensure the safety of minors and vulnerable people.

The Office on the Protection of Minors will help dioceses to address cases of clergy sex abuse by providing canon law experts and other professionals.

A bishop, to be elected during a meeting of prelates this week, will head the office, said Father Marvin Mejia, secretary-general of the bishops' conference.

He said the new office was proposed during the preparatory meeting of the bishops' plenary meeting in Manila on Jan. 25.

"Let it be clear that the conference is addressing this," said the priest, although he said the authority to address issues of clergy sex abuse still lies with individual bishops.

"It's still the individual local churches [that will decide] if there are accusations," he said.

Last year, a summit on the protection of minors in the Church was held at the Vatican for bishops to understand what they need to do to prevent and combat the sexual abuse of minors.

In April last year, the head of the Philippine Catholic bishops' conference asked for forgiveness over sexual abuses committed by members of the clergy, especially against children.

"We bow in shame, we beg for forgiveness," Archbishop Romulo Valles of Davao told about 15,000 delegates at last year's National Youth Day celebration in Cebu.

"We continue to say: We are so sorry and beg for forgiveness from the Lord and from those this hurt and wrongdoing has been done."

The archbishop assured participants of the gathering that church leaders in the country were "all committed and will do all that we can ... to stop this."

"There are procedures on what to do ... to bring justice to all," he said.

Archbishop Valles vowed that there will be no cover-up of crimes and abuses committed by members of the clergy.

"We will do whatever we can to protect minors in the Church. You heard me, no hesitation and cover-ups," he said in March.

The Philippines, Asia's biggest Catholic country, has seen sexual abuse charges leveled against its clergy.

In 2002, church leaders issued an apology for sexual abuses including adultery, homosexuality and child abuse by 200 priests in the Philippines over the previous 20 years.

The following year, at least 34 priests were suspended in a sex abuse scandal involving the sexual harassment of women.