After teacher was accused of sex abuse, he moved to nearby school, man alleges
By Jay Tokasz
Buffalo News
January 27, 2020

https://bit.ly/2RtaUQM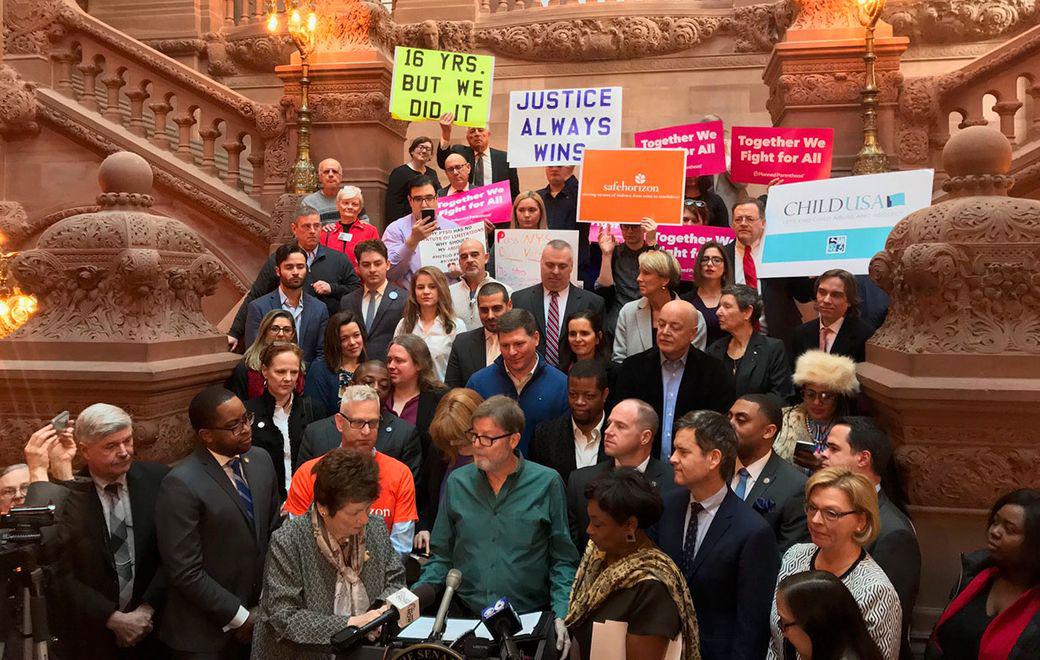 Lawmakers and advocates for childhood sexual abuse victims gathered at the New York State Capitol on Jan. 28, 2019, hours before the State Legislature passed the Child Victims Act.
Photo by Tom Precious
A gym teacher who left a Catholic school in South Buffalo in the 1960s after being accused of molesting a boy moved to another parochial school a mile away, according to the plaintiff in a recent lawsuit filed against the Buffalo Diocese.
John Maloney of West Seneca said Robert F. "Ollie" Weber left St. Thomas Aquinas parochial school shortly after his parents complained to a South Buffalo priest that Weber had molested their son multiple times. Maloney said he remembers that the parents of another student also complained about Weber at around the same time.
Maloney said a parish priest, the Rev. William G. Dickenson, talked his parents out of taking legal action against the school or Weber.
The Maloney family learned later that Weber was working as a gym teacher at St. Ambrose parochial school, about 15 blocks away from St. Thomas Aquinas, Maloney said.
"The claim by Mr. Maloney is another example of a victimization of an innocent child by a sexual predator, and a revictimization of the child by the Diocese of Buffalo and its agents in conducting a cover-up," said Maloney's lawyer, Mitchell Garabedian.
Garabedian said he has another client who also alleges that Weber abused him when he was a student at St. Thomas Aquinas School. He said he is investigating that claim.
In legal papers, the Buffalo Diocese said it did not know if Weber was a teacher at St. Thomas Aquinas or if he sexually abused Maloney, but denied covering up sexual abuse by Weber.
Maloney said the abuse started in fifth grade when he was 10 years old and Weber called him into his office to be measured for a gym uniform.
Inside the office, Maloney said Weber told him to pull down his pants and then molested him.
"I just froze. It was the early '60s, you were told to do whatever an adult told you, especially in a Catholic school. I wasn't the type of kid who was going to say, 'No I'm not going to drop my drawers,' " Maloney recalled. "So, he just went for a while. He seemed to be mesmerized by that. And then he eventually let me go, and I went back out."
Maloney said Weber molested him at least a dozen times over the course of a year or two, including twice at Mungovan Park, where Maloney said Weber worked as a summer attendant. A Buffalo News search of public records from the time confirmed that Weber was employed by the city's parks department as an instructor from 1959 to 1971.
"He never said a word, like some molesters, that, 'You shouldn't tell anybody, or I'll hurt you if you tell anybody.' It was just understood. And I knew I had done something, something horrible had been done to me and I had participated in this and I just knew not to say anything."
At the time, Maloney said he wondered to himself whether other boys called into Weber's office faced the same ordeal.
Maloney didn't utter a word to anyone about the abuse until he was in seventh grade. His younger brother was in fifth grade at the time, and Maloney said he was afraid of what Weber might do to him.
"Just as school was starting, I said to him, 'Has Ollie Weber ever done anything to you? Has he measured you for a uniform?' I said, 'Be careful or this could happen,' " Maloney recalled.
His mother overheard the conversation and pressed him for answers, he said.
"It all came out. I can remember my father downstairs, just yelling. He was going to go down there … and kill him and hurt him," said Maloney.
For many years, Weber was well-known across Western New York as an amateur baseball coach and manager. He served a stint as president of the Buffalo MUNY League and was recognized in 1950 with a plaque for doing the most for athletics in South Buffalo.
Weber died in 1998 at age 80.
Maloney, 68, said the abuse has haunted him throughout his life.
"I just lived with this and had all my various and sundry problems with it, you know, all kinds of things – acting out behaviors, shame and guilt, obsessive-compulsive things – but looking real normal. And you ask people, and they think I'm just a nice guy who's really funny, but underneath, all this stuff was going on," said Maloney. "I just lived that kind of double life until my 40s when something happened that I finally needed help."
Maloney said he "limped along" in counseling for a long time until, on the advice of his counselor, he went into a residential treatment program and spent more than $20,000 on therapy. He went for help to the Buffalo Diocese about 15 years ago and spoke with a diocese attorney who told him that seeking legal recourse wasn't an option, he said.
"He said, 'Don't even think about suing us, because it's too late.' It was just kind of callous, I thought," recalled Maloney.
Maloney said he closely followed various bills in the New York State Legislature over the past decade or so that had proposed changes to the statutes of limitations in child sex abuse cases. He wanted to see New York suspend its statute of limitations in such cases, in the same manner that California did in 2003.
"I just hoped. I never thought it would happen. I really didn't," he said.
Monday will mark the one-year anniversary of the passage of New York's Child Victims Act, which created a yearlong window for childhood victims of sex abuse to sue in civil courts no matter how much time had passed since the alleged abuse happened. Gov. Andrew M. Cuomo signed the legislation Feb. 14, 2019. The window opened Aug. 14, 2019, and runs through Aug. 14, 2020.
A total of 1,386 cases have been filed statewide so far, with Erie County having more cases filed – 318 – than any other county in New York, according to the state Office of Court Administration. The Buffalo Diocese is names as a defendant in 73% of the Erie County cases.
Maloney said he "felt tremendous relief" when the law passed.
"Finally, people could be heard," he said. "Things would happen, justice would be served."
Maloney said he now hopes his filing will encourage anyone else who may have been abused by Weber to come forward with a claim.
And while nothing will undo the abuse, the lawsuit at least will make sure Weber "doesn't get away with it," he said.