Former Tonawanda pastor accused of wearing religious garb while abusing teen
By Jay Tokasz
Buffalo News
January 29, 2020

https://buffalonews.com/2020/01/29/former-tonawanda-pastor-accused-of-wearing-religious-garb-while-abusing-teen/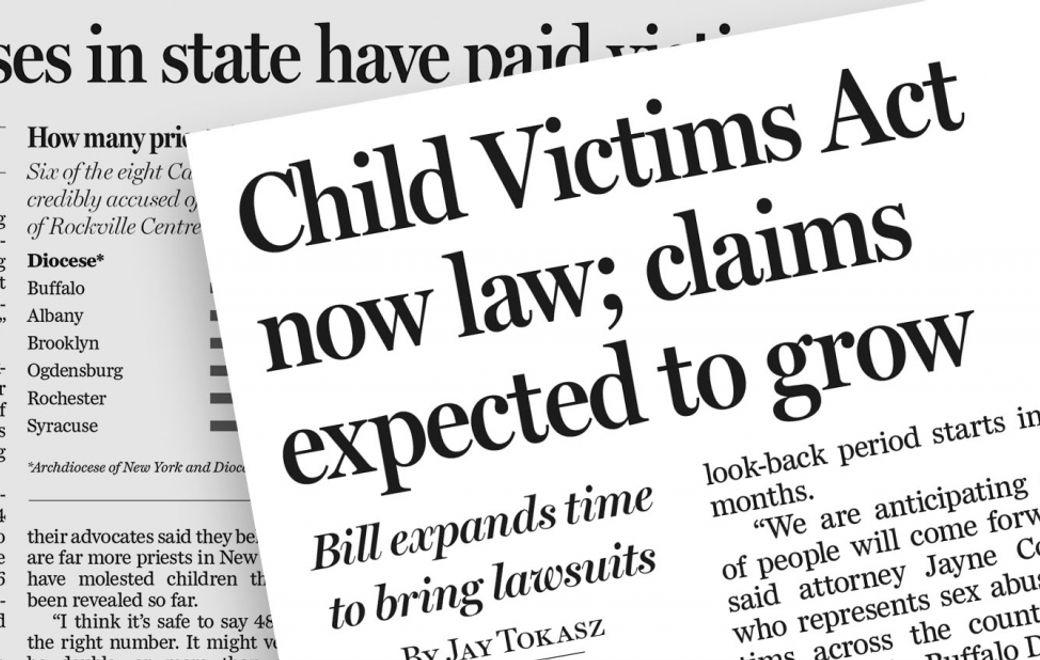 Former pastor accused of wearing religious garb while abusing teen
A lawsuit filed Tuesday accuses a deceased Buffalo Diocese priest of wearing clerical garb while he sexually assaulted a teenage boy more than 100 times in the mid-1980s.
An unnamed plaintiff alleged that Monsignor John L. Ducette, who was pastor of St. Timothy Church in the Town of Tonawanda, began sexually abusing him in 1986 when he was 13.
It is the first time Ducette has been publicly accused of sexually abusing a child. Ducette died in 2016 at age 79.
The plaintiff said he attended Mass and performed odd jobs at the church when the abuse started, according to the Child Victims Act lawsuit filed in State Supreme Court in Buffalo. The abuse included oral sex and escalated to rape when Ducette took the plaintiff on a trip to Florida for a Catholic seminar, according to court papers.
"Plaintiff estimates that Monsignor Ducette sexually assaulted and abused him over one hundred (100) times over the course of an eighteen (18) month period," the lawsuit reads. "Monsignor Ducette wore his religious garb while sexually assaulting and abusing Plaintiff."
Lawyer Jeff Herman of the New York City firm Herman Law, who represents the plaintiff, filed the lawsuit.
The Diocese of Buffalo and St. Timothy's Roman Catholic Church are the defendants. The abuse often occurred on church property, court papers said.
Ducette served as pastor of St. Timothy from 1985 until his retirement in 2008 and was also chaplain for the Town of Tonawanda police.
Ordained in 1962, Ducette also was assigned to St. Isidore Church in East Otto; St. Teresa of the Infant Jesus Church in Niagara Falls; Blessed Sacrament Church in the Town of Tonawanda; and St. John the Baptist Church in the Town of Tonawanda.
He also served as secretary to Auxiliary Bishop Bernard McLaughlin. Prior to his appointment at St. Timothy, Ducette taught part time at Bishop Turner High School and was pastor of St. Charles Borromeo Church in Niagara Falls.
Ducette was known throughout the diocese for his longtime work as director of the Apostleship of the Sea, a post that involved praying for the safety of seafarers, ministering to sailors and boaters and blessing sailing vessels.
Also this week, an Erie County man alleged that the Rev. Loville N. Martlock sexually abused him multiple times beginning in 1968 when he was 8 years old.
The plaintiff said in court papers he attended St. Christopher Church in the Town of Tonawanda, where he served as an altar boy and where Martlock was assigned.
The Buffalo News reported in 1994 that Martlock had been placed on "medical leave" the previous year for allegedly molesting an 8-year-old boy between 1974 and 1978.
Martlock was assigned as a religion teacher at Notre Dame High School in Batavia and taught at St. Mary's High School in Lancaster and Mindszenty High School, according to past Buffalo News coverage. He also was former assistant director of the diocesan Department of Religious Education and spent three years as a missionary in Brazil.
In addition, he has served as pastor of St. John Fisher Parish in South Dayton and St. Elizabeth's in Cherry Creek, and well as as administrator of St. Benedict the Moor in Buffalo. He also served as assistant pastor at St. John de LaSalle, Niagara Falls; St. Christopher's, Town of Tonawanda; Holy Family, Buffalo; and Infant of Prague, Cheektowaga. His first assignment after his ordination in 1963 was at St. John the Evangelist, Sinclairville.
Martlock is included on a Buffalo Diocese list of priests who have "substantiated" claims of abuse against them. The case filed Monday on behalf of the plaintiff by attorney Martin A. Lynn of Syracuse was the first Child Victims Act lawsuit to allege abuse by Martlock.