Abuse accuser testifies against ex-Santa Cruz priest
By Phaedra Haywood
Santa Fe New Mexican
January 31, 2020

https://bit.ly/2vGJ3nS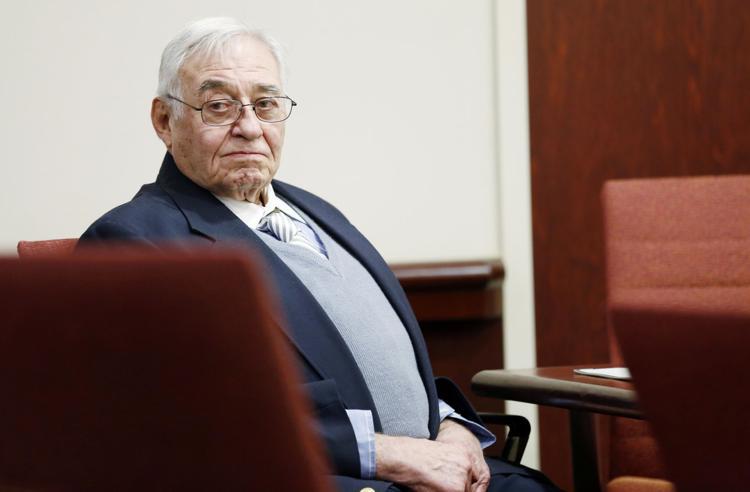 Marvin Archuleta listens Thursday to opening arguments at his trial at District Court. The former priest is accused of child molestation.
Photo by Luis Sánchez Saturno
Marvin Archuleta's accuser's voice quavered as he described in graphic detail being given punch and cookies before being raped at the age of 6 by the man he is "110 percent sure" was the former Santa Cruz priest.
But Archuleta's defense attorney, Ryan Villa, challenged the witness's certainty during cross-examination Friday in District Court, reminding him that he'd answered with less conviction when asked to identify the priest during a deposition for his civil case in 2017.
The man — whom The New Mexican is not identifying because he says he is the victim of sexual assault — said the picture of Archuleta he was shown during the deposition depicted the priest clean shaven without his glasses on.
When Archuleta, now 82, assaulted him during the 1986-87 school year, the man said, the former priest was unshaven and wearing glasses.
Archuleta's accuser testified for nearly three hours Friday, recounting under questioning the alleged assault and its aftermath.
He described being called out of his first grade class at Holy Cross Catholic School in Santa Cruz, being taken to the sacristy, where priests keep their vestments and other items for Mass, with two other boys, and being left alone with Archuleta, who he said made him kneel on a chair before sexually assaulting him.
He said two other boys — who had been led away by a different priest — returned as he was pulling up his pants and wiping his tears.
They also had been crying, he said. And when the three of them were dismissed by the priests, they sat outside and drank from a bottle of MD 20/20, a cheap wine one of the boys pulled from his backpack. Then they went back to class.
Now 40, the man said he told a few close friends over the years he'd had a sexual encounter when he was 6 years old. But he never told them the details and spent much of his adult life trying to escape the memories through drug and alcohol abuse.
He said he didn't fully reveal what happened until 2016 when he told a therapist at a drug treatment center in Taos.
"I didn't want anyone to know," he said. "I had a lot of shame about it. I was embarrassed that it was with a man, a full-grown man. There is a stigma that goes with it. I sure didn't want people thinking that about me."
"That you were a homosexual?" Assistant Attorney General Brittany DuChaussee asked.
"Right," the man answered, "or a pedophile."
"Did you have concerns about being believed?" DuChaussee asked.
"No. I didn't really think about that," he answered.
Villa tried to cast doubt about the man's version of events in the minds of jurors, peppering him for about an hour with questions about when, why and to whom he disclosed the incident and what he hoped to get out of a civil case he has pending against the Archdiocese of Santa Fe.
The man remained relatively unflustered during the grilling, though his voice shook in spots.
When DuChaussee asked him, "After all of this how did you feel about Holy Cross School?" he breathed out a long sigh.
"I have a lot of feelings about it," he answered. "I can't say it was all bad because I did meet some friends there. But it made me question my religion and I'm still dealing with that. ... I didn't think adults, more or less priests, were supposed to hurt you. By Marvin being a priest, he was in a position to, uh, instead of helping kids and showing them guidance, he showed them a dark path. I was wary of priests after that. As time grew, I understood not everybody is like that. But during that time I was pretty intimidated by them.
"I've always kept the faith," he said. "As for me being Catholic, organized religion is not for me. But I do believe in good and evil and I pray. ... I do believe in good for sure."
Archuleta's trial is scheduled to last through Feb. 7.
Contact: phaywood@sfnewmexican.com