Retired priest who previously worked at Cathedral of the Sacred Heart in Richmond accused of child abuse
By Bridget Balch
Richmond Times-Dispatch
February 14, 2020

https://bit.ly/2V3oix8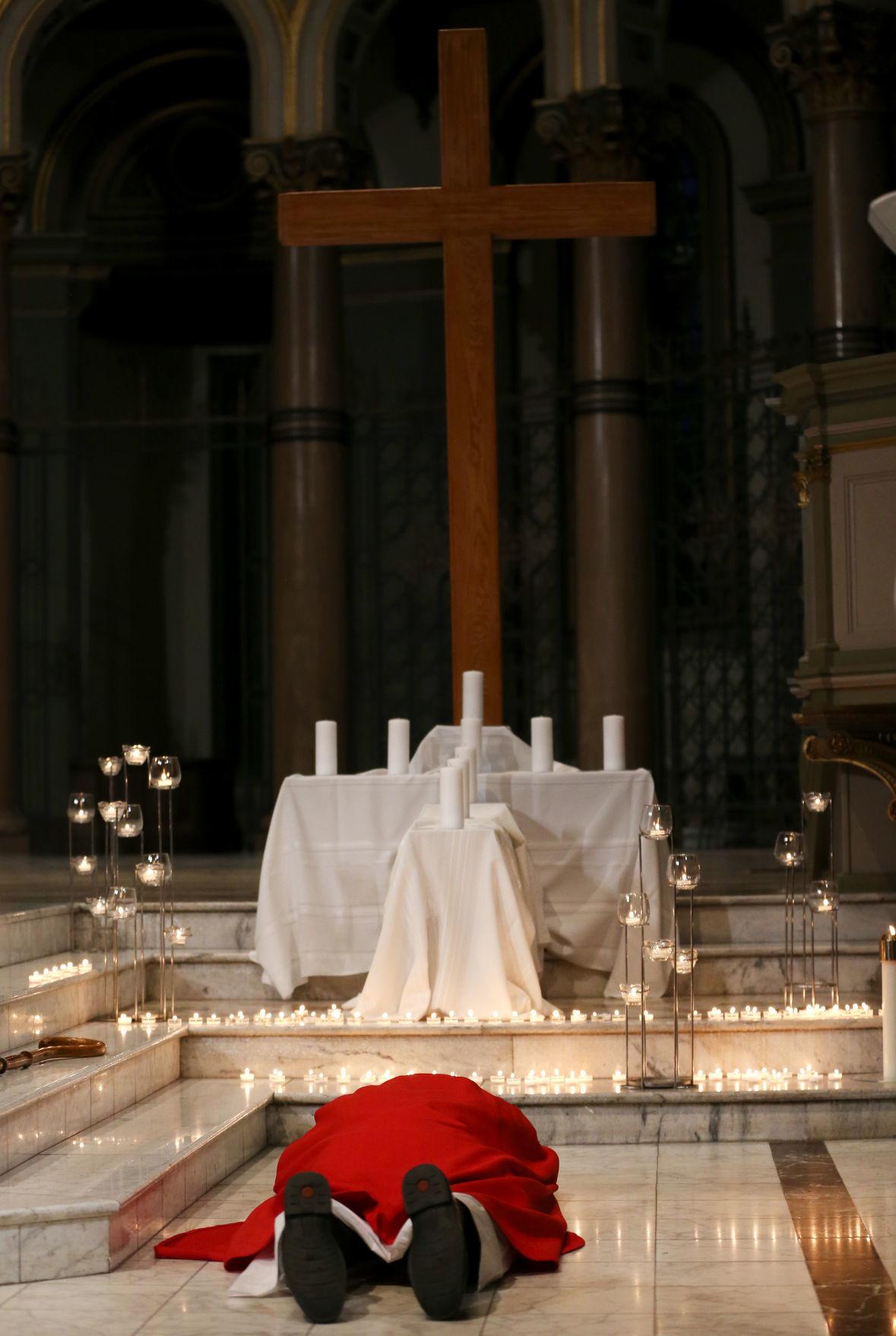 Bishop Barry Knestout lies face down at the Cathedral of the Sacred Heart as a sign of sorrow for sexual abuse.
The Catholic Diocese of Richmond announced Friday that a retired priest, Raymond Barton, has been accused of child sexual abuse that allegedly occurred in the early 1970s.
A representative of the alleged victim, who is dead, came forward to report details of the abuse to the diocese, which reported the allegations to civil authorities, according to a news release.
The diocese, which could not be reached immediately for comment Friday afternoon, did not identify the victim, the location of the alleged crime or the agency that it notified of the accusation in the release.
Barton, who retired from ministry in 2011, was an associate pastor at the Cathedral of the Sacred Heart in Richmond, a faculty member at St. John Vianney Seminary in Goochland County and a pastor at Sacred Heart in Norfolk, St. Nicholas in Virginia Beach and Holy Comforter in Charlottesville. He was also co-pastor for Church of the Holy Apostles in Virginia Beach.
The news release said that Barton will not be allowed to "engage in active ministry until the allegations are investigated and resolved." Barton could not be reached for comment on Friday.
The diocese published an initial list of clergy that Bishop Barry Knestout deemed to have been credibly accused of sexual abuse of a child last February. At the time, 42 priests were included on the list. The list has been updated to include 54, not including Barton.
"Bishop [Barry] Knestout remains committed to transparency and accountability when allegations of child sexual abuse are reported," the press release read. "He encourages anyone who knows of any misconduct or abuse on the part of a cleric or representative of the diocese to report it."
Virginia Attorney General Mark Herring has established a clergy abuse hotline: (833) 454-9064.
The Richmond Diocese also has a 24-hour confidential victim's assistance reporting number: (877) 887-9603.