Founder of French Charity Is Accused of Pattern of Abuse
By Eva Mbengue
New York Times
February 23, 2020

https://www.nytimes.com/2020/02/23/world/europe/jean-vanier-abuse-larche.html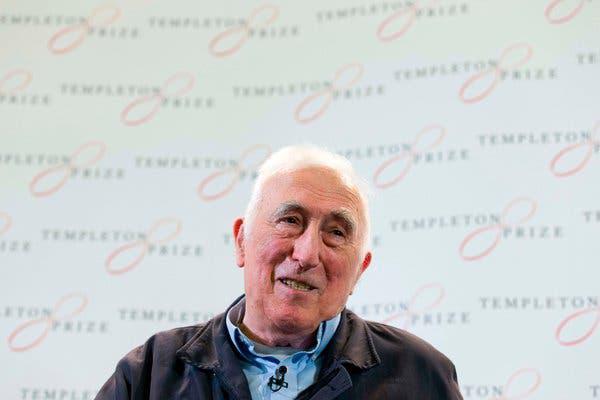 The founder of L'Arche, Jean Vanier, was accused of having "manipulative sexual relationships" with at least six women in France.
Photo by Justin Tallis
The French-based charity, L'Arche International, revealed that its founder, Jean Vanier, had engaged in "manipulative sexual relationships" with women from 1970 to 2005.
The founder of a French charity who helped improve the lives of people with learning disabilities for over half a century had also engaged in "manipulative sexual relationships" with at least six women, the charity has revealed in a new internal report.
The report, released last week by the French-based charity, L'Arche International, said that Jean Vanier, the charity's founder, had relationships with women from 1970 to 2005 that were at turns "inappropriate," "coercive" or "non-consensual." It also said he had a "psychological hold" over some of the victims.
None of the women who said they had been abused by Mr. Vanier had a disability. Some worked in the community, and some were nuns, according to the Canadian newspaper The Globe and Mail.
Mr. Vanier, a Canadian religious leader who founded the charity in 1964, died in Paris last year at age 90.
The inquiry was commissioned in 2019 by the nonprofit charity after suspicions were raised as far back as 2014 by "two women denouncing serious sexual misconduct" committed by Thomas Philippe, a Catholic priest and scholar whom Mr. Vanier a considered a spiritual father.
The investigation was carried out by the independent British-based GCPS Consulting, which collected testimonies of women who reported "similar facts" associated with highly unusual "spiritual or mystical explanations used to justify these behaviors," the report said.
The investigation also relied on testimonies from 30 other people, including managers of the charity.
In a statement, L'Arche France said: "The women each report that Jean Vanier initiated sexual relations with them, usually in the context of spiritual accompaniment. The relationships were found to be manipulative and emotionally abusive, and had a significant negative impact on their personal lives and subsequent relationships."
Some of the women "still have deep wounds" from the abuse, L'Arche said.
The report found that Mr. Vanier had asked his victims to keep the events secret.
"He said: 'This is not us, this is Mary and Jesus. You are chosen, you are special, this is secret,'" one woman said.
Said another: "I realized that Jean Vanier was adored by hundreds of people, as a living saint who gave his support to victims of sexual abuse. It seemed like camouflage and I found it difficult to raise the issue."
The accusations came at a time of reckoning for France over its attitudes about the abuse of women, and in the Catholic Church about decades of abuse by priests. The #MeToo movement that brought waves of accusations from women daring to speak up about harassment, predatory behavior and sexual violence in other countries has met cultural resistance in the country.
L'Arche, rooted in the Roman Catholic Church, has more than 150 communities in 38 countries. When Mr. Vanier died, the Rev. James Martin, a Jesuit priest and editor at large of America, a magazine of Catholic thought, said, "He was one of the great saints of our time."
"Of all the people in our time who minister to people on the margins, I would say he and Mother Teresa were the avatars for Catholics," Father Martin said at the time. "Jean Vanier showed us the great strength of tenderness and vulnerability and weakness, which is Christ's message."
Pope Francis had also lauded Mr. Vanier, saying, "I want to thank him, and thank God for having given us this man."
L'Arche's statement said Mr. Vanier had been a member of a small clandestine group that included Father Philippe and some women, and that he had adopted some of the "deviant theories and practices" of the priest, who died in 1993.
The current leaders of L'Arche International, Stephan Posner and Stacy Cates-Carney, denounced the actions of Mr. Vanier in a letter that they sent to the L'Arche Federation and that was published on Saturday.
"We are shocked by these discoveries and unreservedly condemn these actions," the statement said, adding that they recognized "the courage and suffering" of the women and others who spoke up.