Facing Sex-Abuse Claims, Buffalo Diocese Declares Bankruptcy
By Jesse Mckinley And Liam Stack
New York Times
February 29, 2020

https://www.nytimes.com/2020/02/28/nyregion/buffalo-diocese-bankruptcy.html?searchResultPosition=1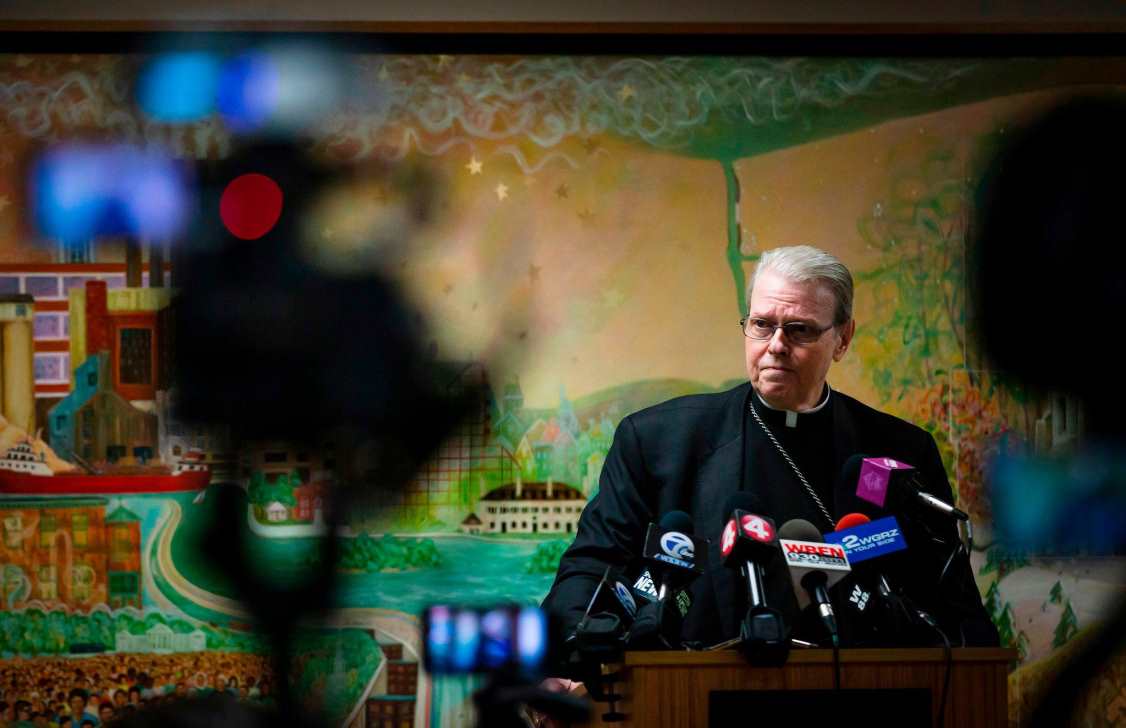 In December, the bishop of Albany, Edward B. Scharfenberger, was made temporary administrator of the Diocese of Buffalo after its beleaguered bishop resigned.
Photo by Aaron Lynett
The diocese said it was seeking Chapter 11 protection because of old accusations revived under New York's Child Victims Act
The Diocese of Buffalo filed for federal bankruptcy on Friday, becoming the latest entity to seek financial protection after a 2019 state law allowed victims of historical childhood sexual assault to sue.
The Catholic diocese, the largest in upstate New York, cited the Child Victims Act in a statement posted on its website, saying that the maneuver was necessary "to continue uninterrupted its mission throughout Western New York, while working to settle claims with existing Diocesan assets and insurance coverages."
The Child Victims Act was passed last year by the Democratic Legislature in Albany, after years of opposition from religious groups and private schools, among others. It created a so-called look-back window, starting in August and lasting one year, allowing old claims that had passed the statute of limitations to be revived.
Hundreds of lawsuits were filed against the Catholic Church in the days after the look-back window opened, with more than 1,000 complaints brought under the Child Victims Act by Jan. 31, according to victims' advocates. The sheer volume of claims led to speculation that one or more of the eight dioceses in New York could declare bankruptcy.
In September, the Diocese of Rochester became the first to file for Chapter 11 bankruptcy protection, a month after the child victims law went into effect, and suggested that it was the best way to serve the growing number of plaintiffs. Buffalo is the second diocese to do so, and observers believe more could follow suit.
"I certainly wouldn't be surprised to see other dioceses in New York file," said Terence McKiernan, the president of BishopAccountability.org, which tracks claims of wrongdoing in the church. "That's partly because of the enormous number of legal claims being brought under the Child Victims Act, but also because there is potential there to control various aspects of that process of accountability."
"This is a way of managing their exposure," he added.
That strategy has been embraced by other organizations affected by the Child Victims Act and similar laws in other states. The Boy Scouts of America, for instance, filed for federal bankruptcy in Delaware this month.
In an open letter, its national chairman, Jim Turley, said he hoped bankruptcy would allow the Scouts to respond to abuse claims through a victim's compensation trust instead of piecemeal through a string of lawsuits.
The Buffalo diocese has been rocked by a series of crises in recent years under the leadership of Bishop Richard J. Malone, whose mishandling of abuse claims led to an investigation by the Vatican and his resignation in December.
"We have no more urgent work than to bring about justice and healing for those harmed by the scourge of sexual abuse," said Bishop Edward B. Scharfenberger, the apostolic administrator for the Diocese of Buffalo, citing how the "intense emotional, mental and spiritual pain inflicted on these innocent victim-survivors is a heavy burden they are forced to carry throughout their lives."
Bishop Scharfenberger said the decision to seek Chapter 11 protection was "arrived at after much prayer" and consultation with financial advisers in the diocese.
The paperwork filed in Federal District Court in Buffalo sought protection from more than 200 creditors and listed 19 of the diocese's top 20 creditors as sexual abuse victims seeking compensation.
The diocese cited liabilities of more than $50 million and said it had assets of somewhere between $10 million and $50 million.
"There is a huge problem in Buffalo," said Diane Paolicelli, a lawyer whose firm represents more than 30 plaintiffs who have filed abuse claims against the diocese. "I don't know why that is so, but it is true that the Diocese of Buffalo appears to have a disproportionate number of cases against it compared to the other dioceses in New York."
State Senator Brad Hoylman, the Manhattan Democrat who sponsored the bill in Albany's upper chamber, criticized the church's decision as a "strategic bankruptcy" that may "limit the recovery of many who suffered at the hands of the church."
"Its just another example," he said, "of the church failing to take responsibility for its actions."
In recent months, lawmakers in New York have suggested expanding the law to cover adult victims as well extending the one-year look-back window, which has resulted in hundreds of civil suits being filed shortly after it took effect. New Jersey has a similar law that took effect in December.
The bankruptcy filings in Buffalo and Rochester are the latest blows to a church that has already been dealing with declining population in upstate New York and depressed property values in many areas, factors that church officials say have contributed to staff reductions and parishes closing.
But Mr. McKiernan said Buffalo was "in a class by itself because of its history under Bishop Malone."
The former bishop's handling of abuse cases received national attention after his assistant, Siobhan O'Connor, told law enforcement and the news media in 2018 that he had kept hundreds of pages of documents on abusive priests hidden from the public.
A second whistle-blower later released a secret recording of the bishop fretting over how his reputation could suffer if he took action against an accused abuser, the Rev. Jeffrey Nowak, whom he described on the recording as "dangerous" and "a sick puppy."
"We are in a true crisis situation," Bishop Malone said in one recording leaked to the TV station WKBW. "True crisis. And everyone in the office is convinced this could be the end for me as bishop."
The turmoil in the diocese has continued after the bishop's departure: Earlier this month, federal agents arrested a seminary professor, Paul Lubienecki, 62, who was accused of stalking Ms. O'Connor and threatening to kill a journalist who spoke to her.