Talley's call for repentence in Lenten season comes with list of accused priests
By Bill Dries
Daily Memphian
February 29, 2020

https://dailymemphian.com/section/metro/article/11048/catholic-diocese-priests-list-sexual-abuse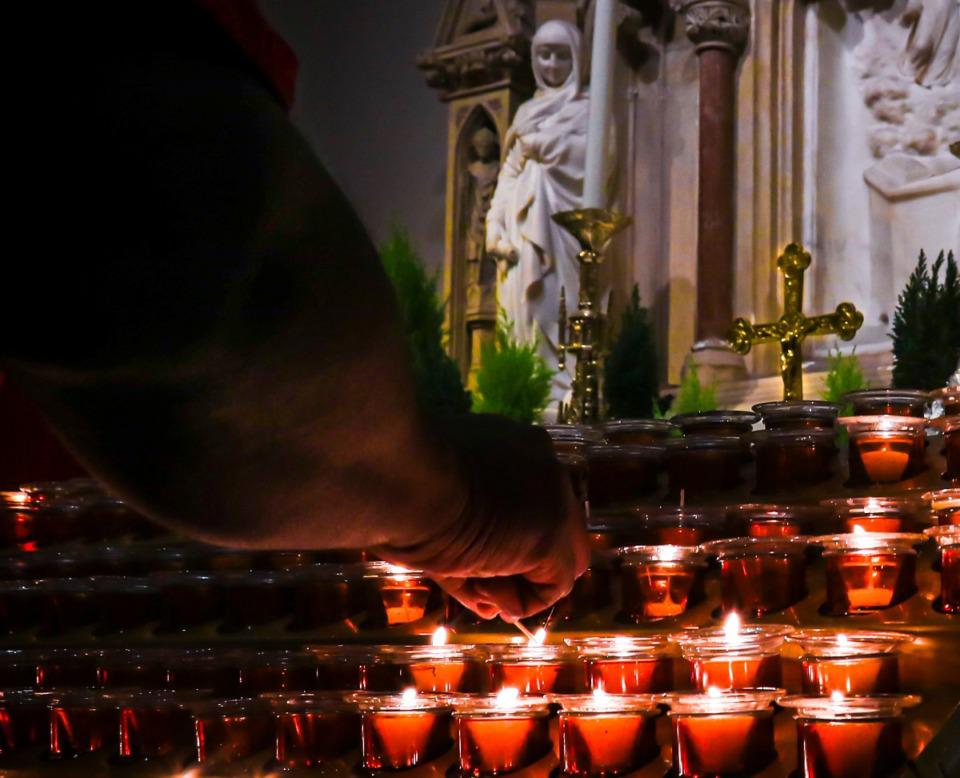 In this Wednesday, Nov. 27, 2019, photo, a Catholic faithful lights candles at a prayer station during a visit to one of the great symbols of the Roman Catholic Church, St. Patrick's Cathedral, in New York.
Photo by Bebeto Matthews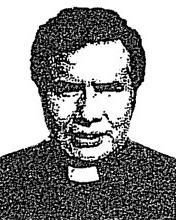 Juan Carlos Duran

Carroll T. Dozier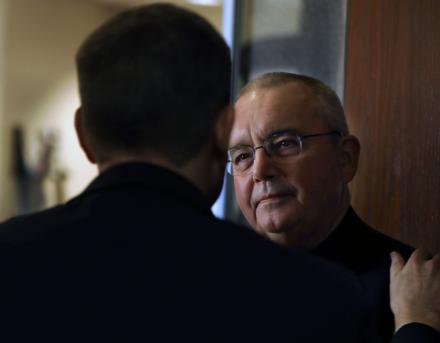 Bishop David P. Talley was named the sixth bishop of the Diocese of Memphis in Tennessee by Pope Francis Tuesday, March 5, 2019. Talley has called for a focus on repentence during this year's Lent.
Photo by Patrick Lantrip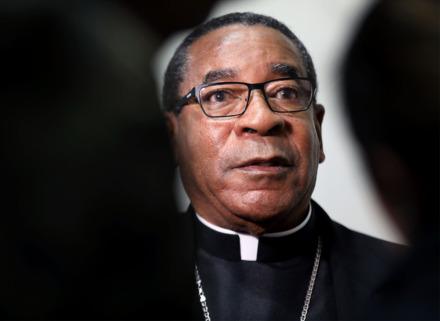 Memphis Bishop J. Terry Steib was on hand March 5, 2019, to welcome David P. Talley as he was named the sixth bishop of the Diocese of Memphis.
Photo by Patrick Lantrip
The weekend before he released a list of priests "credibly accused" of child sexual abuse, Catholic Bishop David Talley marked the coming season of Lent with a video on the Diocesan website.
Talley, who became bishop of the Memphis Diocese last April, quoted the first chapter of the Gospel of Mark.
"What we want to do during this holy season of Lent is to focus on that last line of verse 15 — 'repent and believe in the Gospel,'" Talley said. "It means a conversion of all that you are, turning away from everything that is destructive in yourself, within your family, within society. While turning at the same time toward the light — the light that lightens up your heart, your family, society."
The Diocesan Review Board report that followed largely repeats the names of priests made public a decade ago when The Daily News filed suit in Circuit Court for more than 6,000 pages of internal church documents and depositions taken of every Diocesan leader at the time.
But it doesn't provide the detail that the documents provided of the sexual abuse and attempts by church leaders to move priests who were accused and talk parents out of pursuing criminal charges over a 50-year period. Nor does it include the review board's own internal debate about pursuing complaints they heard through other sources and their attempts to meet with Steib to discuss investigating those complaints.
The case that prompted the release of the documents was that of a man who alleged he was sexually abused when he was 14 by Rev. Juan Carlos Duran when Duran was leading a Diocesan ministry for Latino families in Memphis. The Diocese and the Order of Preachers, better known as the Dominicans — the religious order to which Duran belonged — settled the lawsuit for a total of $2 million shortly before jury selection was to start in Shelby County Circuit Court.
Duran has originally been a Franciscan priest in Bolivia before he was expelled for abusing orphans. He entered the Dominican order, which took him even after Franciscan superiors told them of the previous problems. There were allegations of child sexual abuse before he came to Memphis to minister specifically to Latino families. The Diocese of Memphis did not check with Dominican officials on Duran's background when they hired him in the late 1990s.
After the settlement, Judge Charles O. McPherson ordered the release of the documents gathered during the discovery process.
The documents detailed 50 years of child sexual abuse allegations against 15 priests during their time in Memphis. Some were named in the documents, while the names of others were redacted and they were referred to by number only.
Some of the new names in the Friday report may be those priests identified by number in the 2010 trove of documents.
Since the release of those documents, the name of Carroll T. Dozier, the first bishop of the Catholic Diocese covering West Tennessee established in 1970, turned up on a list of credibly accused priests in Richmond, Va. The allegation of child sexual abuse, made in 1985 after Dozier's death, dated back to Dozier's time as a priest in Richmond in the 1960s.
Talley made the decision to include Dozier's name in the report released Friday.
"Our files reveal no evidence of credible allegations made against Bishop Dozier in our Diocese prior to his death or inclusion on the list of the Diocese of Richmond," he wrote. "While the Diocese of Memphis will investigate all allegations that come forward against Bishop Dozier, such investigations will be essentially incomplete as Bishop Dozier will not have had an opportunity to defend himself."
"We recognize listing Bishop Dozier might be upsetting to some parishioners who remember him as our first Bishop," Talley added. "However, because of the Diocese of Richmond's findings, placing his name on our list is appropriate."
Shortly after the Richmond list was made public, Dozier's likeness was removed from a mural next to the National Civil Rights Museum and his name was removed from a social services agency in Midtown operated by Associated Catholic Charities.
The 11-page report submitted to Talley by the Diocesan Review Board terms the compiling of the list "challenging."
"It not only involves listing those priests with claims that the Board has actually evaluated, but also involves compiling names of credibly accused priests from other dioceses or religious orders that may have at one time served within the diocese," the introduction to the report reads. "And it requires reviewing archives to determine whether there are any other credible allegations that can be discerned from historical documents."
One of the priests named in the 2010 documents but not included on Friday's list is Richard Mickey.
Mickey was named in a 2004 lawsuit filed shortly before the Duran lawsuit.
The diocese settled the lawsuit filed by Blain and Blair Chambers alleging abuse by Mickey in 1980 before he was a priest and when they were students at Bishop Byrne High School.
Diocesan officials testified that they never believed the allegations. But Mickey was suspended and sent for counseling because of a deposition in the case by a man who claimed he and Mickey were a "couple" in the 1990s while the man was a senior at Memphis Catholic High School and Mickey was the school's chaplain.
The man kept dozens of cards and letters Mickey sent him in which Mickey professed his love. Mickey said he acted inappropriately but denied any sexual contact.
A parent of a child Mickey joked with about another boy's confession of masturbation attempted to report the behavior to a parish priest at the urging of a Diocesan Review Board member. But the parent said the pastor told her he would not report it to the board.
The board undertook its own review and concluded it was "grooming behavior."
Counselors recommended that Mickey not have any contact with children and never be allowed to set foot on a school campus. Mickey disagreed with the finding and diagnosis but remains a priest under those conditions.
Paul W. St. Charles was the first diocesan youth director, holding the job from 1971 to 1973.
No other priest from Memphis has been accused more in civil lawsuits than St. Charles, who served in Memphis from the early 1960s to the mid-1980s, when he retired and moved to Nashville.
St. Charles acknowledged he retired under pressure after diocesan officials confronted him about "rumors" of sexual misconduct.
The first accusations to go public involving St. Charles were ones that were made to church officials and handled by the Diocesan Review Board.
In 2004, two years after the first complaint, the DRB found it "more likely than not" that St. Charles had abused a teenager in the late 1970s. Steib suspended St. Charles from all priestly duties and St. Charles appealed. Steib delayed sending the appeal on to the Vatican for two years.
When attorney Gary K. Smith asked about the delay, Steib testified in his deposition: "I couldn't tell you. I would have to look back."
St. Charles claimed his innocence until he died in December. But the DRB found multiple allegations against St. Charles to be credible.
The earliest document in the internal church documents from 2010 is a handwritten letter from 1959 by Bishop William Adrian to Rev. Walter Emala complaining about the bills the church was paying for him.
"Also, your episode with that boy you were keeping around there was a scandal to many of your people — all without permission," Adrian wrote.
Seven years later, two priest complained that Emala had a "mental imbalance" and an "abnormal obsession regarding matters of (students) sex development and behavior." Parents of two boys were threatening to go to civil authorities.
Emala didn't go quietly, eventually taking a leave of absence to Baltimore. But church officials here continued to pay his living expenses for the rest of his life. When Emala was accused in Baltimore in the 1970s, church officials there told him to leave the area. He went to Wilmington, Delaware with a letter of recommendation from Dozier.
In Harrisburg, Pennsylvania, police had warrants to arrest Emala on child sexual abuse charges and church leaders there told him to leave, writing "it is important that you not be present at any time within the territory of the Diocese of Harrisburg."
Memphis Diocesan officials were copied on the letter.
Emala was named in 2002 when the Archdiocese of Baltimore released a list of priests accused of child sexual abuse.
Contact: bdries@dailymemphian.com