Allentown Diocese says earlier accusation against now jailed priest was 'unfounded.' Prosecutors disagree
By Peter Hall, Daniel Patrick Sheehan And Sarah M. Wojcik
Morning Call
March 01, 2020

https://bit.ly/398AalP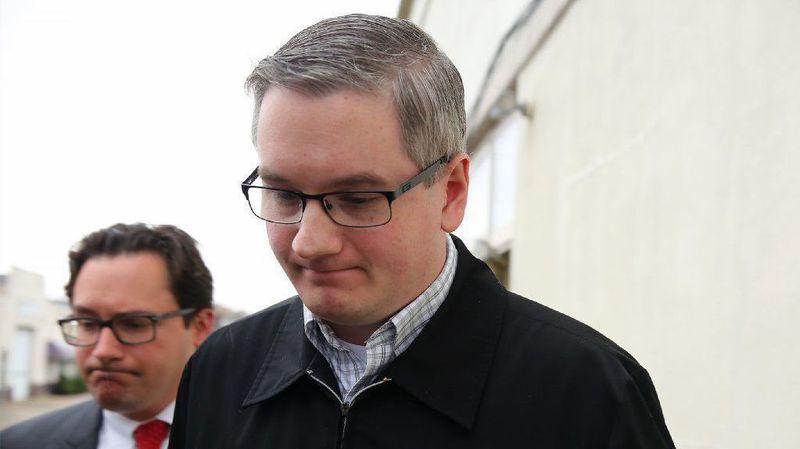 Catholic priest Kevin Lonergan pleaded guilty to indecent assault of a 17-year-old girl and was sentenced to one to two years in prison.
Photo by JANE THERESE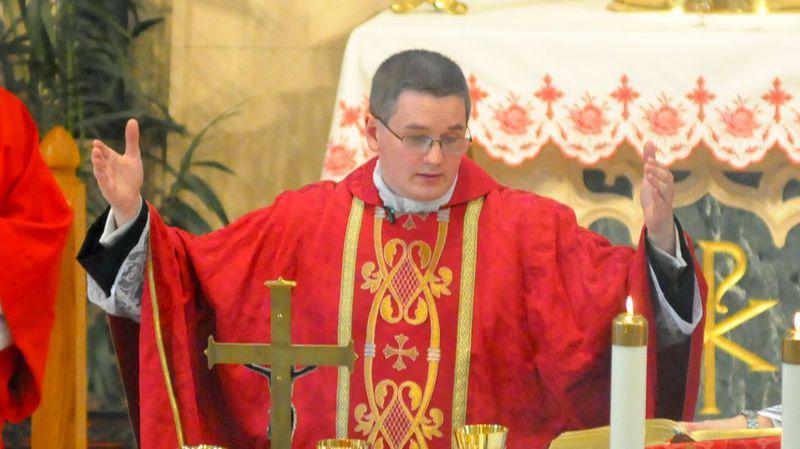 The Rev. Kevin M. Lonergan celebrates his first mass, at St. Patrick's Church in Pottsville, after being ordained in 2014.
Photo by Andy Matsko
In May 2016 a 15-year-old girl told someone that the Rev. Kevin Lonergan had touched her inappropriately.
The allegation triggered investigations by the Northampton County Children, Youth and Families Division, Forks Township police, and the district attorney's office.
Lonergan was suspended during the investigation, and the Allentown Catholic Diocese said Monday that it reinstated him a few months later because Children and Youth determined the accusation was "unfounded." But the Northampton County district attorney's office didn't classify the case that way. And neither did the diocese's own private investigator, who called it "unsubstantiated."
"It was never unfounded," Chief Deputy District Attorney Tatum Wilson, who investigated the allegation with Forks police, said Thursday.
"It's not that we made a determination one way or the other whether there was criminal activity," she said. "It was closed because we didn't have a victim who would be able to testify about any criminal activity."
It would be more than two years, and only after a second girl accused Lonergan of inappropriate sexual contact, before the Catholic priest would be charged with a crime.
When Lonergan, 31, was sentenced to one to two years in prison Monday for groping a 17-year-old girl as she helped clean up after a confirmation Mass in 2018, Lehigh County Judge Maria Dantos raised the earlier complaint of "hands-on molestation" and questioned whether the Allentown Diocese was still transferring priests to cover up abuse — a practice for which the church has drawn intense criticism and scrutiny.
Diocese officials said it was inaccurate to say they had transferred an offending priest. A diocese spokesman on Thursday provided The Morning Call with a letter from a church lawyer indicating Northampton County's child protection agency determined the 2016 claim was "unfounded." He also noted the 2016 accusation was revealed in a news release and letter to parishioners at Lonergan's former parish, St. Jane Frances de Chantal in Palmer Township, when the second allegation was made and Lonergan was arrested in 2018.
Bishop John O. Barres, who headed the Allentown Diocese when Lonergan was returned to ministry in September 2016, said the diocese's statements reflect his memory of the situation. Barres is now bishop of the Rockville Center Diocese in New York. He would not answer The Morning Call's questions about how he handled the case, referring questions to the Allentown Diocese, which now is led by Bishop Alfred A. Schlert.
Wilson, from the district attorney's office, said the 2016 case went nowhere only because Lonergan's accuser later denied making the report and recanted her statement to a Forks detective. She said the initial allegation came to the county's attention through someone who was required to report it under the law.
Lonergan, she added, hired an attorney and would not talk to police. Diocese spokesman Matt Kerr said the diocese did not instruct Lonergan not to talk to police and did not pay for the attorney.
After Lonergan was charged in Lehigh County, Wilson said investigators in Northampton County reached out to the girl from the 2016 allegation once more, in case the filing of charges had changed her mind about moving forward with a case. It hadn't, Wilson said, and her family made that clear. But with a much longer statute of limitations on such cases, extending to a victim's 50th birthday, Wilson said the door remains open for further investigation.
She said the case could be reopened if new evidence comes to light.
Northampton County District Attorney Terry Houck said his investigators are careful to not use phrases that imply a case is unfounded or that evidence is insubstantial, particularly when dealing with cases of sexual assault.
"To say something is unfounded, especially in cases involving trauma, is a risky thing to do when you don't have the evidence to back that up," Houck said. "Our job is not to say something is founded or unfounded."
The last thing investigators want to do in such cases is discourage someone from choosing to cooperate in the future. Characterizing a case in this way could shut that door forever, Wilson said, adding time can be the most persuasive element for someone to come forward, especially in sexual assault cases involving minors.
"It takes years to process this trauma and sometimes they don't realize at first that what happened to them was a crime," she said. "In the majority of cases like this, a victim can decide to come forward and cooperate several years later."
The victim in the 2018 case told the judge at Lonergan's sentencing that she was contacted via social media by a member of Lonergan's family. The victim said the person told her the allegations were very upsetting to the family and offered her "any amount of money to drop the charges."
Lonergan, who pleaded guilty to indecent assault, had no knowledge of the message, said his attorney, Eric Prock. No intimidation charges were filed.
Lonergan's case raises questions about how can the church balance priests' rights to due process and reputation against the safety of parishioners?
Attorney Justin Danilewitz, of Philadelphia, said institutions such as the church have a responsibility to investigate thoroughly and independently. Danilewitz is a former federal prosecutor who represented about a dozen clergy members who were never charged but were named in a statewide 2018 grand jury report on abuse by priests. His clients successfully claimed the report's release with their names included would violate their rights to due process and reputation.
"If law enforcement has done a rigorous, thorough investigation and they have effectively exonerated a person, an institution has the right to give some weight to that finding," Danilewitz said. "If there is not an exoneration the institution has the responsibility to investigate independently."
That allows institutions to be confident that the people they serve are safe and that they will not incur criminal or civil liability for employing the person, Danilewitz said.
He noted that the burden of proof for pursuing criminal charges is far higher than the burden for making an employment decision. The findings of an independent investigation could support removing a person even when they have not been charged with a crime.
"They might be sufficient for a private institution to make the decision that they're just not going to employ that individual. They're just not going to take that risk," Danilewitz said.
The Allentown Diocese did conduct its own investigation of Lonergan in 2016, hiring Cornerstone Consulting Services in Philadelphia to handle it. A copy of Cornerstone's report was provided to then-Northampton County District Attorney John Morganelli, according to a September 2016 letter to the diocese from its general counsel, Joseph A. Zator II.
The diocese shared the letter with The Morning Call but did not share the report. The district attorney's office denied a request for the report under Pennsylvania's Right to Know Law, citing exceptions for investigatory materials.
In the letter, Zator said he had been advised by former Children, Youth and Families Division solicitor Valerie Cammarene in July 2016 that the report involving Lonergan was "unfounded."
Reached by The Morning Call on Thursday, Cammarene declined to comment.
Julie Bator, Northampton County's Children, Youth and Families Division administrator, said she could not confirm or deny the agency investigated any case.
Generally speaking, she said a report is unfounded when the agency finds no substantial evidence of abuse, or no one pleads or is found guilty of abusing a child.
The letter to Morganelli says Brian Smyth, a former FBI agent who conducted the investigation for Cornerstone, concluded the allegations against Lonergan were "unsubstantiated."
Smyth presented his report to the Diocesan Review Board, which examines allegations. The board, which consists of medical and law enforcement officials and one member of the clergy, determined that Lonergan "needs an assignment," the letter said. The diocese returned him to active ministry at a different church, the Cathedral of St. Catherine of Siena in Allentown.
At Lonergan's sentencing, Dantos asked, "We are still transferring priests that molest children? If he had been sanctioned and fired, this victim would not be a victim."
Dantos touched upon the crux of the abuse scandal that the church has spent the past 18 years addressing, after a Boston Globe investigation brought it to the world's attention.
In nearly two decades, journalists and grand juries have raised awareness of predatory behavior by clergy and the church's efforts to cover it up, said Richard Serbin, an Altoona lawyer who was among the first in Pennsylvania to sue the church on behalf of abuse victims.
That has led to societal change, said Serbin, who was not involved in Lonergan's case.
"Before these grand jury reports, it was not at all unusual for everyone to give deferential treatment to the church including children and youth protection agencies," he said, citing examples where authorities turned a blind eye to accusations against priests.
The 2018 statewide grand jury report found efforts to hide abuse and discredit victims. It highlighted the case of a Lower Macungie Township woman who in 2002 reported that she was abused by an Allentown Diocese priest in the 1960s. In an effort to discredit her, an outside lawyer for the diocese investigated not the priest but the woman, the report said, adding that the information was shared with Schlert.
Since the 2018 grand jury report, dioceses across the state have formed victim compensation funds to settle claims by those abused by clergy as children. The independent committee overseeing Allentown's compensation fund said in January it has settled claims by 47 applicants who received nearly $9 million. Diocese spokesman Matt Kerr said then that the committee would not release more information until it assessed the 56 remaining claims.
Contact: peter.hall@mcall.com