Philippines: Abuses against women are a sin, Philippine bishop says
UCA News
March 9, 2020

https://www.ucanews.com/news/abuses-against-women-are-a-sin-philippine-bishop-says/87403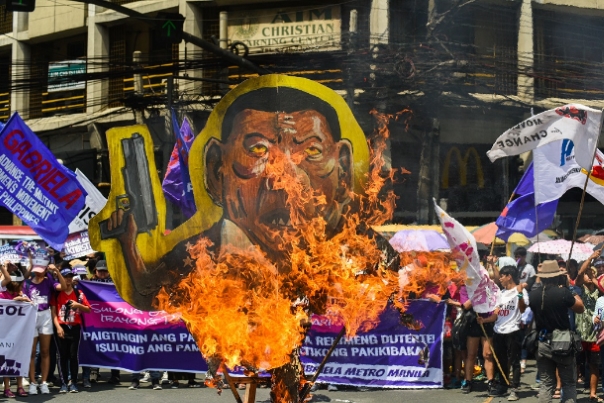 Filipino women burn an effigy of President Rodrigo Duterte as they stage a protest march in Manila to mark International Women's Day on March 8.
Photo by Maria Tan
Activists take aim at Duterte during International Women's Day marches
The exploitation of women and other abuses committed against them are "an affront to God," according to an official of the Catholic Bishops' Conference of the Philippines (CBCP).

Every offense against the dignity of women is a sin, said Bishop Crispin Varquez of Borongan, chairman of the CBCP's commission on women.

He cited sexual abuse, violence, prostitution and discrimination as being the main violations against the "intrinsic being" of women.

"Man and woman are equal in dignity," Bishop Varquez stressed. "Their true relationship is to complement and complete each other."

Meanwhile, hundreds of Filipino women set aside coronavirus fears and took to the streets of Manila and other cities for a rally to mark International Women's Day on March 8.

During the rally protesters burned a large effigy of Philippine President Rodrigo Duterte, whom they accuse of being the country's chief misogynist.

The president has come under fire in recent years over comments about women and for joking about rape.

In a 2018 speech defending his record against crime when he was mayor of the southern Philippine city of Davao, Duterte reportedly said: "As long as there are many beautiful women, there will be more rape cases."

Abuses against women have worsened under Duterte, according to Joms Salvador, secretary-general of women's group Gabriela.

"While we have 37 laws related to women's rights, on the ground what is happening is widespread violence in the forms of domestic abuse, sexual harassment and rape," AFP reported her as saying.