Attorney seeking other victims of accused priest from Avon, Dansville
By Matt Leader
LivingstNews
March 10, 2020

https://thelcn.com/lcn01/attorney-seeking-other-victims-of-accused-priest-from-avon-dansville-20200310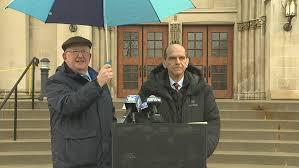 Boston attorney Mitchell Garabedian, right, speaks during a March 3 press conference outside Sacred Heart Cathedral in Rochester. Garabedian is helping represent twp men, now in their 50s, who say they were sexually abused by Joseph Larrabee in the early 1980s when he was a priest at St. Agnes Church in Avon. Holding the umbrella is Robert M. Hoatson, a former priest andco-founder and President of Road to Recovery, Inc., a non-profit charity based in New Jersey that assists victims of sexual abuse and their families.
For the young people of Avon in the early 1980s, Joseph Larrabee was a different kind of priest.
"He was a younger guy, probably mid to upper 20s," recalled Travis Regan, a 1984 graduate of Avon Central Schools. "Cool guy – really cool to hang out with. Just something you never really thought a priest would be."
Regan was a 15- or 16-year-old rising junior in the summer of 1982, a period of time when he and his circle of friends saw a good deal of Father Larrabee, who'd recently been reassigned from St. Mary's Catholic Church in Dansville to Avon's St. Agnes Parish.
Regan recalls Larrabee as an adept social operator, good at inserting himself into existing friend groups and ingratiating himself with a younger crowd – both in church and outside it. But according to a pair of lawsuits, filed last month in Livingston County Supreme Court, those qualities hid Larrabee's underlying nature.
As the County News previously reported, the two civil suits were brought under the state's Child Victims Act. The suits contain allegations that Larrabee sexually abused two teenagers at least 19 times between 1982 and 1984 by exploiting his position as a priest at St. Agnes.
Mitchell Garabedian, a Boston-area attorney who's helping represent Larrabee's two accusers, said the former priest used his position of authority to lure his victims to sleepovers – in the St. Agnes Rectory and even at a friend's lake house – where he'd sexually abuse them.
"Where were the supervisors," asked Garabedian, speaking during a press conference outside Sacred Heart Cathedral in Rochester March 3. "Why weren't they protecting innocent children?"
Garabedian said the purpose of the press conference, in addition to helping his clients "try to heal," was to empower other victims of Larrabee to come forward.
As "a prolific groomer of children," Larrabee almost certainly has more victims, said Garabedian – both in Avon, where he was an associate priest in 1982 and 1983 under the late Ft. Charles A. Bennett, and in Dansville, where he was assigned, fresh out of the seminary, in 1981.
"Without a doubt," he said when asked about the possibility of more victims. "This man has a track record of being shuffled - why did they keep him in Dansville for one year? It's based on my experience they shuffle these priests from parish to parish to parish because they want to get them out of dodge."
Garabedian called on the Catholic Church to release any and all documentation it has in its possession "concerning not only Father Larrabee, but all pedophile priests," and for Matthew Clark, who served as Bishop of the Diocese of Rochester from 1979 to 2012 to testify about Larrabee and other priests accused of the sexual abuse of children.
"We need the secret files," he said. "We need the information."
Garabedian said he's also "looking into" whether anyone in a position of authority at Avon Central Schools had knowledge of Larrabee's actions and failed to speak up.
"Some supervisor must have known if Father Larrabee was hanging around the Avon public school system, driving underage children around to point out prostitutes, having sleepovers with children at the rectory, taking them to his apartment in Greece... giving massages to the JV basketball team," he said. "Some supervisor somewhere must have known something."
In response to an inquiry from the County News, a Diocese of Rochester spokesperson provided the following statement: "Out of respect for the court process, the Diocese declines comment on lawsuits."
Larrabee, who according to recent court filings lives in Saratoga County, could not be reached for comment.
'One of the guys'
While his time of frequent interaction with Larrabee was short-lived – a month or two in the summer of 1982 – Regan still recalls with clarity a trip to the movies with a group of his friends and the former priest to see "The World According to Garp."
The R-rated, dark comedy stars Robin Williams as the titular TS Garp and centers, in part, on themes of sexual repression, gratification and violence and the inversion of traditional gender roles.
Larrabee drove Regan and a his group of four or five friends from Avon to a movie theater in Rochester.
"I didn't tell my parents – obviously no cell phones back then," said Regan, who is not involved in the civil suits against Larrabee. "(I) didn't think I'd get into trouble for going into Rochester with a priest."
Once they got to the theater, Larrabee started cracking jokes that kept his cadre of teenagers and the audience in stitches for the length of the movie.
"It was just his personality," said Regan. "...His language wasn't the best when he was with us – he'd be swearing, stuff like that. Just being one of the guys yet still maintaining the mentor type of thing."
After the movie was over, Larrabee drove Regan and his friends around Rochester, pointing out the bad areas of the city where Larrabee said they were apt to be murdered.
After pulling up to one street in the city – Regan thinks it was Jay Street – Larrabee told his car full of teenage boys that, "'Being a white male, if I were to let you walk here and you were to try to walk to the end of the block, you would be killed before you even get there,'" Regan recalled.
"As a 15, 16-year-old kid, you're sitting there going 'holy cow,'" Regan said. "Being from the country, it was eye opening."
Once he got home to Avon, Regan's parents "weren't happy with me," but Regan himself didn't see anything wrong about the outing while it was going on immediately afterwards. Looking back on it now, he feels a little differently.
"Would I let my kids do it when they were that age? I would not," he said.
'He loved being around us kids'
In the summer of 1982, Bill D'Angelo was a freshly minted graduate of Avon Central Schools. Like Regan, D'Angelo had been immediately impressed by Larrabee's youthful energy upon his transfer to Avon.
"He wouldn't speak from up on the pulpit, he'd come down and actually walk around the church," said D'Angelo, a lifelong Catholic who grew up attending St. Agnes Church. "His voice was so loud he didn't need a microphone."
D'Angelo thought so much of Larrabee's oratory, he asked the priest to be the Avon class of 1982's featured speaker during commencement.
"He was real outgoing," said D'Angelo who, like Regan, is not involved in the civil suits against Larrabee. "He loved being around us kids."
That outgoing energy and ability to connect with young people – not typical of a Catholic priest at that time, said D'Angelo – was evident whenever Larrabee would take an altar boy or other favored youth out to dinner.
Sometimes he'd take them to the now defunct Cartwright Inn restaurant in Henrietta, said D'Angelo. Sometimes, it would be the Carriage Stop Restaurant. Both were a quick, 15-minute drive from Avon, up Route 15 in the pre-Interstate 390 days of the early 1980s.
While D'Angelo never observed Larrabee massaging the shoulders of JV basketball plays at Avon – an allegation Garabedian made during his press conference last week – he said Larrabee was a frequent fixture of home varsity games.
"He was there as a spectator," said D'Angelo. "It just seemed like he seemed to like sports and doing things that a community leader would do."
While D'Angelo didn't see much of Larrabee after graduation, one memory sticks out from a senior class trip to what was then known as Darien Lake Fun Country, now Six Flags Darien Lake, in the summer of 1982. Larrabee served as a chaperone for the trip, said D'Angelo.
"When he went to Darien Lake, he literally was just wearing a bathing suit and t-shirt," he recalled. "You would have never known he was a priest."
At one point during the trip, D'Angelo and a group of friends were walking through the park with Larrabee when the priest spotted a group of nuns from the Our Lady of Mercy school and got nervous.
"He didn't want to be found," said D'Angelo with a chuckle. "He goes, 'Hey guys, hide me,' so we kind of shielded him. It'd be like if one of us was trying to hide from a teacher, you know? He blended in like he could be one of the guys."
Differing reactions
Larrabee was reassigned from St. Agnes to St. John the Evangelist in Rochester in 1984. He stayed there until 1987, when he was again reassigned to the Church of the Good Shepherd in Henrietta. From 1990 to 1993, he worked at St. Louis Church in Pittsford.
He gave up his priesthood at some point between 2002 and 2012, according to the Diocese of Rochester.
"Larrabee must have really been terrible because the Vatican laicized him," said Robert Hoatson, a former priest and the co-founder of a non-profit charity based in New Jersey that assists victims of sexual abuse and their families who appeared with Garabedian at last week's press conference. "That almost never happens that quickly. Someone knew about Larrabee for a very long time."
Larrabee was first identified as a potential child sex abuser in 2002, when he was included on the Rochester Diocese's list of clergy who have been credibly accused of such conduct, according to reporting from Rochester's Democrat and Chronicle.
In August 2019, Larrabee was named in three civil suits for having "unpermitted sexual contact" with minors, the D&C reported.
D'Angelo and Regan had opposite reactions upon learning of the allegations against Larrabee through news reports.
"I went, 'Oh my God I can't believe it,'" said D'Angelo. "I never in a million years would have thought that of him."
Regan said he wasn't surprised.
"Knowing what I know now and what's going on with the Catholic church, with Father Joe's personality – I am not surprised whatsoever that somebody like him could lure kids in to feel so comfortable and then use his power, so to speak, to do what he did," Regan said. "He never did anything at the time to me or anybody I was with to make me feel uncomfortable but knowing… how he interacted with kids, I can see somebody with his personality being able to entrap somebody like that."
Contact: MATT@LIVINGSTONNEWS.COM