A powerful moment has turned ugly
By Annabel Quinn
Catholic Register
March 15, 2020

https://www.catholicregister.org/item/31273-a-powerful-moment-has-turned-ugly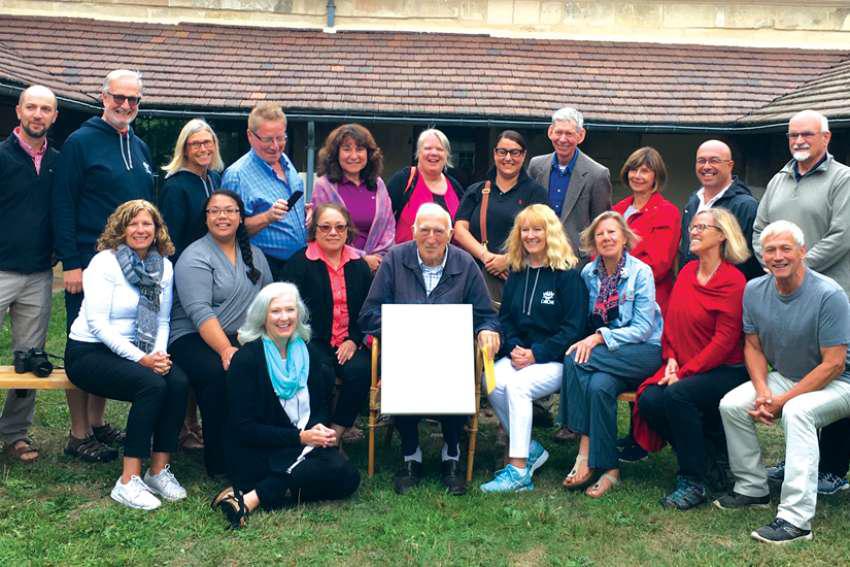 Annabel Quinn sits on the grass next to Jean Vanier in a group shot taken at the retreat she attended at Trosly-Breuil, France.
Photo by Annabel Quinn
Last year I attended an incredible spiritual retreat in Trosly-Breuil, France, the birthplace of the first L'Arche community.
Jean Vanier was too ill to facilitate the retreat, but he attended Mass with us daily and allowed us to kiss his cheek, shake his hand and pose for many pictures. He warmly received our gift, a large canvas print of Corinthians, "Love is patient, love is kind…."
One evening the retreatants walked by candlelight into the cave-like sanctuary to sit in silence in front of the Blessed Sacrament. I sat on the floor against the back wall. Total silence and peace.
I realized I was sitting beside a pair of feet. I looked up and saw that I was sitting at the feet of Jean Vanier. I am ashamed to admit that I felt a little smug; I was the beloved child sitting at the feet of a living saint.
That was one of my most powerful moments as a Catholic. Today that memory has been shattered by the news that Vanier sexually coerced six (non-disabled) women under the guise of giving them spiritual direction.
I learned about his abuse when a friend sent me a "You OK?" text, along with one of the articles (the first of many) that detailed what Vanier had done. I was utterly gutted.
When the news came, I was at lunch at a Canadian conference on youth ministry in Hamilton, Ont. The theme was Hope Comes Home (the irony was not lost on me). Stunned, I walked into the main conference hall, my mind a dark and unbelieving place.
"This must be a set up… this could never happen," I thought.
I felt numb, as if I might black out. Returning to the dining area, I saw a very close friend, a priest, who was leaving. When he saw my face, he understood something was wrong.
"You need to talk? What's going on?" he said.
The first thing I blurted out was, "Father, I was sexually abused — twice — when I was young. Less than nine years old."
The accusations against Vanier triggered those memories, but they also triggered doubt. I couldn't believe Vanier could be guilty of such horrific acts, and I doubted his accusers.
Father asked why I was reacting this way, and I began to reflect on my own experience. And I realized that no woman keeps this kind of secret for so many years, only to divulge it after the perpetrator has died, unless it is unequivocally true.
In my case, I kept my sexual abuse a secret for almost 30 years. I didn't want to destroy the neighbourly relationship my parents had with the parents of my abuser. I also feared my parents would accuse me of tempting the teenage boy. And I didn't want my siblings — especially my big brother — to beat him up.
So I kept quiet until I was well into my 30s. My parents went to their graves not knowing.
What does this have to do with a shattered belief of meeting a living saint? Like that nine-year-old child, my innocence has again been shattered.
The women abused by Vanier have lived with the shame of being coerced. How afraid they must have been. Confused, angry and even ashamed to the point they could not come forward with accusations which would destroy the image we had created of Jean Vanier.
I am hurting. Who can I trust in this world? My Catholic faith and my love for God has not wavered — but my faith in man has.
In the fallout of the news, the reactions were varied. On Facebook one elderly woman commented, "He wasn't a priest … why shouldn't he enjoy women?" A male commented, "We are all sinners and Vanier was only human."
These elicited a new wave of rage in me. I hope that man never says something like that to someone who has been sexually abused.
So many people have reached out to me and to each other on social media about how they are feeling.
For the vast majority, it is heartbreak and sadness. And there are people wishing he was still alive to be accountable for his actions. I have absolutely no doubt that he has already met his Judge and I trust our Father in His wisdom.
This is going to take time.