DC Council member David Grosso confirms he was sexually abused by Catholic priest as a child
By Tom Jackman
Independent
March 18, 2020

https://www.independent.co.uk/news/world/americas/david-grosso-dc-council-catholic-church-priest-sexual-child-abuse-a9408756.html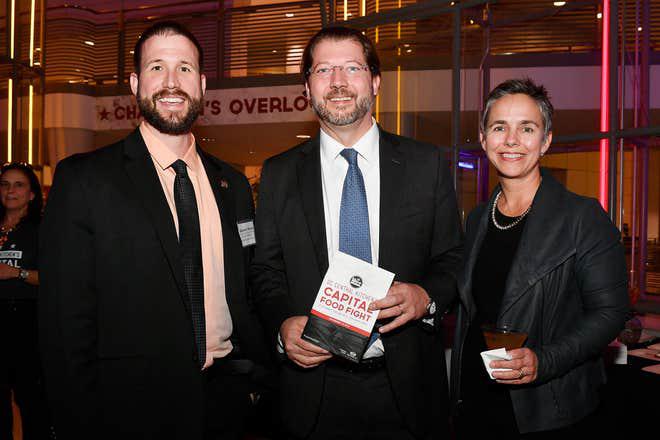 Councilmember David Grosso (centre) had previously kept his identity in the case underwraps


[with video]

'Though the deep scars remain, I largely believed this incident was behind me, especially after I underwent intensive therapy in the 1990s,' says Grosso

After a former Catholic priest from northern Virginia was accused of sexual abuse that occurred in the 1980s, and his arrest was announced Monday, DC Councilmember David Grosso said he was the victim. Mr Grosso said the opening of an investigation into his childhood trauma played heavily into his decision not to seek another term on the city council.

The alleged abuser, Scott Asalone, 63, is the former rector of St Francis de Sales Catholic Church in Purcellville, Virginia, and more recently a management consultant and bookstore owner in Asbury Park, New Jersey. He was a member of the Capuchin Friars order who was removed from public ministry in 1993 and dismissed from the friars in 2007, according to records released last year by the Catholic Diocese of Arlington. The diocese included Asalone's name in a list of all clergy credibly accused of child sexual abuse in northern Virginia.

Asalone was the first person indicted as a result of an investigation by the Virginia Attorney general's office and Virginia State Police into Catholic clergy abuse, after the Pennsylvania attorney general in 2018 uncovered hundreds of unprosecuted cases and more than 1,000 child victims.

A multi-jurisdictional grand jury met in Fairfax County last week, Democratic Attorney General Mark Herring's office said Monday, and issued an indictment Thursday charging Asalone with one felony count of carnal knowledge of a minor between 13 and 15 years old. The victim is identified in the indictment as "D.G.," which said that the abuse occurred between April and September of 1985 when Mr Grosso was 14 and Asalone was 29.

Asalone was taken into custody Saturday in New Jersey, Herring's office said, and is awaiting extradition to Virginia. After Herring's office made the announcement Monday, Mr Grosso, issued a statement about the arrest of a former clergyman for criminal sexual abuse of a minor. "The minor he assaulted was me," said Grosso, I-at large.

"This occurred during a very difficult time of my life," Mr Grosso said in the statement. "Though the deep scars remain, I largely believed this incident was behind me, especially after I underwent intensive therapy in the 1990s."

Mr Grosso said investigators in Virginia had recently obtained the Catholic Diocese of Arlington's internal file on his case, contacted him several times in the past year and asked him to testify before the grand jury in Fairfax. "I did so," Mr Grosso said, "only to prevent Mr. Asalone from ever hurting another child."

Mr Grosso apparently reported the incident to the Catholic Church in the 1990s and received a financial settlement at the time. In 2015, when Mr Grosso was pushing for legislation to expand the statute of limitations in Washington for civil claims in sexual abuse cases, he told WAMU that "I had a situation happen to me when I was a teenager, so it's personal for me."

Mr Grosso said that because he reported the abuse "in my early 20s and told my family about it, the reality was that there was nothing we could do because the statute of limitations in Virginia was so low that I couldn't go after them in a court".

Mr Grosso told WAMU that he received a settlement and that the priest was removed from the church but faced no legal consequences. Virginia has a two-year statute of limitations for filing civil actions in personal injury cases. The state has no statute of limitations on felony crimes.