OUTSPOKEN PASTOR FIGHTS BACK
By Bradley Eli, M.div., Ma.th.
ChurchMilitant
April 15, 2020

https://www.churchmilitant.com/news/article/outspoken-pastor-fights-back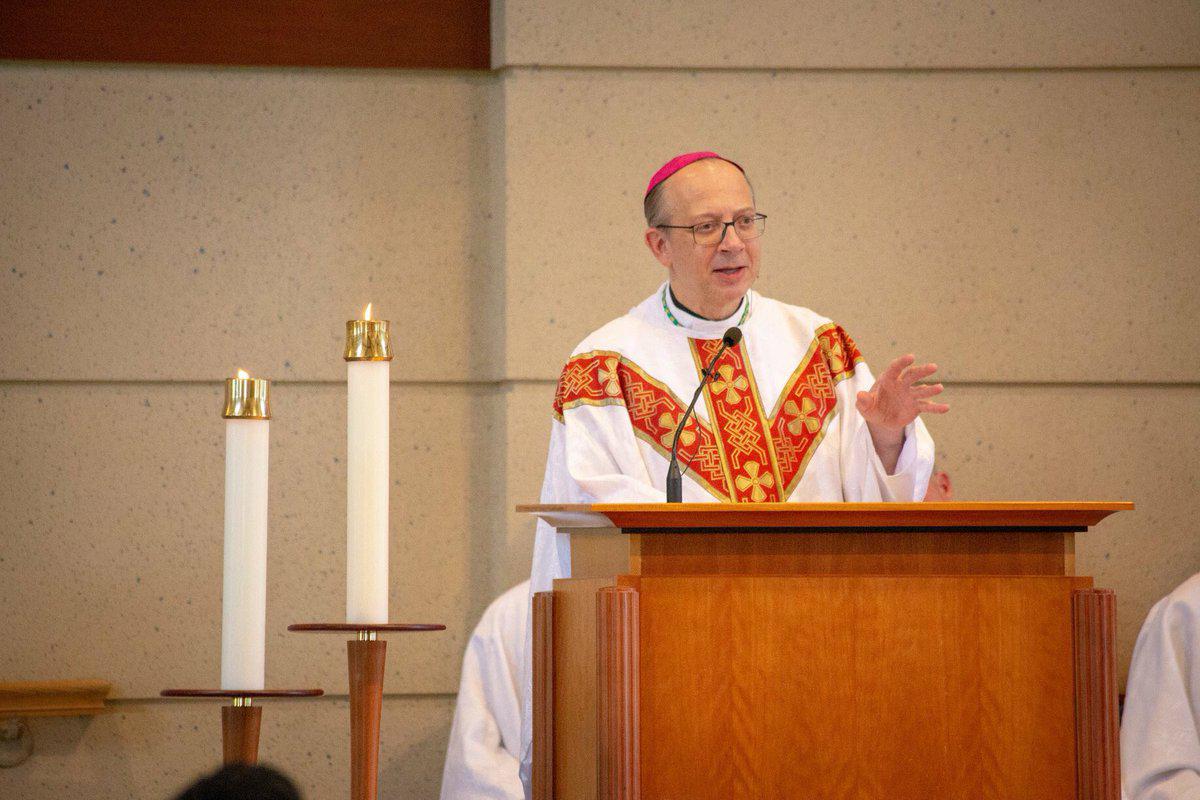 Bp. Barry Knestout


[with video]

Virginia priest resists removal by McCarrick protégé

A priest who criticized Church leaders for mishandling the sex abuse crisis is resisting his bishop's attempts to remove him as pastor.

Richmond, Virginia's Bp. Barry Knestout, who rose to prominence as a personal secretary to serial homosexual predator Theodore McCarrick, is trying to remove Fr. Mark White as pastor of St. Francis of Assisi Parish in Rocky Mount and St. Joseph Parish in Martinsville. In his letter sent to both parishes on Monday, Knestout said White's removal was effective immediately.

But White, whose crime was reactivating a blog that was critical of sex abuse cover-ups involving many prelates including Pope Francis, said on Monday he's fighting back with canon law.

"The Church must operate according to the rule of law," said White. "I have a knowledgeable canon lawyer guiding me. I will take recourse against the bishop's decision. And while that process unfolds, I remain in place as pastor of St. Joseph and St. Francis."

Knestout took issue with a personal blog White has maintained since 2008. In 2018, White began expressing his outrage over the role of complicit clergy in the unfolding crisis of sex abuse enveloping the Church.

The title of such blog posts include:

Knestout ordered White in November to take down his blog under pain of being removed as pastor. He referred to the White's posts as "intemperate insults."

In December, White asked his bishop to reconsider:
I asked the bishop to reconsider his previous order prohibiting my blog, under threat of removal as pastor. He did not reconsider that. During the meeting, [the] bishop refused to get into any specifics regarding my blog. But he repeatedly referred to posts I had written as "intemperate insults." They were not, however, intemperate insults. They were well-documented accounts of the dishonesty of some of his brother prelates.
The calls to take down his blog got more urgent, forcing White to comply by February. During the novel Wuhan virus outbreak in late March, however, White felt compelled to reactivate his blog in order to stay connected with his parishioners. He then wrote to his bishop asking permission to restart his blog.
White laid out for the bishop what he called "my canonical arguments" and asked that, "especially considering the imminent need we priests will have to communicate over the internet, he formally remove his threat to remove me if I publish my blog."
He added, "Given all the strains on our parish community life caused by the virus outbreak, I feel duty-bound to use my blog as an avenue of pastoral communication."
White said no response came from Knestout. A failure to respond in canon law can be canonically interpreted as consent. So, White thus made the decision to reactivate his blog.
I remain your pastor.
This reactivation is what prompted Knestout to send out the letter on Monday ordering White's removal.
On the same day, White wrote to his parishioners at both parishes assuring them that he would fight the forced removal by using canonical means made available by the Catholic Church.
"I regret the wording that the bishop used in his letter to you of earlier today," he said. "In the Church, we have the norm of law. According to the legal norms, I enjoy the right to take recourse against the bishop's decision. I have a canon lawyer, and he is helping me deal with this situation in the proper legal way."
He added, "In the meantime, according to the norms of law, I remain your pastor, until the full legal procedure has run its course. This could take some months."