Retiring Inquirer Photographer Michael Bryant Looks Back at More Than 30 Years in the Business
By Tim Tai
Philadelphia Inquirer
April 30, 2020

https://www.inquirer.com/photo/inq/michael-bryant-philadelphia-pictures-news-20200430.html

It was just after the Thanksgiving Day parade in 1986. Throngs of shrieking children had lined Center City streets to catch a glimpse of Santa, as he ushered in the Christmas season. Photographing the cavalcade — less than a month into his new job at The Inquirer — was Michael Bryant.

As he walked past City Hall to return to the newsroom, he overheard a woman talking to her son, six years old or so, who needed to use the bathroom. The mother told the boy to relieve himself on City Hall.

"That was my welcome-to-Philadelphia moment," Bryant recalled.

It was a grittier city back then. His Fairmount neighborhood was a far cry from the suburban sprawl of San Jose, where he moved from, or the slower pace of Jackson, Miss., where he grew up.

"It was a little bit like the Wild West," Bryant said. "My neighbor was the number-two cocaine dealer in the area. Every so often, there'd be a prostitute on our stoop."

He and his wife Stephanie hadn't planned on staying in Philly for more than a few years before moving on to even bigger and better jobs. But as it often does, life — and a new family — altered their plans. For the last 33 years, Bryant has documented the city's triumphs and heartbreaks, chronicling its evolution from gritty to increasingly more polished.

This week, however, is his last as a staff photographer for The Inquirer. Bryant, 66, retires Thursday after a distinguished career in the city he has learned to love.

Born in Jackson, Bryant attended the local Millsaps College, where he studied to be a clinical psychologist. But when he was just a few credit hours away from graduating, he took an introductory photography class thinking it would be an easy A.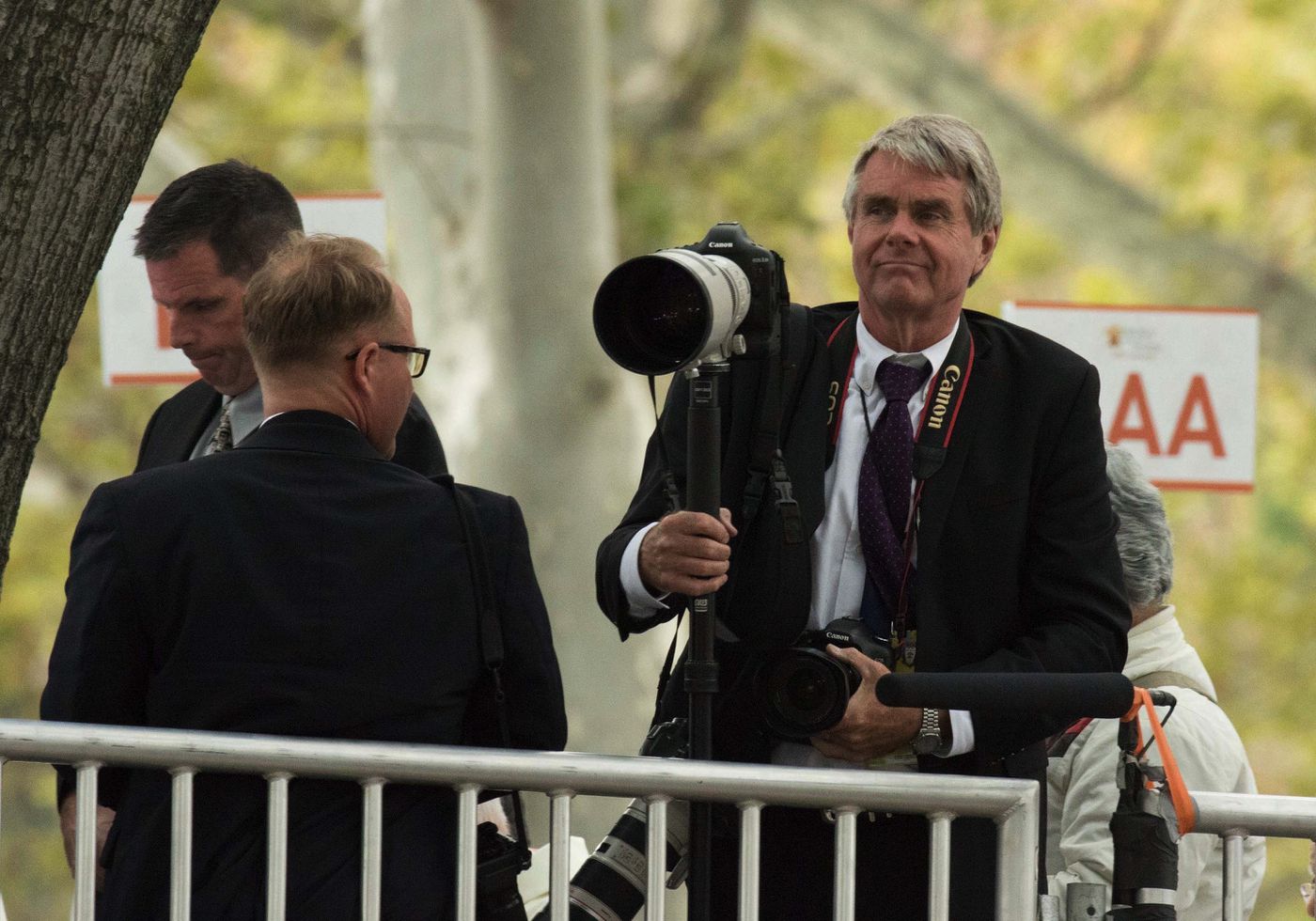 Inquirer staff photographer Michael Bryant waits for the Pope to arrive on the Benjamin Franklin Parkway to celebrate Mass on Sept. 27, 2015.



In the darkroom, watching a picture emerge in the tub of developer, "I just all of a sudden realized I could create something out of nothing," he said. "It opened up a door that I didn't know was there."

He left Millsaps to enroll in the University of Missouri's photojournalism program, finally graduating in 1980. After a two-month stint as a photographer for his hometown Clarion-Ledger newspaper, Bryant accepted a job at the San Jose Mercury News, where he covered sports, earthquakes, fires, "just about anything and everything."

When Bryant joined The Inquirer, he found a paper with a global sense of curiosity and a budget to match. He photographed wars in Bosnia and Sudan, and countless stories domestically. For the better part of a decade, starting in the mid-90s, he traded danger and unpredictability to serve as lead photographer for The Inquirer's Sunday magazine, focusing on food, fashion, and lifestyle. When the magazine folded in 2003, Bryant found himself covering news again.

"It was time to get back to what I really loved to do," he said. "I still would rather shoot news than a food picture."

In the years since, he has photographed a presidential inauguration, Pope Francis' visit, and the Eagles' Super Bowl win. In 2007, he was a finalist for the Pulitzer Prize in breaking news photography for his pictures of the racehorse Barbaro's devastating injury. Most recently, he has been documenting the impact of the coronavirus pandemic. Bryant will have a hard time stepping away from the action.

"You get used to being a witness to history," he said. "And it's a privilege."