Diocese, bishop sued over abuse allegations
By Patrick Cloonan
Indiana Gazette
August 15, 2020

https://www.indianagazette.com/news/diocese-bishop-sued-over-abuse-allegations/article_fe539012-defe-11ea-9d5b-57ebc5374ecc.html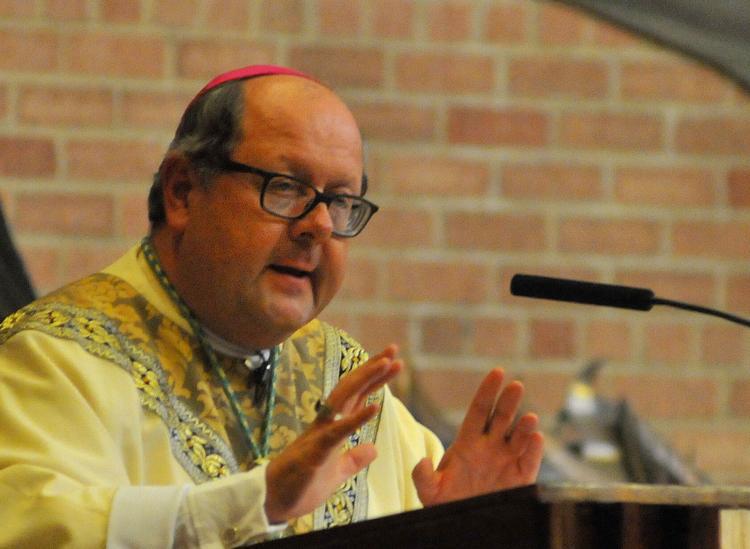 Fiftieth Anniversary Mass of Saint Thomas More University Parish. Mass was celebrated by Most Reverend Edward C. Malesic, JCL - Bishop of the Diocese of Greensburg
Photo by Kevin G. Stiffler
Lawsuits have been filed against the Roman Catholic Diocese of Greensburg by a Pittsburgh attorney on behalf of alleged victims of two priests, one deceased, the other defrocked by the diocese but perhaps still living in Indiana County.
Alan H. Perer of the law firm of Swensen & Perer filed those actions this week in Westmoreland County Court of Common Pleas against the diocese and Bishop Edward C. Malesic on behalf of a former Blairsville resident now living in White Oak, Allegheny County; and a former Mount Pleasant Township, Westmoreland County, resident now living in Pittsburgh.
He is asking for a jury trial in each case. Those filings coincided with 25 cases filed by Perer in Allegheny County Court of Common Pleas for clients in the Diocese of Pittsburgh.
The former Blairsville resident claims he was sexually abused beginning at age 12 in 1968 by a maternal uncle, the late Rev. Giles L. Nealen, a Benedictine priest born in Nicktown, Cambria County, whose assignments included an old St. Benedict parish in Marguerit, Unity Township, Westmoreland County.
"(The Blairsville resident) recalls being swayed to come with promises of good food and treats" by his uncle, according to a court filing. Instead, Nealen "forcefully shoved him downwards as to perform oral sex (and) subsequently proceeded to anally rape (the Blairsville boy), who was too petrified to even move or resist."
The former Mount Pleasant resident allegedly was sexually abused beginning at age 11 in 1975 by the Rev. Leonard J. Bealko, who also served multiple parishes, including Transfiguration Church in Mount Pleasant. Court documents allege that Bealko also committed sexual abuse on that plaintiff at a home in the Clymer area.
"Over the course of four years, from 1975 to 1978, (the Mount Pleasant resident) was abused by Rev. Bealko on over 200 separate instances," according to a court filing.
Bishop Malesic did not become head of the Greensburg Diocese until 2015, after serving in the Diocese of Harrisburg. However, Perer wrote, "It is believed and therefore averred that the Diocese (of Greensburg), and thereafter Bishop Malesic, were familiar with Father Nealen's sexual interest" in the Blairsville boy.
Perer made the same allegation regarding Malesic supposedly being familiar with Bealko's interest in his alleged victim.
In each case, Perer quoted his clients as saying they had suffered and continue to suffer, severe injuries and/or extreme emotional distress and mental anguish as a result of their experiences as youngsters.
In the case of Nealen's alleged victim, Perer said the former Blairsville resident has had suicidal tendencies, intimacy and sexuality issues, and "a loss of earnings, future earnings and earning capability" because of times he was traumatized and unable to work.
On Friday, Greensburg Diocese spokesman Jerome Zufelt said the diocese had not been served with Perer's complaints. Zufelt has said he is preparing to release an update of diocesan victim compensation fund expenditures and settlements next week.
Nealen served St. Benedict for two years, and was assigned to three other churches in Pennsylvania and Ohio. The Indiana Gazette's obituaries list Nealen as celebrant of at least four funeral Masses between 1982 and 1992, at churches in Nicktown and Blairsville.
Nealen retired to St. Vincent Archabbey in Latrobe, where he was a member of the monastic community. The archabbey said Nealen died there on Dec. 29, 1996, at age 73.
In 1983, Bealko was named pastor of St. Elizabeth Church in Starford and its Sacred Heart Church mission in Dixonville. The filing made by Perer noted that Bealko was "dismissed by the Greensburg Diocese in 1985 for undisclosed reasons and was not in good standing with the Catholic Church."
According to multiple reports, Bealko was hired, then later fired, from a Unity Township church where he was celebrating Mass by the pre-Reformation Tridentine Latin-language rite by a foundation funded by actor and director Mel Gibson, and attended by Gibson's father.
Whether Bealko is still alive is not made clear in the court papers. He was described in the December 2019 obituary of a Fayette County sister-in-law as a surviving "Reverend Leonard Bealko of Indiana." No phone number could be found for Bealko.
Contact: pcloonan@indianagazette.net