Former Fairchance priest held for court in sexual abuse case
By Alyssa Choiniere
Herald-Standard
October 14, 2020

https://www.heraldstandard.com/news/local_news/former-fairchance-priest-held-for-court-in-sexual-abuse-case/article_e409180e-0e50-11eb-b5cc-abcc7b501655.html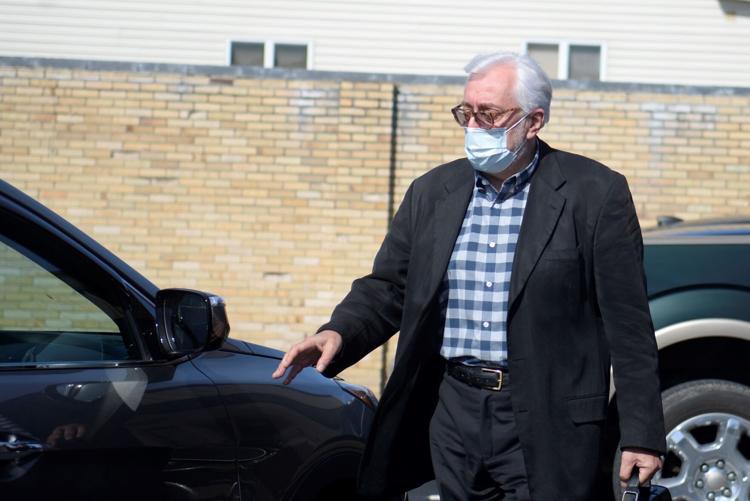 Andrew Kawecki, 65, of Greensburg, a former priest, leaves Magisterial District Judge Daniel C. Shimshock's office where he was held for court Wednesday on allegations of sexually abusing an altar boy from 2004 and 2007 at Sts. Cyril and Methodius Church in Fairchance.
Photo by Alyssa Choiniere
The former priest of a Fairchance parish was held for court at his preliminary hearing Wednesday for allegedly sexually abusing an altar boy beginning when the boy was about 11.
Andrew Mark Kawecki, 65, of Greensburg is accused of sexually assaulting the boy, now an adult, over a span of about three years from about 2004 to 2007 at Sts. Cyril and Methodius Church. Kawecki was removed from his post in May 2019 after the allegations surfaced and the Office of the Attorney General opened the case.
The Herald-Standard does not identify those who allege they are victims of sexual assault.
The victim testified Kawecki sexually abused him 10 to 15 times in a series of escalating encounters before and after mass in the sacristy and the rectory. He described Kawecki as a man who had a "prominent role" in the life of himself and his family, "somebody with authority, a role model."
"It was somebody I looked up to," he said.
Kawecki told him not to report the alleged abuse, saying it could stay between the two of them and God, according to testimony.
Kawecki's personnel file, annotated in court documents, included "a long history of impulse control," deception and abuse of power, in addition to documented problems with adult female parishioners, theft and "some questionable relationships." It did not include prior allegations of sexual abuse. Kawecki's history was not reported to parishioners, leading the victim's parents to believe Kawecki "was a safe person to have unsupervised around their son," Special Agent Stephen J. Adametz wrote in the affidavit.
As a boy, the victim said he would "beg not to go" to church. His family left soon after the final incident after hearing rumors about Kawecki's sexual behavior. His parents told agents they had no idea the priest was abusing their child, but described him hiding in closets to avoid mass or when they talked about church, and noted a drastic shift in his personality. His mom told investigators he was often "on the verge of tears" when she picked him up from mass, and that he seemed to be "full of rage."
The alleged victim testified he survived two suicide attempts and drug abuse that began in high school and ended when he entered recovery more than five years ago. He reported the alleged sexual assaults in 2019 after his parents encouraged him to baptize his son, and after hearing about an unrelated sexual abuse case.
"It just came to a wall where I had to do something," he said. "I didn't want to send my son... into a religion where something like that could happen."
Attorney Stephen Stallings, one of two private attorneys representing Kawecki, questioned the victim's credibility, asking him to recall specific dates of alleged abuse and questioning whether he was motivated by a potential financial settlement through the Roman Catholic Church victim's compensation fund.
Senior Deputy Attorney General Daniel Dye objected several times during the cross-examination, saying it was a matter for trial.
"This young man has been silenced for decades and has finally found the courage to come forward, and he is being skewered for it," Dye said.
Stallings asked Magisterial District Judge Daniel C. Shimshock to dismiss the case, saying there were "clear ambiguities" in the testimony, pointing to a lack of specific dates of abuse beginning more than 15 years in the past and noting the time period between the alleged abuse and the report.
Dye countered that it is common for victims of sexual abuse to wait years to make a report, especially in a case where the abuser is a spiritual leader.
"This is every sexual assault case. To dismiss this case is to dismiss every sexual assault case... particularly when the defendant represents God," Dye said.
All of Kawecki's charges were held for the Fayette County Court of Common Pleas. He faces a felony count of involuntary deviate sexual intercourse, two counts of indecent assault of a person less than 16 and one count of corruption of minors. He is free on $50,000 unsecured bail.
Kawecki served in several local parishes over the years, including St. John Baptist in Perryopolis, St. Sebastian in Belle Vernon, St. James in Maxwell, St. Julian in Isabella, Our Lady of Perpetual Help in Leckrone, St. Hubert in Point Marion, St. John the Baptist in Scottdale and St. Joseph in Everson. He was also the trust advisor at Conn-Area Catholic School in Connellsville.
Contact: achoiniere@heraldstandard.com