Archdiocese of Chicago Removes Retired Pastor Daniel Mccarthy from Norwood Park Parish Following Allegation of Sexual Abuse
By Kelli Smith
Chicago Tribune
October 19, 2020

https://www.chicagotribune.com/news/breaking/ct-retired-chicago-priest-abuse-allegation-20201019-gex5v4ddujasbcscuu24rtkd7a-story.html

The Archdiocese of Chicago over the weekend removed the Rev. Daniel McCarthy from St. Elizabeth of the Trinity, a parish in Norwood Park where he was pastor emeritus, after an allegation surfaced that he sexually abused a minor about 50 years ago at a Far North Side orphanage, according to the archdiocese.

McCarthy, a chaplain since 2012 at Notre Dame College Prep, a Roman Catholic school in Niles, was alleged to have committed the abuse while he was assigned to the now-closed Angel Guardian Orphanage in Chicago's West Ridge neighborhood, according to a letter Cardinal Blase Cupich sent Saturday to the St. Elizabeth of Trinity community.

McCarthy was at the orphanage from 1967 to 1974, according to a letter written to the Notre Dame College Prep community by the school's president, Shay Boyle, and principal, Daniel Tully. The orphanage closed in 1974 and was replaced by Misericordia, a home for people with disabilities, which is operated by the Archdiocese of Chicago.

"While this matter is not related to Notre Dame College Prep, Fr. McCarthy is not able to serve our community in any capacity during the investigation by the archdiocese," Boyle and Tully said Saturday in the letter.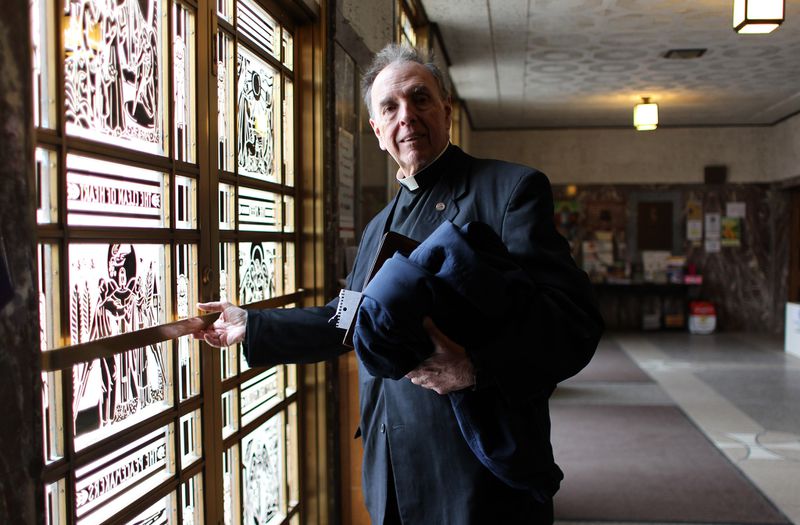 The Rev. Daniel McCarthy exits St. Tarcissus Catholic Church on Feb. 24, 2012. (Abel Uribe / Chicago Tribune)



McCarthy had also served since 2013 as chaplain at Resurrection College Prep High School, a Catholic all-girls school in Norwood Park, according to the school's website. Officials with Resurrection High School didn't respond to a request for comment.

The Archdiocese's Office for Child Abuse Investigations and Review received the allegation about McCarthy, which was reported to the Illinois Department of Children and Family Services and the Cook County state's attorney, Cupich said in the letter to the St. Elizabeth of Trinity community.

Cupich said he asked McCarthy to live away from the parish while the matter is investigated. He said the person who made the allegation was "offered the services of our Victim Assistance Ministry and the Archdiocese has begun its investigation of this matter."

"In the days and weeks ahead, members of the Archdiocese's Office for the Protection of Children and Youth will be available to answer any questions you may have and provide you with support during this challenging time," Cupich said in the letter.

McCarthy had previously spoken out about clergy sexual abuse. In 2002, he said he called the archdiocese immediately after learning a priest in his parish may have had an inappropriate relationship with a teenage girl.