Year of St. Joseph to Begin with Archdiocesan Consecration Dec. 8
By Maria Wiering
Catholic Spirit
November 5, 2020

https://thecatholicspirit.com/news/local-news/year-of-st-joseph-to-begin-with-archdiocesan-consecration-dec-8/

After completing a personal consecration to St. Joseph in March, Anne Marie Hansen felt so richly blessed by the experience that she bought 500 copies of the 33-day guide to give to family, friends, coworkers, neighbors and anyone she sensed needed to read it.

By late October, the stash had dwindled to half a dozen.

"I love St. Joseph," said Hansen, 47, a parishioner of the Cathedral of St. Paul in St. Paul. "He has been such a large presence in my life as really a father."

Around the time she bought the books, she also asked Archbishop Bernard Hebda to consider designating a Year of St. Joseph in the Archdiocese of St. Paul and Minneapolis.

She wasn't the only one. "Dozens" of Catholics in the archdiocese had reached out to him with similar ideas, Archbishop Hebda said, ever since the January release of "Consecration to St. Joseph: The Wonders of Our Spiritual Father" by Father Donald Calloway, a priest of the Marian Fathers of the Immaculate Conception.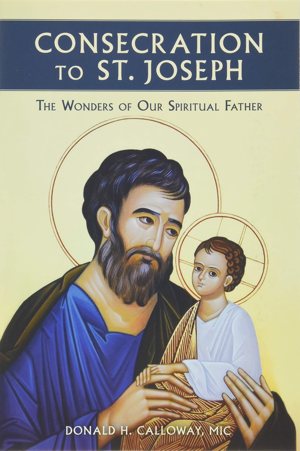 This is the cover of "Consecration to St. Joseph: The Wonders of Our Spiritual Father" by Marian Father Donald Calloway. Archbishop Bernard Hebda and Bishop Andrew Cozzens are encouraging Catholics to use the book as a guide for a personal consecration ahead of the Dec. 8 consecration of the Archdiocese of St. Paul and Minneapolis to St. Joseph. The book can be found online and at local Catholic bookstores. CNS



Archbishop Hebda noted that fellow U.S. bishops have championed the book and the fruits of placing their dioceses under the patronage of Jesus' foster father. Among them are Bishop David Ricken of Green Bay, Wisconsin, who in March declared a Year of St. Joseph for his diocese, and Bishop Thomas Olmsted of Phoenix, Arizona, who is encouraging individuals and families to pray the consecration.

Meanwhile, Archbishop Hebda and the Synod Prayer Team had already been contemplating placing the next step in the pre-synod process under the patronage of St. Joseph. The first part of the process was under the patronage of Mary, Mother of the Church. The archbishop called the Synod team's discernment and the separate encouragement from other Catholics "parallel tracks" leading to a local observance.

Last month, Archbishop Hebda announced that the archdiocese will celebrate its own Year of St. Joseph beginning Dec. 8. It aims to place the archdiocese and its next phase of the pre-synod process under St. Joseph's patronage and guidance. Because Joseph was so willing to follow God's direction, he's a model for the whole Church, Archbishop Hebda said.

Archbishop Hebda hopes that the saint can unite the archdiocesan family in the Synod process.

"It gives us that opportunity for the whole archdiocese to reflect on St. Joseph's role," he said. "We look to him as protector and guide of the Church, as he cared for the Holy Family. We are looking for that same kind of guidance (because) this is a significant year in the pre-synod process."

Archbishop Hebda will formally inaugurate the Year of St. Joseph and consecrate the archdiocese to St. Joseph Dec. 8, the 150th anniversary of Blessed Pope Pius IX's declaration of St. Joseph as the Patron of the Universal Church. The consecration will take place 7 p.m. at the Cathedral of St. Paul in St. Paul. It will be livestreamed on the Cathedral's Facebook page.

The day is also the solemnity of the Immaculate Conception, when the Church celebrates that Mary was conceived without original sin. Archbishop Hebda noted that a consecration to St. Joseph doesn't detract from a consecration to Mary — a devotion especially promoted by St. Louis de Montfort, who died in 1716, and whose 33-day model Father Calloway followed with his guide to a St. Joseph consecration.

Archbishop Hebda and Auxiliary Bishop Andrew Cozzens have invited the faithful to anticipate the archdiocesan consecration with a 33-day preparation period for an individual consecration to St. Joseph using Father Calloway's "Consecration to St. Joseph" guide.

The archdiocesan consecration is "a formal request for his intercession and dedicating ourselves to following his model as the Church," Archbishop Hebda said. For individuals, it's "a way in which we renew our commitment to the Church," he said.

While he has his own hopes for the archdiocese's consecration to St. Joseph, Archbishop Hebda expects individuals to bring their own vision to their personal consecration and expectations for the year.

Hansen, who is chairwoman of the archdiocese's committee on the Year of St. Joseph, said that she hopes it will bring about a greater sense of fatherhood in the priesthood, and repair a relationship between priests and laity she sees weakened by the clergy sexual abuse crisis.

She said she is a survivor of years of clergy abuse as a child. Her love of St. Joseph began in her childhood and gave her hope despite the abuse, she said. She's deepened her relationship with the saint as an adult, and her consecration in March was actually a formal reconsecration, she said. She participated in a group Father Calloway led online.

Today, her devotion to St. Joseph includes appealing to his patronage for "a happy death" in her work as founder and CEO of Minnetonka-based Gianna Homes, which offers in-home and residential care for people with dementia.

"I think it will be such a gift for our archdiocese," Hansen said of the consecration. There are "so many people who are hurting, there's been so many lost to death with COVID, there's so much fear, there's jobs (uncertainty). … There's something St. Joseph gives, at least in my experience: hope."

Hansen is working with Father Joseph Bambenek, the Synod's assistant director, and others to discern how the year will be observed. Events beyond the consecration are yet to be determined, but committee members noted that some may be tied to the nine parishes in the archdiocese dedicated to St. Joseph. Those parishes are in Lino Lakes, Maple Grove, Miesville, New Hope, Red Wing, Rosemount, Taylors Falls, Waconia and West St. Paul.