Theodore Mccarrick's Human Sacrifices
By Elizabeth Bruenig
New York Times
November 10, 2020

https://www.nytimes.com/2020/11/10/opinion/theodore-mccarrick-investigation.html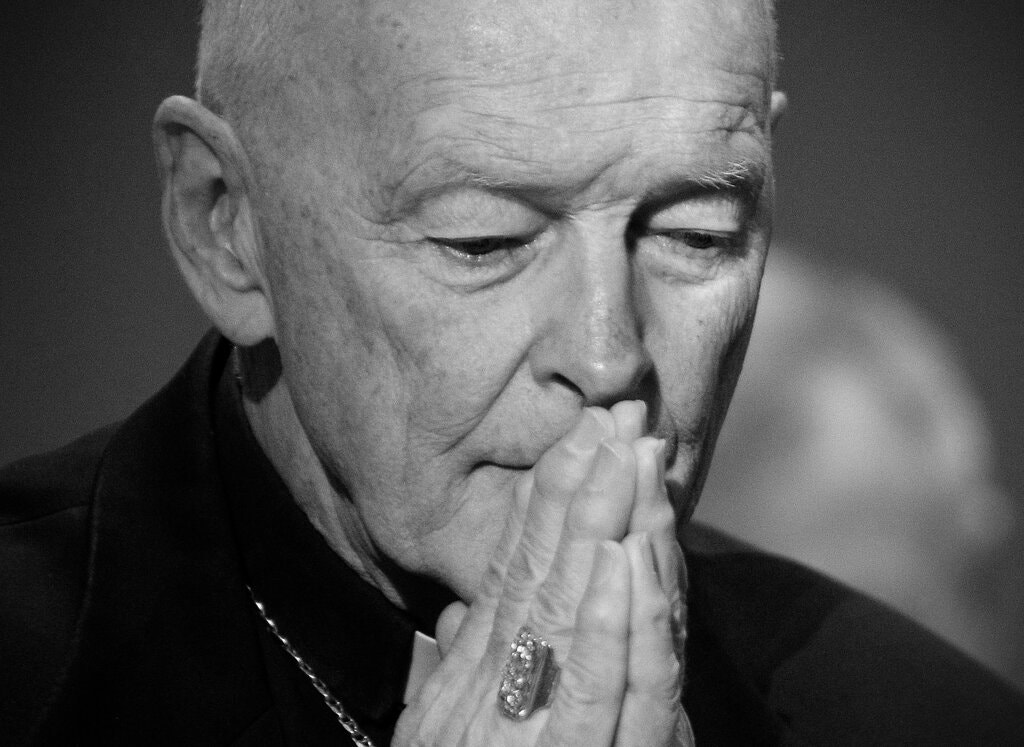 Patrick Semansky/Associated Press



Since accusations of sexual misconduct with boys and young men culminated in the former archbishop Theodore McCarrick's dramatic resignation as a cardinal in 2018 and expulsion from the priesthood the following year, the Catholic hierarchy has been haunted by the question of who knew what, and when.

A Vatican-commissioned report released Tuesday gives us a clearer answer: everyone — to the highest echelons of the church — and far sooner than had previously been verified.

According to the report, a year before Pope John Paul II installed Mr. McCarrick as archbishop of Washington, D.C., Cardinal John O'Connor of New York warned the pontiff of serious concerns about Mr. McCarrick's rumored sexual abuses, citing seminarians who had entered psychiatric treatment in the wake of their encounters with him.

The warning, in a letter dated Oct. 28, 1999, persuaded the pope to delay the installation. The reputation of the church might have been spared a serious blow if he had then deployed a sincere investigation of the enterprising bishop. But when Cardinal O'Connor died in the spring of 2000, Mr. McCarrick caught wind of the letter and wrote to the pope's personal secretary, swearing that the accusations were malicious lies and that he had never had sex with any man, woman or child.

Pope John Paul II evidently believed these protests and appointed him archbishop of Washington in November 2000.

The letter and description of the papal communications were part of the new report, which concluded an investigation into what institutional failures allowed Mr. McCarrick to ascend the ranks of the church hierarchy despite widespread reports of sexually predatory behavior with minors, seminarians and priests in the 1970s and 1980s. In all, the report accuses Mr. McCarrick, who last year became the first cardinal to be defrocked for sexual abuse, of sexual contact with 17 boys and young men, far more than previously known, including members of the family I wrote about in July.

After Mr. McCarrick's resignation from the College of Cardinals in 2018, when the allegations against him — all of which he has denied — were first publicized, Archbishop Carlo Maria Vigano wrote an open letter claiming that Pope Francis had reversed sanctions placed on Mr. McCarrick by his predecessor, Pope Benedict XVI. In response, Pope Francis ordered the report that was released on Tuesday, which spans more than 400 pages divided into 30 sections based on archival research and dozens of interviews.

One of the strangest, most disorienting facts about Mr. McCarrick's case was that his ruin wasn't precipitated by the revelation of his behavior, but by institutional actors choosing to act on what had long been known. After Mr. McCarrick's ouster, a pair of settlements paid in 2005 and 2007 to two men who had accused him of sexual abuse during his tenure as a bishop in New Jersey came to light, indicating a yearslong institutional awareness of a severe problem. Father Boniface Ramsey then revealed that he received a terse response from the Vatican in 2006 concerning allegations against Mr. McCarrick that he had forwarded six years earlier, in 2000. After his undoing, others, too, grudgingly acknowledged they had heard of Mr. McCarrick's reputation, attributing their silence to, among other things, a secretary's mishandling of an incriminating letter.

The report's institutional focus does not entirely ignore the efforts of laypeople to hold Mr. McCarrick to account. It mentions previously undisclosed cases, including a mother who wrote to Catholic prelates all over the United States about Mr. McCarrick's disturbing behavior with minors. Her letters went unanswered, and were not recovered in the investigation. The report includes other letters, signed and unsigned, which arrived in church offices and circulated among the hierarchy for years to no effect.

And then the perennial question: Why? Mr. McCarrick was a legendary fund-raiser and a charming, avuncular presence — but those defenses exist in all kinds of contexts. Why does this particular sort of abuse and neglect keep happening in the Catholic Church specifically?

"I think a big part of that answer is the interlocking hierarchies — clergy over people, men over women," said Kathleen Sprows Cummings, a Notre Dame professor of history and director of the university's Gender, Sex, and Power Project, which aims to establish a history of the sex abuse crisis in the American Catholic Church. "There's just a trust among Catholics that the people who are in charge are going to do what's right. And that failed massively when it comes to sex abuse."

Mr. McCarrick must have known he could rely on that Catholic instinct to trust — to have faith, in other words. "It's not, oh my gosh, how did he rise up in spite of it?" Ms. Cummings told me. "It's almost — it's because of it." His ascent and his alleged abuse seem to have been entwined: The same understanding of the faith and comfort with its adherents that seem to have made him a cunning predator also gave rise to his special facility with fund-raising and dazzled his complacent superiors.

In 1951, while a student at Fordham University, the promising young Mr. McCarrick published a feature in The Fordham Monthly, describing a spiritual journey to a Carthusian monastery in the Swiss Alps. He was entranced, in his telling, by the solitude and grandeur of the contemplative life. All of the Carthusians were individuals, he wrote, but they were all "real men, who see the world for the old deceiver she is, and leave her ambitions and her joys to bury themselves alive, as it were, in Him, Who is the greatest Joy and highest Ambition of all."

In truth, Mr. McCarrick never saw the need to choose between devotion to God and worldly ambition. He pursued the two as one, and was rewarded with a luminous career in the Roman Catholic Church, where countless opportunities to halt his predations were overlooked, declined, outweighed by fleeting fixations.

If sacrifices had to be made in the course of serving the Lord, Mr. McCarrick and his many enablers made certain they were human ones.