After McCarrick report, Chile wants full accounting of its abuse crisis
By InÉS San MartÍN
CRUX
November 11, 2020

https://cruxnow.com/church-in-the-americas/2020/11/after-mccarrick-report-chile-wants-full-accounting-of-its-abuse-crisis/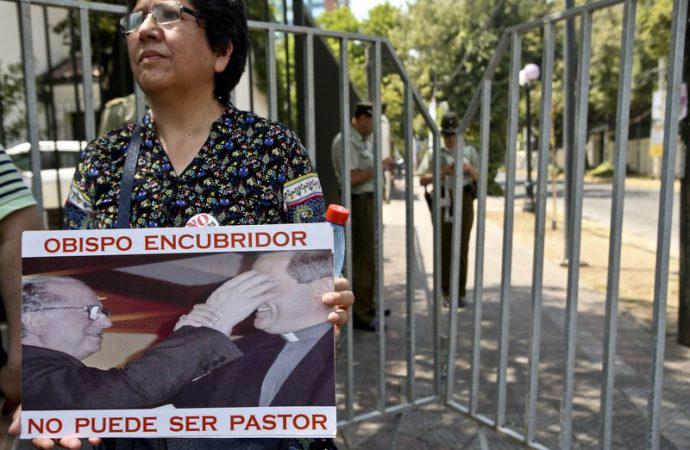 A member of the movement Laicos de Osorno holds up an image showing the then-Father Fernando Karadima, with a message that reads in Spanish: "A bishop who covers up cannot be a priest," during a demonstration in front of the Apostolic Nunciature in Santiago, Chile, Friday, Jan. 12, 2018. Chile's church has yet to recover its credibility following the scandal over Karadima, Chile's most notorious pedophile priest.
Photo by Esteban Felix
ROSARIO, Argentina – Upon the release of the Vatican's long-awaited report on the rise to power of former U.S. Cardinal Theodore McCarrick, abuse survivors from Chile wonder where's the report on the rise to power and fall of several members of the local hierarchy, included two influential cardinals accused of cover-up.
Chile's abuse crisis is staggering: Over a quarter of the country's bishops have been subpoenaed by prosecutors over allegations of either abuse or its cover up.
The list includes Cardinals Francisco Javier Errazuriz and Ricardo Ezzati, both former archbishops of Santiago.
Errazuriz was considered close to Pope Francis: He was a member of the council of cardinals that has been advising the pontiff on Vatican reform, and a former president of the Episcopal Conference of Latin America (CELAM).
Several abuse survivors claim that he did not act promptly to investigate allegations against former priest Fernando Karadima, once Chile's most prominent clerics who was later found guilty of sexually abusing minors.
Ezzati is not only facing accusations of abuse cover-up, but is also the target of a $500,000 lawsuit involving an alleged rape in Santiago's cathedral complex that he allegedly failed to report.
He's long been accused of having covered up for Cristian Precht, another prominent priest removed from the priesthood after being accused of abusing minors.
Though both prelates, particularly Errazuriz, have long claimed their innocence, in the words of Juan Carlos Cruz, one of Karadima's victims, "Cardinal Errazuriz should be in jail, and Ezzati too. What those men did, especially Errazuriz, is absolutely criminal."
In early 2018, Pope Francis dispatched Archbishop Charles Scicluna of Malta, the Vatican's point man on abuse, to Chile, and he produced a 2,300-page confidential report on the crisis in the country.
The file led the pope to summon the Chilean bishops to Rome, where they handed in their resignation en masse.
Yet, after this seemingly impressive start, change in the Chilean Church is at a stand-still.
Juan Carlos Claret Pool is the spokesperson for the lay people of Osorno, where a Karadima protégé, Bishop Juan Barros was appointed in 2016, setting off the spark which led to the uproar in the country.
He believes that both in McCarrick's case and in Chile, the Holy See created "expectations" that haven't been fulfilled.
"What do I expect from the McCarrick report?" he said to Crux. "That the Vatican order the opening of all the secret files hidden in each diocese and the documentation collected in Rome be sent to the court of each country."
"Only with a structural change will the Church show that it wants to change course, if not, it's all just smoke and mirrors," he said.
Almost two years after the Scicluna investigation concluded, many survivors interviewed still don't know what happened with their allegations and several Chilean bishops were allowed to resign without explanation, despite some of them facing allegations of cover-up, or even actual abuse.
This is causing mounting frustration among those who willingly helped providing information, and who at the time felt high hopes for change.
"Nobody asks that the Chilean report be public domain, but freely shared by the Vatican to those who can do justice, meaning, the Chilean courts, as the country's criminal law establishes secrecy mechanism so that the information is not disclosed to the press," Claret said.
Claret – who has written three books on the abuse crisis – has long helped Chilean survivors and civil authorities, and he's seen "null cooperation" from the Vatican with the justice system. He believes the unwillingness to share the content of that report is more of a pretext to make sure bishops are not held accountable than "a genuine concern for [the privacy of] victims."
Eneas Espinoza, a victim of Precht who is now a spokesperson for the Chilean Clerical Abuse Survivors Network, told Crux that "until the Catholic Church hand over all files [on abuse] to the national justice systems, it's all just fireworks, with no actual real progress in guaranteeing that abuse is stopped."
He noted that when the Catholic Church makes information on abuse public, they're summaries or pruned reports that serve as a message for clerics, more than survivors: By not releasing the full information to authorities, "the Church tells priests that they can continue abusing, because they will continue protecting."
"Last week we saw how another cardinal will be 'punished' with retirement at a church home, suspension from his responsibilities and a ban from being buried at a cathedral," Espinoza said. "That's not justice, that's mockery."
He's referring to Polish Cardinal Henryk Gulbinowicz, 97, emeritus archbishop of Wrocław, who was sanctioned by the Vatican on Friday.
Timothy A. Law, American who founded Ending Clerical Abuse (ECA) USA, told Crux that his expectations over the McCarrick report are that "it's not going to be very impactful."
"I think we've reached a saturation point of being shocked and disappointed, and so I think a report like this, had it come out a year and a half ago when it was ready to come out would have been important, now I just wonder how it's going to be received," he said.
Turning to the Scicluna Report, Law said that it's "certainly relevant," and it would be important for it to be released, together with sanctions.
"It's important that they come out, but they will do and what are the consequences is another question," he said.
Anne Barrett Doyle, co-director of BishopAccountability.org — a website that documents the abuse crisis — told Crux the Church's ongoing refusal to publish the Chilean report "makes a mockery of its repeated vows of transparency."
Barret Doyle also noted other bishops who've been sanctioned "are enjoying relatively soft landings."
Furthermore, "the pope hasn't uttered one public word of criticism against them. He should order a full public accounting of every bishop who is an enabler or an abuser or both."
"But I'm not optimistic that this will occur — I fear that the McCarrick report will be a one and done," Barret Doyle said.
In a Nov. 11 interview with Crux, Cruz said that "now that I've read the McCarrick report, I wish the one in Chile was made public too."
"This is all about shining a big light where some want darkness," he said. "The thing is, this is ruining people's lives. Human beings are ruined by abuse and cover up. The abuse was horrible, but the cover up by Errazuriz, Ezzati and the bishops in Chile, was as bad as the abuse."
According to the survivor, the cover-up is a "pattern" survivors suffer, and "it's horrible."
"Some [survivors] have opportunities to heal, while others end up committing suicide, and there's a whole range in between, and it's atrocious," he said. "As a Catholic I tell you, the Church of Jesus Christ, where love prevails, has many members of the hierarchy who are horrible criminals. Those who abuse, and those who cover up."
As a practicing Catholic who's an abuse survivor, Cruz believes that in every case "the truth should be exposed," with victims being protected – for instance, by redacting reports to keep their names and identities out. "But these things should be transparent and right out there."