Houston-area priest Manuel La Rosa-Lopez sentenced on child sex abuse charges
By Nicole Hensley
HoustChronicle
December 15, 2020

https://bit.ly/34zQ7Bn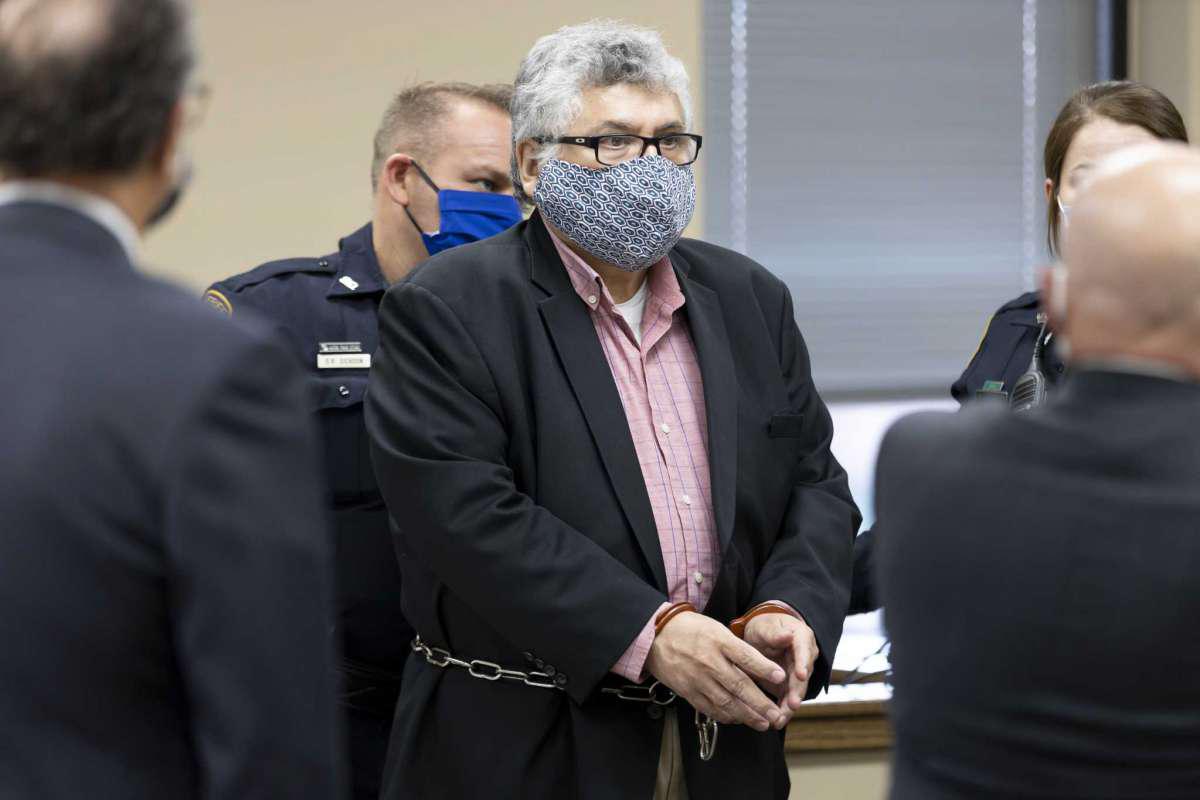 Manuel La Rosa-Lopez is escorting out of courtroom after his sentencing in downtown Conroe, Wednesday, Dec. 16, 2020. La Rosa-Lopez pleaded guilty last month to several counts of indecency with a child accepting a 10 year sentence.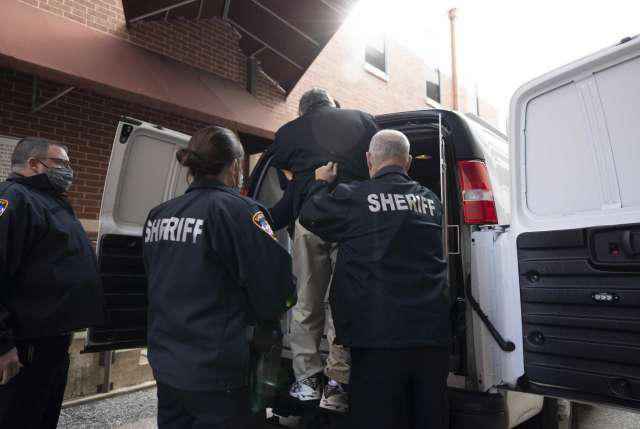 Manuel La Rosa-Lopez is escorting to the back of a Montgomery County transportation van after his sentencing in downtown Conroe, Wednesday, Dec. 16, 2020. La Rosa-Lopez pleaded guilty last month to several counts of indecency with a child accepting a 10 year sentence.
CONROE -- The woman in the courtroom said shame filled her life in the years that followed the sexual abuse of Manuel La Rosa-Lopez, the Catholic priest whose crimes stained her childhood and those of others at a Montgomery County parish.
She shared the tearful reflection Wednesday as the Houston-area cleric was sentenced to 10 years in prison in exchange for pleading guilty to two counts of indecency with a child. The woman's 2018 complaint to law enforcement resulted in priest's arrest and conviction for abuse that spanned from 1998 to 2001 at Conroe's Sacred Heart Catholic Church.
The criminal investigation happened amid a closer look at how the Catholic Church handled decades of clergy abuse accusations.
"I lived almost two decades in shame and fear feeling like I didn't deserve to be happy," she said, addressing the priest. "It took me becoming a mother to realize you were the monster and not me."
But the woman, now 35, offered the priest forgiveness.
"I know the church failed you as much as us," she said. "I stand here today no longer your victim. I stand up here for all the children who will never have to meet you."
The guilty plea is tied to two victims — the woman and a man whom La Rosa-Lopez abused while overseeing Sacred Heart Catholic Church. The Montgomery County District Attorney's Office dropped three other charges last month in exchange for his guilty plea.
The priest will be eligible for parole after five years, his defense lawyer, Wendell Odom, said.
La Rosa-Lopez, ordained in 1996, for now remains a priest, according to church officials.
"The Archdiocese of Galveston-Houston removed Manuel La Rosa-Lopez from all public ministry in August of 2018," church leaders said in a statement. "Now that the criminal case is over, this matter will be referred to the proper officials in the Vatican for further review and disciplinary action."
Numbing the pain
One accuser whose complaint was among the dismissed charges also addressed the court. The man, now 35, paused to wipe away tears as he recalled turning to alcohol to numb himself.
"I have been living with the effects of clergy abuse at the hands of you and the Catholic Church," he said.
The church was his refuge from an alcoholic and abusive home, he said. He came to La Rosa-Lopez for guidance and was violated instead in a confessional booth. Prior court records show he had been coming out as gay during the encounter.
"My innocence was taken away and my spirituality was broken at 15," he said. "I innocently walked into a confessional booth to confess what I thought was a sin."
The priest, he said, responded by asking him vulgar questions before ultimately exposing his genitals in the booth.
In his 20s, he turned to alcohol because he felt unable to ask for help. The man said he tried overdosing from alcohol twice and was repeatedly arrested for driving while intoxicated, he continued. He spent his 30th birthday in a Montgomery County jail, he said.
The Houston Chronicle is not naming the accusers.
Two other male accusers — one whose complaint also garnered a guilty plea and another whose accusation never resulted in a criminal charge — did not speak in court.
After the impact statements were made, deputies wrapped a chain around the priest's waist and led him down to a van. One of the deputies was carrying a clear baggie with the priest's belongings, among them a Bible.
More allegations
The sweeping investigation into La Rosa-Lopez — a probe for which Conroe investigator Joe McGrew received a commendation — cracked open decades-old wounds in the church. Law enforcement served search warrants at the archdiocese headquarters in downtown Houston and two other church properties. Authorities entered the Shalom Center in Splendora — a rehabilitation facility for priests — with a fourth warrant.
The warrants unearthed an unprecedented number of documents for a criminal case, with District Attorney Brett Ligon at one point disclosing that number to be 16,000 records. The evidence included what officials described as "several" allegations of priestly abuse outside of the La Rosa-Lopez claims.
"There were several other priests going back many years, with allegations of adult misconduct and sexual misconduct involving some children," prosecutor Wesley LeRouax said during an interview after the sentencing.
He found that most of the allegations were settled in civil court but he was unable to say how many allegations — if any — involved priests whom the archdiocese last year identified as having credible abuse claims. Their investigators, LeRouax said, focused on La Rosa-Lopez, rather than the unrelated allegations or how the church handled the complaints.
The complaints were forwarded to the Texas Attorney General's Office to be analyzed for possible charges in the future, he continued. The status of the investigation into those complaints is not known.
In a police report, the female victim — whose family came forward to church leaders in 2001 to warn of La Rosa-Lopez's behavior — took aim at Cardinal Daniel DiNardo and his archdiocese's handling of her complaint. She had learned that La Rosa-Lopez was still a working priest at St. John Fisher Catholic Church in Richmond.
She accused DiNardo of "perceived duplicity" for his response to the sex abuse scandal in Pennsylvania, while appearing to ignore the abuse in his own religious territory.
Investigators found no evidence that La Rosa-Lopez repeated his abuse with children at his Richmond posting.
The probe, however, turned up a woman's 2005 sexual assault report to Sugar Land police involving La Rosa-Lopez, a claim that was outlined in court records. Prosecutors said the woman later walked back her account of rape but maintained that the priest groped her and acted inappropriately.
There was also a 2018 claim that La Rosa-Lopez asked another priest for oral sex in exchange for a larger parish. In that case, authorities said there would likely be no legal repercussion.
Prosecutors also learned of a 1992 complaint that made it to the ear of church leaders — when La Rosa-Lopez was still a seminarian. The allegation, in which he inappropriately touched an altar boy at St. Thomas More Catholic Church in Houston, did not result in a criminal charge. The accuser's grandfather reported the encounter and La Rosa-Lopez vanished from the parish.
LeRouax said he believes the complaint may have disclosed too little about what La Rosa-Lopez is alleged to have done to the altar boy.
"2001 is when the church really clued in on La Rosa-Lopez," the prosecutor continued.
Ligon — a devout Catholic — slammed the church for failing to take "decisive action" following its learning of the complaints.
"I pray for the victims' wellbeing because the only real justice they are likely to get will be from the court and not the Catholic Church," he said in a statement.
Contact: nicole.hensley@chron.com