Priests Behaving Badly: a Friday Round-up
By Barry Duke
Patheos (blog)
December 18, 2020

https://www.patheos.com/blogs/thefreethinker/2020/12/priests-behaving-badly-a-friday-round-up/

TOP of the list of crimes committed mainly by Catholic priests is Manuel La Rosa-Lopez, above, formerly of the Sacred Heart Church in Conroe, Texas. On Wednesday he was jailed for ten years for repeatedly abusing at least two minors between 1997 and 2001.

He faced a possible longer sentence but agreed to plead guilty in exchange for less time behind bars.

Tahira Merritt, attorney for two of the plaintiffs, uniquely identified as Jane Doe and John Doe, said:

It is not a long enough sentence, but at least it will be away from children while he is incarcerated and he will be registered as a sex offender for the rest of his life.

La Rosa-Lopez's abusive behaviour was first reported by one victim to the Archdiocese of Galveston-Houston in 2001, but instead of punitive action being taken against him, he was relocated to another church, St John Fisher in Richmond, where he was in charge of the congregation until his arrest in 2018.

Partly for this reason, the plaintiffs also went to civil authorities to demand, at least, financial restitution in exchange for the damages and the apparent cover-up.

In June, the Catholic Church and survivors of the abuse reached a compensation agreement, the content of which was kept confidential.

In November, La Rosa-Lopez pleaded guilty to two counts of indecency with a minors – two people, a man and a woman, who were teenagers when the clergyman exposed himself to them and had them touch him.

At the beginning of the investigation in 2018, police raided the Galveston-Houston archdiocesan offices with 50 uniformed police officers.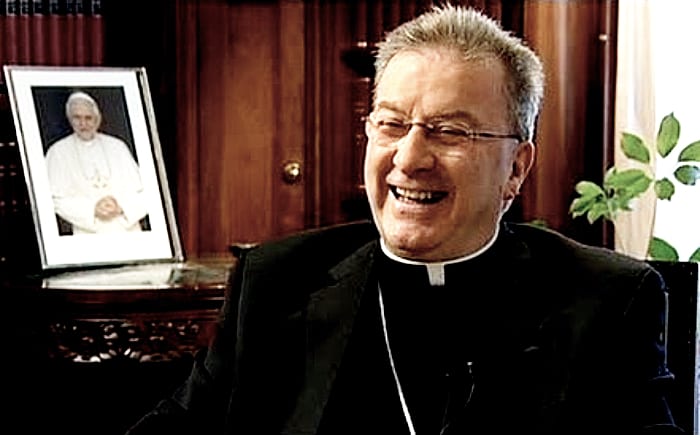 Image via YouTube



Second miscreant is Archbishop Luigi Ventura, above, former nuncio to France who, also on Wednesday, was handed a suspended eight-month prison sentence by a Paris court for sexual assault.

According to The Catholic Herald he was serial groper of young men's buttocks.

The court found Ventura guilty of molesting five men while conducting his public diplomatic duties.

He was ordered to pay ˆ13,000 ($15,800) to four of the men and ˆ9,000 euros ($10,900) in legal cost.

Ventura's lawyer, Solange Doumic, told the French newspaper Le Figaro that the Italian archbishop was considering an appeal.

Ventura was absent for the trial. A doctor said it was too dangerous for the 76-year-old Ventura, who is living in Rome, to travel to Paris while the coronavirus was surging in France. He was not present for the verdict.

Doumic had argued last month that the accusations against her client were minor and had been exaggerated to become:

The trial of the Vatican, of hidden homosexuality at the Vatican.

She said that Ventura touched the hips or backs of the men, but the gestures lasted only a few seconds and were never sexual in intention. She also said that he may not have realised they would be considered inappropriate. She added that after Ventura was operated on for a brain tumor in 2016 he has had some behavioral problems.

The archbishop was first accused in early 2019 of inappropriately touching a staffer at a January 17, 2019, reception for the New Year address of Paris Mayor Anne Hidalgo. The accusation was then investigated by Parisian authorities for several months.

In February 2019, a second employee of the City of Paris filed a complaint against Ventura, concerning an incident in January 2018.

Two further complaints were lodged with the authorities, one relating to a reception at a luxury hotel in Paris and another, by a seminarian, connected to a Mass, both of which took place in December 2018.

Le Figaro reported that a fifth man, a civil servant, reported an incident without lodging a complaint.

The Vatican revoked Ventura's diplomatic immunity in July 2019, paving the way for a trial in French courts.

He resigned as nuncio to France in December 2019 at the age of 75, having served in the post for 10 years.

Also this week, it was reported here that the Royal Canadian Mounted Police (RCMP) had charged Fr Anthony Atter of Lake Lenore, above, with sexual assault, sexual interference and sexual exploitation. RCMP say the incidents allegedly occurred between September 1 and November 4, 2020.

The Roman Catholic Diocese of Saskatoon said it had removed Atter from his position and will cooperate with police.

Kiply Lukan Yaworski, Communications Coordinator, for the diocese, said:

As soon as the diocese learned of these charges, Fr. Anthony Atter was removed from ministry. The diocese will be cooperating fully with police on this matter, and is unable to respond to questions and comments on the case at this time, while it is under investigation and/or before the courts.

The Roman Catholic Diocese of Saskatoon takes the matter of sexual abuse and serious misconduct very seriously and is committed to the care and support of victims of sexual abuse.

The Humboldt RCMP arrested the 45-year-old priest after receiving multiple reports of incidents of a sexual nature.

Atter will appear in Humboldt Provincial Court on March 22, 2021.

Driven to drink by a Spanish priest

A fourth as yet unnamed priest who taught religion while he was a professor at a school has been sentenced by the Provincial Court of Cordoba to 20 years in prison for continuously sexually abusing four of his students who were under the age of 13.

He was arrested after one of his victims, on learning that the priest was to appear at the Cordoba fair last year, suffered a panic attack and got drunk. When police questioned her she spoke of the abuse she suffered at the hands of the priest. After she reported the matter to the Spanish National Police, five other women came forward.

A judge hearing the the case blasted the Catholic Church system for "the profound lack of protection" it offered youngsters.

Conman priest robbed care home residents

And from Scotland comes news that former priest Kevin Cassidy, 48, escaped a jail sentence after he was found guilty of embezzling almost ?32,000 from five vulnerable residents at at the MacFarlane Trust residential care facilities in Paisley and Elderslie. He fleecing their bank accounts of cash over a five-year period.

Cassidy, who spent six years in the seminary before serving as a priest at three parishes in Paisley, joined the charity in 2001 as a "financial guardian" for the adult residents, who have severe learning disabilities.

Cassidy pleaded guilty to embezzling ?31,971 from the Trust between June 25, 2012, and August 2, 2017.

Sheriff James Spy told him:

This is a serious matter and my main concern is that the people represented by the trust get their money back. You have paid ?15,000 and have another ?2,500 ready, but that leaves ?14,741.71 outstanding.

He handed Cassidy two-years mandatory supervision as an "alternative to custody" and ordered him to perform 300 hours of unpaid work – the maximum amount – over 15 months.

He also ordered him to repay the trust at ?500 a month.

Durham Diocese dismissed priest's abusive behaviour as 'mere drunkenness'

Meanwhile, the Diocese of Durham in the UK has been forced to reiterate an apology for the way it handled abuse allegations against Granville Gibson, above, a former Auckland Anglican archdeacon who was jailed in 2016 and again last year for sexual offences committed in the 1970s and 80s.

In a review of how the Diocese of Durham handled complaints about Gibson, clinical psychologist Dr Stephanie Hill said a number of "red flags" were missed.

Hill carried out her review in 2017 but it has only now been published having been delayed by police investigations and the coronavirus outbreak.

Gibson began as a Church of England deacon in 1971 and served in churches in Cullercoats and Cramlington before becoming a priest at St Clare's in Newton Aycliffe between 1977 and 1985.

He went on to become Archdeacon of Auckland, a position he held until his retirement in July 2001, and also served as the honourable canon at Durham Cathedral.

Hill found that before 2001 there were no written records of "sexually abusive or inappropriate behaviour" by Gibson.

However it was "clear from talking to a number of clergy that there were rumours and hearsay" about Gibson's "inappropriate behaviour" particularly towards younger male curates and priests "alongside consumption of excessive alcohol".

This included invading personal space and being overly physical with excessive hugs or kissing. Individuals also described Mr Gibson as 'arrogant' who considered himself able to act with impunity due to his position within the church.

She found complaints about him were "dismissed as drunkenness" with "insufficient weight given to its abusive nature".

Her review said it was "unclear" how aware senior clergy were of the rumours about Gibson, but given the small size of the diocese:

It is reasonable to assume that at least some of these rumours may have been known to those in more senior positions and, if this is correct, there are questions about decisions made to promote Mr Gibson.

One priest told her of an allegation made in 2001 that Gibson sexually assaulted a young asylum seeker in Darlington but no record was made of it.

It was one of six "red flag moments when specific complaints of suspected indecent assault were missed", Dr Hill said, adding that it was "clearly criminal behaviour and yet no safeguarding action was taken".

The first recorded complaint was made in 2004 by a woman who claimed Gibson had assaulted her 10-year-old son at St Clare's in 1982.

The complaint was passed up through the church and to police but no further action was taken, Hill said.

She added the church acknowledged three victims of Gibson, although he was only convicted for offences against two.

One was a trainee priest who, when he complained to a bishop, was met with a "lacklustre response" and told to "stop causing problems".

The man said it was the church's "persistent cover up to protect a clergyman and itself" rather than the abuse that "angered and dismayed" him.

Hill said there had been "poor or non-existent record keeping" and a lack of training around safeguarding, but there are much stronger safeguarding procedures in place now.

The Diocese of Durham said other issues raised by Dr Hill are already being addressed.

The Right Reverend Paul Butler, Bishop of Durham, said Gibson's conviction was "deeply shameful" for the diocese, adding:

Our commitment from the outset was to discover all that we could and to learn from what was found.

Hat tip: BarrieJohn (Scottish, Spanish, Canadian and Durham reports)