Reporters Storm out of Press Conference after Catholic Officials Ask for Silence on Child Abuse Report
By Andy Gregory
Independent
January 6, 2021

https://www.independent.co.uk/news/world/europe/catholic-church-child-abuse-germany-b1783350.html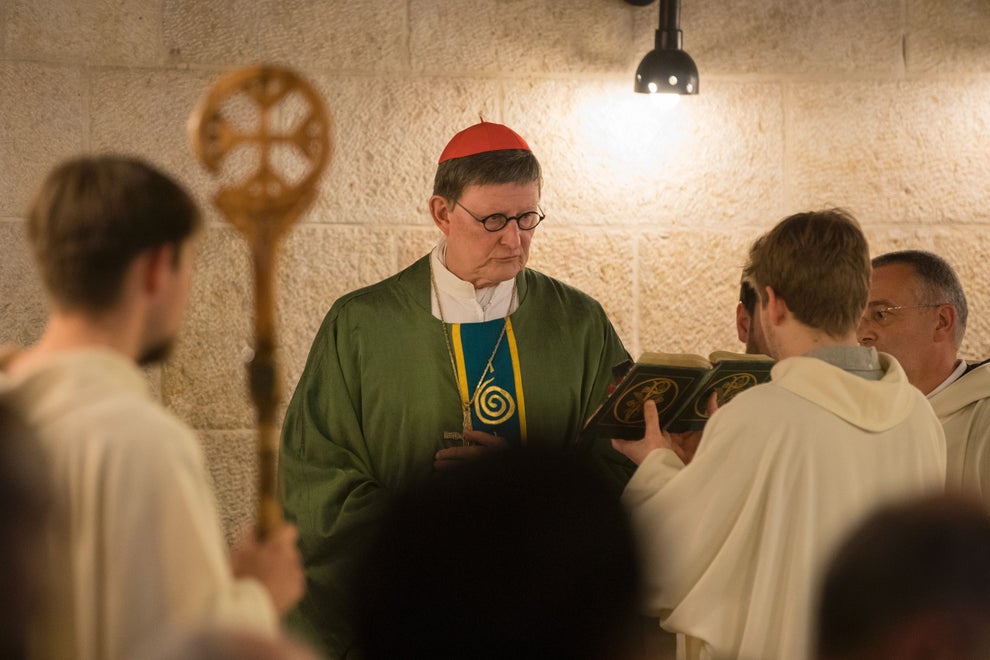 Cardinal Rainer Woelki leading a mass at the Church of the Multiplication of the Loaves and Fish in Tabgha in 2017 (Jack Guez/AFP via Getty Images)



Journalists have stormed out of a press conference in Germany after Catholic Church officials asked for their "absolute silence" on a long-awaited report into child sex abuse.

A vast and comprehensive report investigating decades of alleged sexual abuse of young people at the hands of clerics and the resulting institutional cover-up in the Archdiocese of Cologne – the world's wealthiest Catholic diocese, and Germany's largest – had been pledged back in 2018 by Cardinal Rainer Maria Woelki.

But Cardinal Woelki, who is also accused of failing to notify the Vatican about alleged abuse by a now-deceased priest known as Father O and faces calls to resign from fellow priests and abuse victims, has been withholding the report since its completion in March.

On Tuesday, reporters from Deutsche Welle and multiple other outlets were called to a press conference to view a redacted version of the document and to hear church officials explain supposed problems with the report's methodology, which Cardinal Woelki reportedly blamed for his delay in publishing it.

But the journalists were first asked to sign a confidentiality agreement, calling for their "absolute silence" on the contents of the report, including the acts of sexual abuse it described, the perpetrators it named, and the church officials it embroiled.

All eight journalists present are reported to have refused to sign the agreement and walked out.

In October, Cardinal Woelki drew consternation when he cast aspersions on the work of the Munich law firm Westpfahl Spilker Wastl, which he commissioned in 2018 to draw up the report, alleging to a meeting of abuse survivors that it contained "inadmissible prejudices"and was not "legally watertight".

Deutsche Welle reported that, after hours of legal counsel, each survivor was asked individually if they were against publishing the report.

While it was decided that the report would not be published, two survivors are reported to have resigned from the committee in protest, including Karl Haucke, who was abused in a Catholic boarding school in Bonn in the 1960s.

He was reported in November by the Irish Times as saying: "For years I swore I'd never allow someone exert so much power over me that they could humiliate me. And now they have done it again… I'm curious how Cardinal Woelki can now square his office with his behaviour."

A new report is expected to be published in March.

However, aspects of the suppressed document have already been leaked and are reportedly critical of the response from Hamburg's Archbishop, Stefan Hesse, as showing "a lack of awareness of the problem – towards cases of sexual abuse of minors by clerics".

While he has stepped down from his role as spiritual assistant to the esteemed Central Committee of German Catholics until the veracity of the leaks is clarified, the Irish Times reports that Archbishop Hesse, who spent a decade as a senior figure in Cologne until 2017, has threatened to sue if the full report is published, fearing damage to his reputation.

The situation in Cologne contrasts with that in neighbouring Aachen, where a 560-page report carried out by the same Munich legal firm was published in full in November.

The report found that 175 people, mostly boys aged 8 to 14, had been victims of abuse committed by 81 priests in Aachen.

It blamed "systemic causes" for many of the crimes remaining secret for years and said suspected and convicted perpetrators were given "undeserved leniency" and were often reinstated in pastoral roles.