Former Bishop Stang priest among those credibly accused of sexual abuse
By Kate Robinson
Dartmouth Week
January 08, 2021

https://dartmouth.theweektoday.com/article/former-bishop-stang-priest-among-those-credibly-accused-sexual-abuse/51326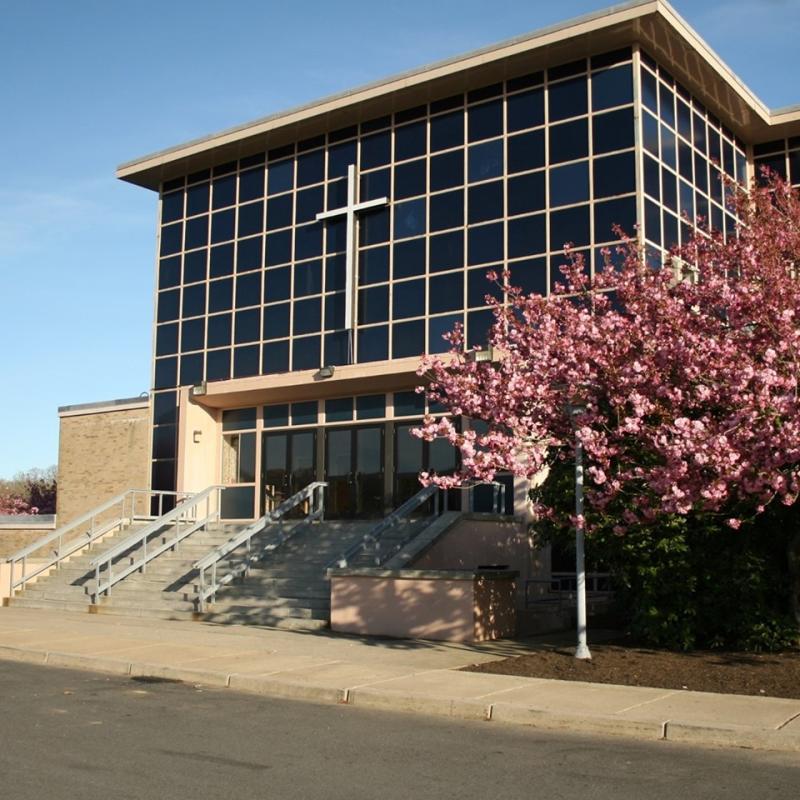 Bishop Stang High School in Dartmouth.
A Catholic priest who once worked at Bishop Stang High School is among those credibly accused of sexual abuse of a minor in a list of 75 accused clergy published on Jan. 7 by the diocese of Fall River.
Father William W. Norton, who died in 2004, is one of 53 priests, seminarians, and other religious leaders against whom allegations of sexual abuse is considered considered "credible" by the diocese.
According to a diocese statement, credible allegations are those that meet a "semblance of truth" standard similar to that of probable cause (in which there is a reasonable basis for believing a crime was committed).
Norton — a Fall River native — was assigned to 14 different posts around the South Coast during his career.
He was appointed to Bishop Stang in June 1969, and was also the director of St. Mary's Home for children in New Bedford in 1970, according to diocesan newsletter "The Anchor."
"Father William Norton was a part-time religion teacher here during the 1969-70 and 1970-71 school years," stated Bishop Stang High School President and Principal Peter Shaughnessy, who went on to note that none of the school's current faculty or staff worked there at the same time as Norton.
Shaughnessy said he was "very saddened" that among the names of those accused of sexual abuse of minors was a priest who at one time taught at the school.
"I assure all in our community that the Diocese of Fall River and our entire faculty and staff at Bishop Stang are committed to the protection of children and have in place many measures to ensure that our school is safe," he stated.
According to Shaughnessy, diocese policy includes removing any clergy or diocesan personnel who has an allegation of abuse of a minor, while Bishop Stang and diocese policy requires all employees to complete mandatory background checks and Safe Environment training.
Another Dartmouth priest, Father James P. Walsh, was accused of sexual abuse of a minor while at Boston College High School in Boston in the 1980s.
The USA Northeast Province of Jesuits found the allegations against Father Walsh credible, according to a revised list of credibly accused Jesuit clergy published in February 2020.
He stayed in Dartmouth at the Jesuits' Round Hill retreat for a few years, from 1966-1968.
Along with the list of accused clergy, the Fall River Diocese released a letter from Bishop Edgar M. da Cunha in which da Cunha apologized to all survivors of child sexual abuse.
"I am deeply sorry," he wrote. "We as a Church failed when you were most vulnerable. I firmly resolve to do all we can to help you heal, make certain we are accountable, and protect our children so that no other child suffers as you have."
Bishop da Cunha also noted that the review took longer than anticipated, with the list of names released nearly two years after the investigation was announced.
"The review of Diocesan records, some going back 70 years, was incredibly arduous and time consuming," he wrote. "While this review has taken longer than first anticipated, it was crucial that we took the time needed to do it right."
Diocese officials investigating allegations of abuse comprise a Ministerial Review Board set up in 2020 that includes a psychologist, a nurse, a social worker, a former Chief Justice of the Massachusetts Appeals Court, a retired Senior Executive of the FBI, and others.
Shaughnessy noted that the diocese has resources to help victims of clergy abuse.
Licensed social worker Carolyn Shipp, the Victim Assistance Coordinator for the Fall River Diocese, provides outreach and support for survivors and acts as a point of contact for reporting abuse. She can be contacted at (508) 985-6508 or cshipp@dioc-fr.org.
Contact: editor@dartmouthweek.net