Xanana Gusmao's Sons "Disappointed" after Their Father Attends Accused Paedophile's Birthday Party
By Anne Barker
ABC
February 9, 2021

https://www.abc.net.au/news/2021-02-10/timors-xanana-gusmao-linked-to-alleged-pedophile-priest/13133252

The sons of Timor Leste's former president Xanana Gusmao have expressed their disappointment to the victims of a former priest facing child sexual abuse allegations, after their father visited him for his birthday at his home in Dili.

Alexandre Sword-Gusmao, 20, and his brothers Kay Olok, 18, and Daniel, 16, wrote to the victims of former Catholic priest Richard Daschbach, who has been charged with sexually abusing girls at a remote Timorese orphanage that he ran for decades.

Xanana Gusmao, also the former prime minister, was filmed late last month visiting Mr Daschbach at his Dili home where he is under house arrest, toasting him on his 84th birthday with cake and drink.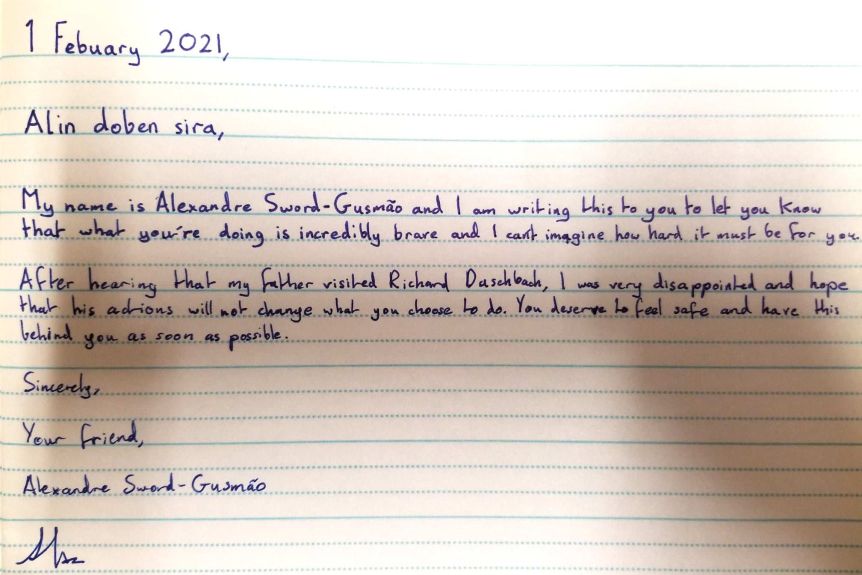 Alexandre Sword-Gusmao's letter to the victims.(Supplied)



Mr Daschbach, an American-born missionary who first arrived in Timor Leste in 1966, is regarded by many Timorese as a hero for his role in saving children during the country's independence struggle.

But he was officially defrocked by Pope Francis in 2018, and expelled from the organisation SVD, or Divine Word Missionaries, after he admitted to the sexual abuse of minors.

Mr Gusmao's youngest son Daniel, in a letter delivered to Mr Daschbach's alleged victims via their lawyer, told them of his anger and sadness when he heard about his father's visit to celebrate Mr Daschbach's birthday.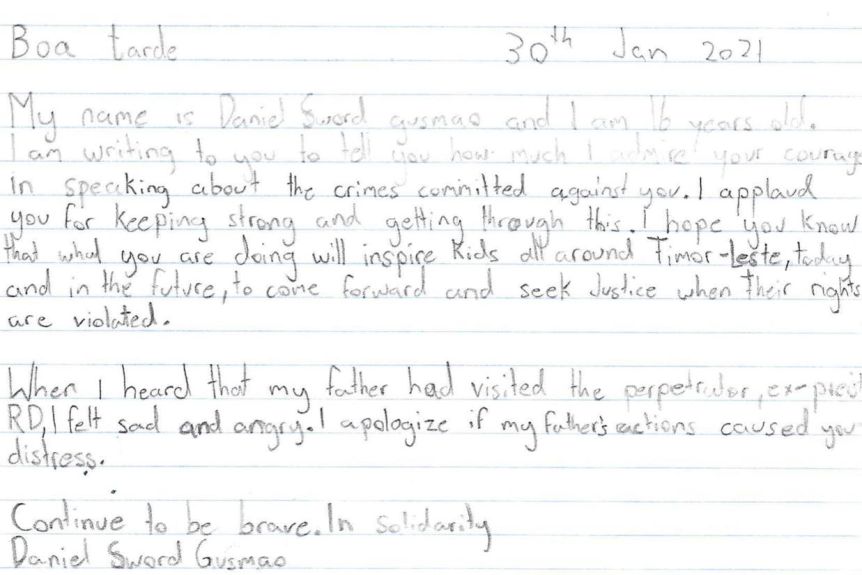 In his letter, teenager Daniel apologised to the victims.(Supplied)



"I admire your courage in speaking about the crimes committed against you," he wrote.

"I apologise if my father's actions caused you distress."

His brother Alexandre expressed similar emotions.

"After hearing that my father visited Richard Daschbach, I was very disappointed and hope that his actions will not change what you choose to do," he wrote.

"You deserve to feel safe and have this behind you as soon as possible."