Attorney Says Premoshis Is 'Baffled by Charges'

By Gretchen M. Kline
Connellsville Daily Courier
August 10, 2002



Uniontown - Fayette County District Attorney Nancy Vernon said her office is not investigating any allegations of recent sexual abuse by recently suspended priest, the Rev. Gregory Premoshis, nor will criminal charges of sexual abuse be filed in the case involving a former student.

Vernon contacted Friday said, "No charges will be filed. We believe the statute of limitations has expired."

Premoshis, who resides in Mount Pleasant, was the chief administrator at Geibel Catholic High School in Connellsville Township and taught at the school. He served as president until March, when he was removed and announced his retirement.

One month before, Charles Hartz Jr., 38, a former Connellsville resident who now resides in Michigan, reported to officials with the Diocese of Greensburg that repeated sexual assaults by Premoshis occurred during the early 1980s when Hartz was a teenager and attended Geibel.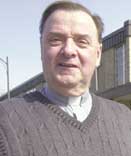 Rev. Gregory Premoshis




Last month, Bishop Anthony Bosco affirmed a special five-member diocese review board's recommendation that Premoshis be barred for life from public ministry.

One week ago, Hartz filed a lawsuit in U.S. District Court in Pittsburgh against Premoshis and the Diocese of Greensburg, seeking more than $525,000, claiming that Premoshis "would provide him large amounts of alcohol and then engage in inappropriate sexual conduct."

Premoshis has retained attorney Allan Lundberg of Lower Burrell. Lundberg said Friday that Premoshis "adamantly denies he did anything inappropriate" and is "totally baffled by the these charges."

Lundberg spoke on behalf of his client.

Vernon said that Hartz's attorney, Helen R. Kotler of Pittsburgh, contacted her office before the suit was filed, and Vernon and Assistant District Attorney Jack Heneks, who prosecutes child abuse cases, met with Westmoreland District Attorney John Peck to confer about the investigation. Vernon said she and Heneks reached the consensus that the time period to file charges has passed.

Charges of sexual abuse can be filed for five years past a person's 18th birthday. Vernon believed that the state Legislature passed a new law extending the time frame to 12 years; the abuse is alleged to have happened more than 20 years ago.

Vernon said she has received no information on recent allegations of abuse, but if "someone in the proper time frame came forward, we would be pursuing that."

"I do believe, with this man, incidents happened in a variety of jurisdictions," said Vernon. Since the investigations by dioceses into priests' files began, Vernon believes that district attorneys in surrounding counties will refer the cases of allegations to the appropriate district attorneys.

Angela Burrows, executive director of infomedia services for the diocese, said that Bosco ordered an investigation into old complaints of sexual abuse in priests' files after the January trial in Boston, Mass. for John Geoghan, a former priest accused of abuse by more than 130 people.

Burrows, in a previous article published in the Daily Courier, said the diocese has retained Pittsburgh attorney Carl Eck.

Burrows could not be reached for comment on Friday.

The diocese reviewed 125 files and eight were marked for further review by the board. Six of the eight cases, including Premoshis' case, have been disposed of. Information on the eight cases was given to Peck; all the cases involve allegations of improper conduct with boys between 1962 and 1982.

Peck could not be reached Friday for comment on the result of his investigation.

Bosco has banned three diocesan priests from public ministry for life.

In the lawsuit against Premoshis, Hartz alleges that Premoshis, who was also pastor of Immaculate Conception Church in Connellsville, frequently took Hartz to bars and restaurants and vouched that Hartz was an adult so the teenager would be served liquor. Hartz said he was 16 years old in September 1980 when the diocese transferred Premoshis from Greensburg Central Catholic High School to Geibel High School.

The lawsuit states that Hartz "believes that Premoshis had a history of sexually improper conduct inconsistent with his vows as a priest and his duties as teacher and priest prior to being transferred to (Geibel) which was known or should have been known by the Bishop and the Diocese of Greensburg."

"The sexual abuse of then-minor (Hartz) occurred on many occasions between 1981 and 1982 and in several places, including the rectory where Father Premoshis resided with other priests, and in other cities and states, including Ohio, Virginia and South Carolina, where Father Premoshis transported (Hartz)," the lawsuit reads.

Hartz alleges that Premoshis gave him gifts, ate lunch with him during the school day and had the rectory housekeeper prepare lunches for him Hartz alleges that the assaults resulted in the eventual breakup of his marriage two years ago and a recently broken engagement.

Lundberg said that this is the first allegation brought against Premoshis, who served as a priest for 35 years.

Lundberg said Premoshis and Hartz had a close friendship, but "there was absolutely nothing inappropriate about the friendship Father Premoshis had with him over the years."

"Father Premoshis performed the wedding ceremony (of Hartz)," said Lundberg.

Lundberg said Premoshis acted as counselor and friend to Hartz, as Premoshis has done for numerous teenagers he has instructed as principal of Geibel.

Lundberg acknowledged that allegations of sexual misconduct do need to be investigated, but feels in this instance there was no fact finding and "as a priest, one can't disprove the charges."

Lundberg said these past months have been devastating for his client.

"He wants nothing more in the world to continue to act as a priest." He said his client is "saddened and depressed by the whole matter" and has the support of friends and the community.

Lundberg added, "I think is clear to people who know Father Premoshis well, they're sticking by him..."

In the lawsuit, Hartz said that the diocese did not provide the name of Premoshis to authorities in Westmoreland and Faith counties, and by doing so, avoided any potential prosecution because the state's statute of limitations had expired.

A call to Geibel High School was not returned Friday

Contact: gkline@tribweb.com.