Molest Charges against Priest Dropped
Alleged Crime Occurred 30 Years Ago

10news.com
July 15, 2003

San Diego -- Child molestation charges against a former Oceanside priest were dismissed today, 10News reported.

Harold Depp (pictured, left) was accused of molesting a boy more than 30 years ago.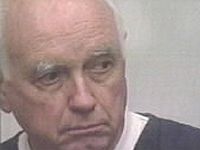 Hear Depp's Attorney Speak Out


Depp was arrested last month in Palm Springs and was accused of molesting an 11-year-old boy in Oceanside during the early '70s.

The 72-year-old faced 41 counts of child sexual abuse but last month the U.S. Supreme Court threw out the California law that allowed the prosecution of decades-old sex abuse allegations.

Depp is a convicted child molester from a case in Alaska in the '80s. He still faces one count of failing to register as a sex offender in California.

Conviction on the remaining count could still bring Depp a prison term ranging from three years to life, depending on whether prosecutors file allegations of previous strikes.

Depp, who is free on bail, lives in Palm Springs.

His alleged victim chose to come forward after all these years because he found out Depp was once again working with children.