Ex-Gallup Priest Faces Child Sex Abuse Charges

By Elizabeth Hardin-Burrola
Gallup Independent
May 12, 2004

James Matthew Burns, 70, a former Diocese of Gallup priest emerges from his initial appearance on charges of child molestation Tuesday at the Winslow, Ariz. Justice Court. (Photo by Craig Robinson/Independent) WINSLOW, Ariz. - A former Diocese of Gallup priest made his initial court appearance on Tuesday in Navajo County's Winslow Justice Court where he is facing four felony charges stemming from his alleged sexual abuse of a Winslow boy two decades ago.

James Matthew Burns, 70, of Wickenburg, Ariz., appeared before Judge John Lamb, who was sitting in for Justice of the Peace Alison Kolomitz. Navajo County authorities have charged Burns with three counts of molestation of a child and one count of sexual contact with a minor.

After appearing briefly before Lamb and being informed of the felony charges, Burns told the judge he was willing to plead guilty to some, but not all, of the charges. Lamb advised Burns that admission was premature and he should wait to meet with his court-appointed public defender. Lamb set Burns' preliminary hearing for Thursday, May 27.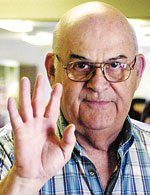 James Matthew Burns



In the hallway outside of the courtroom, Burns agreed to make a statement to The Independent about the charges against him. "I'm very sorry they happened," he said. "I feel terrible about it. It has ruined my life and his life. That's all. Thank you."

According to the criminal complaint, between January 1, 1983 and December 31, 1984, Burns allegedly molested and engaged in sexual contact with the boy who was then "a child under the age of fifteen years."

The incidents are alleged to have occurred in the vicinity of McHood Park, also known as Clear Creek, and in Burns' bedroom at the church rectory in Winslow.

At the time of the alleged abuse, Burns was the Gallup Diocese priest assigned to St. Joseph's parish. Prior to that assignment, Burns had served in parishes across Northern Arizona in Flagstaff, Holbrook, Camp Verde, Humbolt, Springerville, Pinetop, and Page. After serving in Winslow, Burns was assigned to a parish in Blanco, N.M.

In December of 2003, the alleged victim in this criminal case filed a civil lawsuit against Burns and the Gallup Diocese. That civil suit, filed in California, alleges that Burns also sexually abused the plaintiff during trips to California.

In an interview on Tuesday, Navajo County Attorney Melvin R. Bowers Jr. explained that under Arizona law the statute of limitations for most felonies is seven years. The seven-year time limit does not begin to run, however, until the alleged criminal conduct is brought to the attention of state authorities.

"The victim never told anyone what happened until 2003," Bowers said. After hearing from the victim last year, the Winslow Police Department then began an investigation which involved interviews with both the alleged victim in 2003 and Burns in 2004.

The Winslow Police Department report, which Bowers released to The Independent, contains graphic details about the alleged abuse by Burns. According to the report, about the time Burns was assigned to the parish, the alleged victim had been serving as an altar boy at the church and his father had recently died.

Burns became a father figure to the boy and began taking him on social outings to Flagstaff, Ariz. On a number of occasions, the report states, Burns allegedly told the boy he "loved" him and "Burns would sort of get mad" because the victim would not respond similarly. The report states that Burns sometimes gave the boy a beer before an episode of sexual abuse.

According to the alleged victim's account to the police, the abuse ended when he was 17, during a trip Burns and the boy took to Hawaii. The boy told Burns the sexual abuse had to stop, and the priest "never attempted to abuse him anymore after that."

Sometime later, while the alleged victim was attending college, he did agree to meet Burns for lunch. During that meeting, Burns told the boy he was being accused of child molestation in New Mexico.

The Winslow Police Department report also includes information from a January 16, 2004 interview with Burns at his home in Wickenburg. According to the report, when asked by Winslow police officers about sexual misconduct with the alleged victim, Burns reportedly said, "I'm guilty."

However, Burns offered contradictory responses about all the allegations. He told the police the victim was "a honest and good person, if that is what he said, that was probably what happened."

Yet Burns did deny any allegations involving oral sex.

A year ago, the Gallup Diocesan Review Board on Juvenile Sexual Abuse released a press release identifying six priests associated with the Gallup Diocese, who had credible allegations of sexual abuse made against them: Michael Aten, James Burns, Douglas McNeill, Jose Rodriguez, Francis Murphy, and John T. Sullivan. Subsequently, The Independent confirmed the identity of two more alleged abusive priests, Bruce MacArthur and Julian Hartig, who have had ties to the diocese.

In its press release, the sexual abuse review board stated: "James Burns had multiple allegations of sexual abuse made against him. He also underwent treatment. He returned to priestly ministry only to have another allegation made against him."

County Attorney Bowers said his office decided to pursue the criminal charges against Burns because once the victim came forward, Navajo County authorities couldn't "turn a blind eye" to the allegations.

"I think most people are shocked and almost disbelieving that this kind of thing could happen in that community," he said.

However, Winslow has had other priests identified as sexual abusers - Michael Aten, Jose Rodriguez, and John T. Sullivan - assigned to its two Catholic churches. But the Diocese of Gallup has not publicly released any specific information about the incidents of abuse, such as what parishes the priests were assigned to when the abuse occurred, the dates of the abuse, or the gender of the victims.

According to Bowers and Lt. James Sepi of the Winslow Police Department, no other victims of priest abuse have come forward in Navajo County. Sepi told The Independent he has talked with another victim of Burns in Apache County, but the man has declined to file a criminal complaint.

The Diocese of Gallup is also facing a second civil lawsuit out of California involving allegations about Father Santino A. Casimano. Those allegations stem from alleged sexual abuse that is said to have occurred in California by Casimano, who was ordained by the Diocese of Gallup and was working in California with the permission of the Gallup Diocese.